SWAT Team Storms House After Texas Man Holds Girlfriend Prisoner
A man in Texas has been arrested after a SWAT team stormed his house because he had allegedly held his girlfriend captive for days.
Police said the suspect stabbed her, choked her with a bra until she passed out, and sexually assaulted her.
The ordeal ended when the victim was finally able to escape and run to neighbors for help while her alleged tormentor was taking a shower. The assault occurred in Wichita Falls, Texas, on March 20.
The suspect has been named by police as Jorge Alexander Gonzalez, 23. The police did not reveal the identity of the victim.
The woman had been in a relationship with the suspect for about seven months, according to the Wichita Falls Police Department's (WFPD) arrest warrant for the suspect.
The woman told police she had left Gonzalez on Friday, March 11, and had gone to stay with her aunt, also unnamed. But she went back to Gonzalez after he "asked her to go back home" so that they could "work things out."
They apparently patched things up, but a few days later, on March 16, "when she tried to go to work, he wouldn't let her leave."
The police arrest warrant says that "he accused her of wanting to go to work to flirt with guys, and he told her she wasn't leaving. She stated that he assaulted her every time she wanted to leave."
The arrest warrant continues: "She related to WFPD officers that he took her cell phone and refused to let her call for help. She stated over the course of three days he assaulted her physically."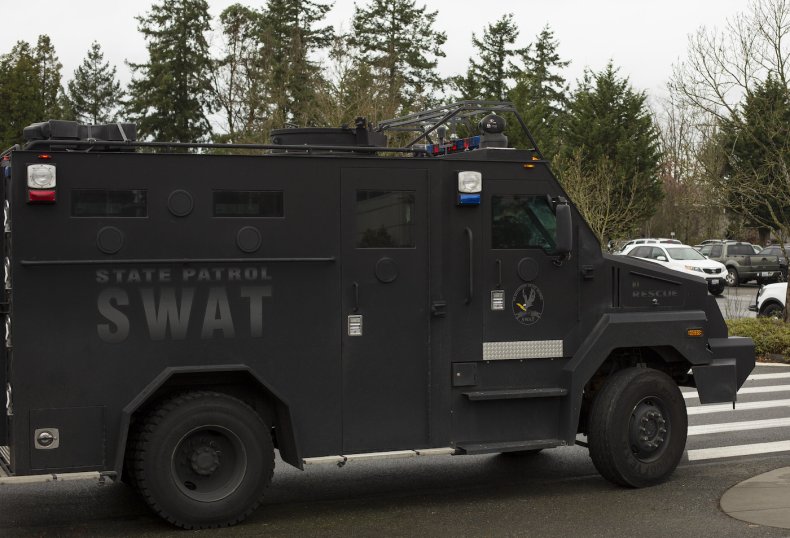 The victim told police that when she tried to leave again, he grabbed a kitchen knife, stabbed her in the leg, and told her she wasn't leaving.
She also said he hit her with a closed fist, open hand, a lamp and choked her with a bra.
The victim told police she lost consciousness, and Gonzalez poured water on her to wake her up. She also said he would leave the residence, but would lock her inside, with no possibility of escape because the windows had burglar bars on them.
However, she eventually escaped while he was taking a shower and ran to neighbors for help. Police said officers arrived on the scene at about 4.30 p.m. on March 20 after receiving reports about an aggravated assault.
"When officers arrived, the victim was outside and the suspect, Jorge Gonzales, was still inside the residence," police said.
They employed a SWAT team to storm the residence and detain the suspect. The police said that after several unsuccessful attempts to make contact with Gonzales, the SWAT team entered the residence and found him hiding in a crawl space.
Gonzales was arrested and charged with aggravated assault-family violence, with further charges to follow. The victim was taken to the hospital for injuries sustained in the assault.
The police investigation is ongoing.
This story was provided to Newsweek by Zenger News.