Swearing-in of Uvalde Police Chief to City Council Canceled for Now: Mayor
A special meeting to swear in Uvalde Consolidated Independent School District (CISD) Police Chief Pete Arredondo to the Uvalde City Council on Tuesday has been canceled following the deadly shooting at Robb Elementary School.
Uvalde Mayor Don McLaughlin announced the cancellation on Monday, saying nothing "prohibits" Arredondo from taking the oath.
"Our focus Tuesday is on our families who lost loved ones," McLaughlin said in a statement.
"Pete Arredondo was duly elected to the City Council. There is nothing in the city charter, election code or Texas Constitution that prohibits him from taking the oath of office. To our knowledge, we are currently not aware of any investigation of Mr. Arredondo."
Arredondo was one of several newly elected councilmembers who were to be sworn in on Tuesday, KSAT-TV reported.
The embattled police chief is accused of delaying officers in responding to the mass shooting last Tuesday at Robb Elementary where 21 people were killed, including 19 students.
As Newsweek reported, Arredondo was elected to the city council just three weeks before the incident.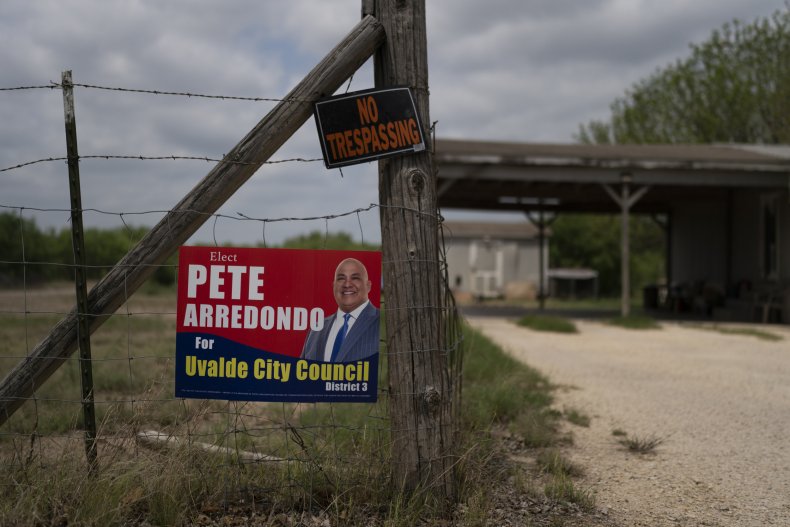 Officials said the suspected gunman was on campus for more than one hour before fatally being shot inside a classroom by a U.S. Border Patrol tactical team. The response has sparked widespread criticism, including from Texas Department of Public Safety Director Steven McCraw.
"It was a wrong decision, period," McCraw said. "There was no excuse for that. There were plenty of officers to do what needed to be done, with one exception, is that the incident commander inside believed he needed more equipment and more officers to do a tactical breach at that time."
Texas Governor Greg Abbott felt "misled" about the police response and said he was "absolutely livid" on Friday. The U.S. Department of Justice is now conducting a review of the law enforcement response, at the request of McLaughlin.
"The goal of the review is to provide an independent account of law enforcement actions and responses that day and to identify lessons learned and best practices to help first responders prepare for and respond to active shooter events," the Justice Department said Sunday.
"The review will be conducted with the Department's Office of Community Oriented Policing."
The Justice Department will publish its report upon completion.
According to the most recent report released by University Health, three patients continue being treated at its hospital for injuries sustained in the Uvalde shooting. A 10-year-old girl was listed in serious condition, a 9-year-old girl in good condition, and a 66-year-old woman in fair condition, the hospital said Sunday.