Sweden Asks the European Union for Help as It Battles Nearly a Dozen Wildfires in the Arctic Circle
Sweden has called on the European Union for help as it battles at least 11 wildfires burning in the Arctic Circle and dozens more around the country. The raging fires have forced the evacuations of four communities, with thousands more cautioned to remain inside their homes.
This year's hot and dry summer has led to dozens of wildfires throughout Sweden, according to the Copernicus Earth observation program. The Nordic region has suffered from an intense heat wave in the last few days. In Finland, Norway and Sweden, temperatures have soared past 90 degrees Fahrenheit, CBS News reported.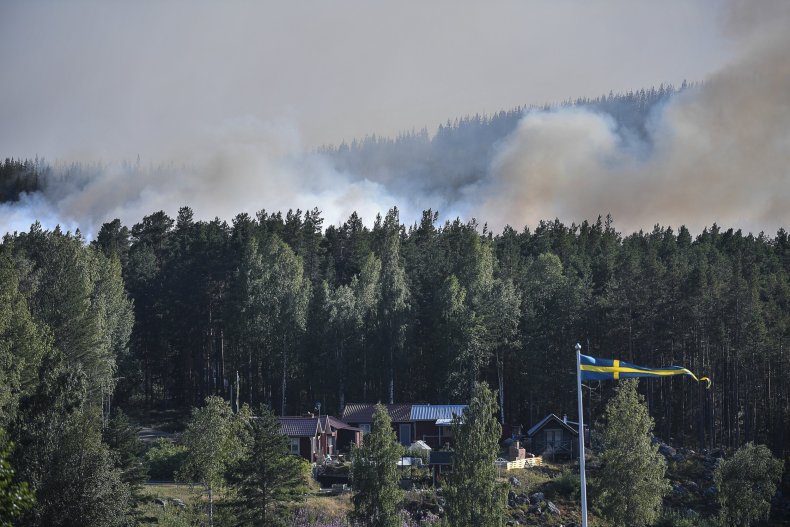 The European Forest Fire Information System revealed that there would be extreme fire danger conditions in much of central and northern Europe as the summer continues, according to The Guardian.
At least 40 wildfires are burning in Sweden, particularly in the central and western parts of the country, according to Swedish broadcaster SVT. Dalarna, Jämtland and Gävleborg counties have been the hardest hit by wildfires this year.
Residents in Enskogen and Ängra in Gävleborg County were asked to evacuate their homes. On Wednesday, authorities announced that residents in Karböle, in Ljusdal municipality in Gävleborg County, should evacuate because the fire is "spreading rapidly."
People living in surrounding areas, meanwhile, have been asked to remain indoors, with doors and windows closed.
Residents in the city of Uppsala are prohibited from barbecuing in national parks, The Guardian reported. Meanwhile, there is a risk of unexploded shells on a military range in one of the fire zones, according to the BBC.
"This is definitely the worst year in recent times for forest fires. Whilst we get them every year, 2018 is shaping up to be excessive," Mike Peacock, a university researcher and local resident, told The Guardian.
At least two European countries have answered Sweden's call for help. Neighboring Norway sent six firefighting helicopters, while Italy sent two Canadair CL-415s, which can carry up to 6,000 liters of water in one trip, to Örebro. The two water bombers will remain in Sweden for eight days, reported The Local Sweden.
The United States has also been hard hit by wildfires this year, particularly in the West. Colorado, California, Nevada, New Mexico and Oregon have seen their fair share of wildfires in recent weeks.
The Ferguson fire near Yosemite National Park is the latest blaze to strike California. The fire, which ignited on Friday, has already spread to 17,319 acres, CalFire reported.