Sweden's Coronavirus Death Toll 'Horrifying' Says Scientist Behind Country's Anti-Lockdown Strategy
Cases of the novel coronavirus in Sweden have reached at least 23,918, with its death count at 2,941, as of Thursday, according to the latest figures from the country's health ministry.
"We are starting to near 3,000 deceased, a horrifyingly large number," noted the chief epidemiologist at Sweden's public health agency, Anders Tegnell, at a press conference on Wednesday.
Tegnell, who has been leading the country's COVID-19 response and previously defended the nation's decision not to impose a lockdown, this week admitted he was "not convinced" the unconventional anti-lockdown strategy was the best option to take.
"I'm not convinced at all - we are constantly thinking about this," Tegnell told Aftonbladet, the Swedish newspaper based in the capital Stockholm.
A child less than 10 years old, who had been in intensive care, was reported to be among the latest fatalities. But it has yet to be confirmed whether the child died from the SARS-CoV-2 virus.
Tegnell told Aftonbladet the virus posed a minimal risk to children. He reportedly claimed there are nearly no cases among children globally, claiming that those who died following infection had severe underlying health conditions.
Contrary to Tegnell's claim, while there are fewer confirmed cases among under-18s, there have been several cases among children, including in Sweden. At least 118 confirmed infections among those aged 9 or younger and at least 282 confirmed cases among those aged between 10 and 19 have been reported in Sweden, as of Thursday.
Last month, a number of children in the United Kingdom with no underlying conditions were reported to have died from a rare inflammatory syndrome which researchers believe was linked to the disease, Reuters reported.
Medical experts in Italy and the U.K. were also said to be investigating a possible link between the virus and cases of severe inflammatory disease among infants arriving in hospital with high fevers and swollen arteries, Reuters reported.
Sweden has, by far, the largest number of cases and fatalities in Scandinavia, compared with its neighbors Denmark, Norway and Finland, which each have 10,281, 7,996 and 5,573 confirmed cases, respectively, according to the latest figures from Johns Hopkins University.
The daily death toll for Sweden is projected to reach potentially as high as nearly 150 by May 11, while up to 1,060 deaths have been projected for this week, according to the latest projection model by the Imperial College COVID-19 Response Team. The team consists of Imperial College London, the WHO (World Health Organization) Collaborating Centre for Infectious Disease Modelling within the MRC Centre for Global Infectious Disease Analysis and J-IDEA (Abdul Latif Jameel Institute for Disease and Emergency Analytics).
Yet Sweden is the only infected European country to not issue a strict lockdown, a strategy which aimed to develop "herd immunity" by increasing the number of people exposed to the virus in a bid to avoid a second wave of cases.
But the move has come under criticism by other countries as well as within the nation.
Speaking to Newsweek, a 33-year-old mother based in the city of Lund in southern Sweden, Allyson Plumberg, said: "I don't think the Swedish response has been adequate. No recommendations for face mask usage in elder care homes (where the bulk of deaths have occurred)," in an email interview.
She added: "Even children with pre-existing medical conditions are not officially considered at-risk for COVID19. It is now well-known that children can become very ill (and even die in rare circumstances) from COVID-19, even without pre-existing conditions. There is still a mandatory school attendance (ages 6-15) for healthy children in Sweden.
"This means healthy teachers are also pressured to continue showing up in the classroom. We now see that teachers have died, and households with in-risk members are more desperate than ever to protect the health of their families.
"Overall, it seems like Sweden avoids adherence to the precautionary principle whenever possible," she said.
Newsweek has contacted Sweden's Ministry of Education as well as the Ministry of Health and Social Affairs for a comment.
Current restrictions in Sweden following the outbreak include a ban on gatherings of more than 50 people, while residents have been told to avoid unnecessary travel and contact with elderly people. But they are allowed to visit restaurants, bars, cafes and nightclubs, which have reportedly been told to offer seated table service only.
High schools and universities are closed and their courses are being taught online but schools for those under 16 remain open. The government advocates working from home, where possible.
Last month the government warned it would be shutting down any restaurants and bars that do not follow precautionary guidelines issued to prevent an outbreak of cases, Reuters reported.
Sweden's Minister for Home Affairs, Mikael Damberg, said: "As the sun begins to shine, we are beginning to see some worrying reports of open-air restaurants full of customers, of places packed with people, and we have to take this seriously," at a press conference.
"I don't want to see any full open-air restaurants in Stockholm or anywhere else. Otherwise, businesses will be closed," he added.
Cecilia Soderberg-Naucler, a professor of microbial pathogenesis at the Karolinska Institute in Sweden, has also previously raised concerns over Sweden's radical strategy. She is among the nearly 2,300 academics who in March signed an open letter to the government urging implement stronger measures to protect the country's health care system from being overwhelmed.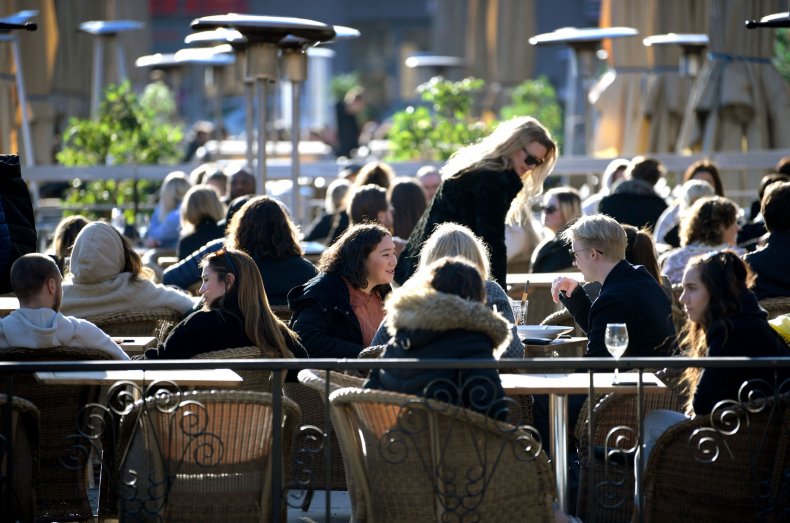 "We must establish control over the situation, we cannot head into a situation where we get complete chaos. No one has tried this route [of not imposing a lockdown], so why should we test it first in Sweden, without informed consent?" she told Reuters last month.
A professor of genetic epidemiology at Sweden's Lund University, Paul Franks, told Newsweek last month: "A feature of the strategy that has not worked so well is protecting vulnerable populations, which is evident in the fact that SARS-CoV-2 has been detected in many care homes and hospital wards," he noted.
An article published on March 27 and co-written by Franks and Peter Nilsson, a professor of internal medicine-epidemiology at Lund University, noted "going forward, Sweden is likely to have to impose stricter restrictions depending on how the virus spreads, especially in metropolitan areas or when the healthcare system is under severe strain," the two authors said.
The novel coronavirus has spread to more than 3.7 million people across the globe. Over 264,100 have died following infection, while more than 1.2 million have reportedly recovered, according to the latest figures from Johns Hopkins University.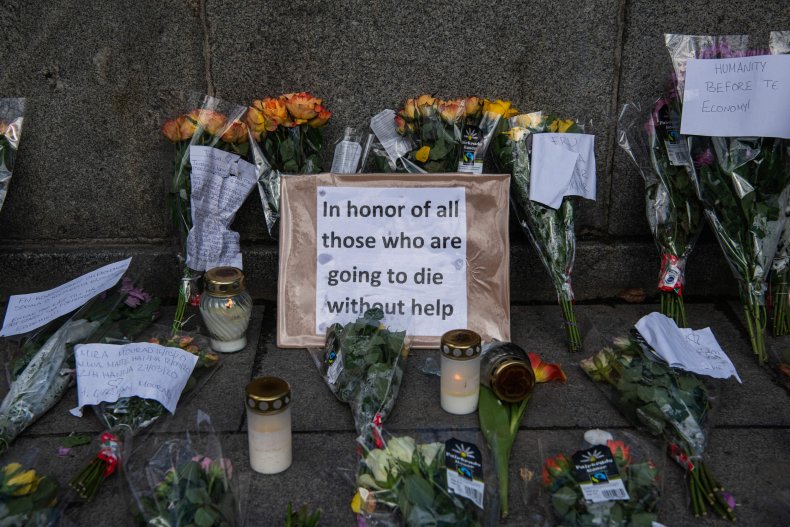 The graphic below, provided by Statista, illustrates countries with the most confirmed COVID-19 cases.