Sweden's Coronavirus Death Rate Nearly Twice That of U.S. as Trump Says Country 'Paying Heavily' For Not Having Lockdown
Cases of the novel coronavirus continue to rise in Sweden, which has a death rate of over 12 percent, the sixth highest in the world among countries with more than 1,000 confirmed cases, as of Thursday, according to the latest figures from Johns Hopkins University.
Sweden's death rate is more than twice as high as that of the U.S. (around 5.8 percent), the current epicenter of the outbreak which has the highest death toll in the world, and of China (around 5.5 percent), where the virus was first reported in the city of Wuhan.
The country has sparked controversy for its seemingly relaxed approach to combating the pandemic by surprisingly choosing not to impose a nationwide lockdown, while many of its European neighbors, including across Scandinavia, have done so.
On Thursday, President Donald Trump noted the country was "paying heavily" for its decision. "Despite reports to the contrary, Sweden is paying heavily for its decision not to lockdown. As of today, 2462 people have died there, a much higher number than the neighboring countries of Norway (207), Finland (206) or Denmark (443). The United States made the correct decision!," Trump said in a post Thursday morning on his official Twitter account.
The country has reported more than 21,000 confirmed cases, including nearly 2,500 fatalities. Its death rate is nearly six times as high as that of Norway (nearly 2.6 percent) and nearly triple that of its other Scandinavian neighbors Finland (nearly 4.2 percent) and Denmark (nearly 4.9 percent).
The death rate in Iran (nearly 6.3 percent), which once had the highest death toll outside China, is nearly half that of Sweden.
Sweden also has more than double the number of confirmed cases as Denmark, nearly triple that of Norway and over four times as many as Finland.
There have been virtually no new recoveries from infection reported in Sweden throughout the outbreak, apart from a few dates in April, including a spike on April 25 when it has 455 new recoveries. But new cases have continued to rise from around early March, reaching 681 on Wednesday, according to figures from the Public Health Agency of Sweden.
Sweden's radical response to the outbreak is said to be part of the country's strategy to establish herd immunity by increasing the number of people exposed to the virus in a bid to prevent another wave of cases.
"At least 50 percent of our death toll is within elderly homes and we have a hard time understanding how a lockdown would stop the introduction of disease," Anders Tegnell, the chief state epidemiologist at Sweden's public health agency, told the BBC's Radio Four's Today program last week.
The decision to not issue a lockdown "worked in some aspects because our health system has been able to cope," he noted.
Tegnell also claimed last week that up to 20 percent of residents in the Swedish capital, Stockholm, have been infected with the virus, noting "We believe that we have an immunity level, if I remember rightly, somewhere between 15-20 percent of the population in Stockholm," he told CNBC.
"This is not complete herd immunity but it will definitely affect the reproduction rate and slow down the spread (of a second wave)," he said.
Speaking to Newsweek, Peter Nilsson, a professor of internal medicine-epidemiology at Lund University, said earlier this week: "My personal view is that a temporary, local lockdown in severely affected areas could be one option if needed (and the government/parliament has passed a law to allow for such a decision), but still we are not there. The health care sector is strained but not overwhelmed. There are still extra capacities and a full reserve hospital in Stockholm not being used yet."
He added that "the situation in Stockholm is not improving, but still at a plateau phase," noting that Swedish authorities have recommended strict social distancing measures and residents are being told to stay home if they show symptoms of the virus.
Restaurants risk being closed by authorities if social distancing guidelines are not followed, such as having more guests in the venue than allowed, while social gatherings of 50 people or more are banned, Nilsson notes.
"Of special importance is also to protect the economy and avoid close-downs and widespread unemployment if possible, as otherwise the secondary damage done by the pandemic may kill many people or impact on reduced health care resources in the future," he added.
The country's unconventional approach has faced criticism from some Swedish health experts, including Cecilia Soderberg-Naucler, a professor of microbial pathogenesis at the Karolinska Institute in Sweden.
Soderberg-Naucler is among the nearly 2,300 academics who last month signed an open letter to the government urging it to introduce stronger measures to protect the country's health care system.
"My concern is things [the outbreak] are going too fast," Soderberg-Naucler said to Radio Sweden last week, noting that the country was too slow to react when the virus was first brought to the country by residents who traveled to higher risk areas, including to the Italian Alps and Iran.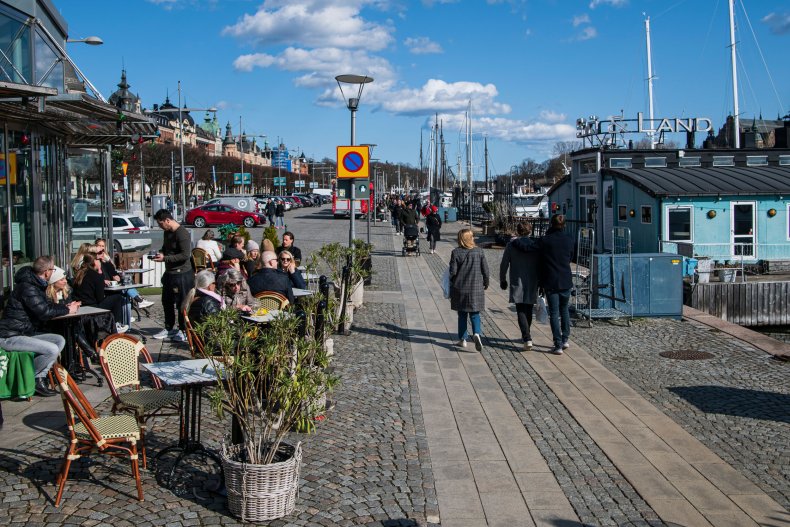 "We don't have a choice, we have to close Stockholm right now. We must establish control over the situation, we cannot head into a situation where we get complete chaos. No one has tried this route [of not imposing a lockdown], so why should we test it first in Sweden, without informed consent?" she told Reuters earlier this month.
As cases continue to grow in Sweden, schools for those under 16 remain open, while high schools and universities have closed and their courses are being taught online.
Residents are allowed to visit shops as normal, while restaurants, bars, cafes and nightclubs have reportedly been told to offer seated table service only.
The novel coronavirus has spread to more than 3.2 million people across at least 186 countries and regions. Over 992,500 have recovered from infection, while more than 228,700 have died, as of Thursday.
The graphic below, provided by Statista, illustrates countries with the most confirmed COVID-19 cases.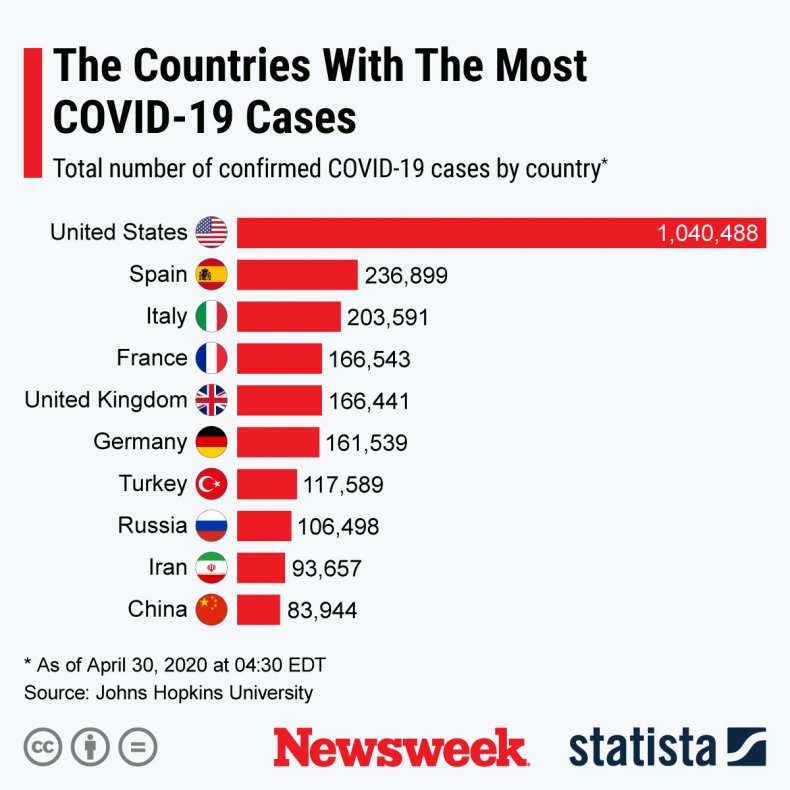 Data on COVID-19 cases is from Johns Hopkins University unless otherwise stated.
Centers for Disease Control and Prevention Advice on Using Face Coverings to Slow Spread of COVID-19
CDC recommends wearing a cloth face covering in public where social distancing measures are difficult to maintain.
A simple cloth face covering can help slow the spread of the virus by those infected and by those who do not exhibit symptoms.
Cloth face coverings can be fashioned from household items. Guides are offered by the CDC. (https://www.cdc.gov/coronavirus/2019-ncov/prevent-getting-sick/diy-cloth-face-coverings.html)
Cloth face coverings should be washed regularly. A washing machine will suffice.
Practice safe removal of face coverings by not touching eyes, nose, and mouth, and wash hands immediately after removing the covering.
World Health Organization advice for avoiding spread of coronavirus disease (COVID-19)
Hygiene advice
Clean hands frequently with soap and water, or alcohol-based hand rub.
Wash hands after coughing or sneezing; when caring for the sick; before, during and after food preparation; before eating; after using the toilet; when hands are visibly dirty; and after handling animals or waste.
Maintain at least 1 meter (3 feet) distance from anyone who is coughing or sneezing.
Avoid touching your hands, nose and mouth. Do not spit in public.
Cover your mouth and nose with a tissue or bent elbow when coughing or sneezing. Discard the tissue immediately and clean your hands.
Medical advice
Avoid close contact with others if you have any symptoms.
Stay at home if you feel unwell, even with mild symptoms such as headache and runny nose, to avoid potential spread of the disease to medical facilities and other people.
If you develop serious symptoms (fever, cough, difficulty breathing) seek medical care early and contact local health authorities in advance.
Note any recent contact with others and travel details to provide to authorities who can trace and prevent spread of the disease.
Stay up to date on COVID-19 developments issued by health authorities and follow their guidance.
Mask and glove usage
Healthy individuals only need to wear a mask if taking care of a sick person.
Wear a mask if you are coughing or sneezing.
Masks are effective when used in combination with frequent hand cleaning.
Do not touch the mask while wearing it. Clean hands if you touch the mask.
Learn how to properly put on, remove and dispose of masks. Clean hands after disposing of the mask.
Do not reuse single-use masks.
Regularly washing bare hands is more effective against catching COVID-19 than wearing rubber gloves.
The COVID-19 virus can still be picked up on rubber gloves and transmitted by touching your face.