Sweden Drops Bombs In Attempt To Extinguish Forest Fires
As blazes rage across some European countries, Sweden has employed the use of bombs to put out forest fires on Wednesday.
The bombs were dropped in an area that would be too hard and dangerous for firefighters to reach. The fire that has been burning a forest in central Sweden for two weeks has reached an old military firing range that is littered with undetonated explosives, according to The Local Sweden.
The pressure from a bomb being dropped into the forest is meant to literally blow the fire away from trees. The fire reaching the bomb-laden firing range proved to be the perfect time to test the theory, fire and rescue team leader Johan Szymanski said in a statement.
"The oxygen from the fire can be removed with the help of a bomb, and in this case, it was possible to try it because the fire is at a firing range," Szymanski added.
The Swedish Air Force sent two fighter jets to bomb the flames and initial reports claim that once the bomb exploded, it was able to extinguish fires within 100 meters of where it was dropped.
Szymanski was satisfied with the result. "Our preliminary assessment right now is that this had a good effect," he said.
Over the past weeks, the fires have burned around 62,000 acres. Local authorities said that temperatures have even reached above 80 degrees Fahrenheit inside the Arctic Circle in Sweden. "This is a serious situation and the risk for forest fires is extremely high in the whole country," an official told the Associated Press.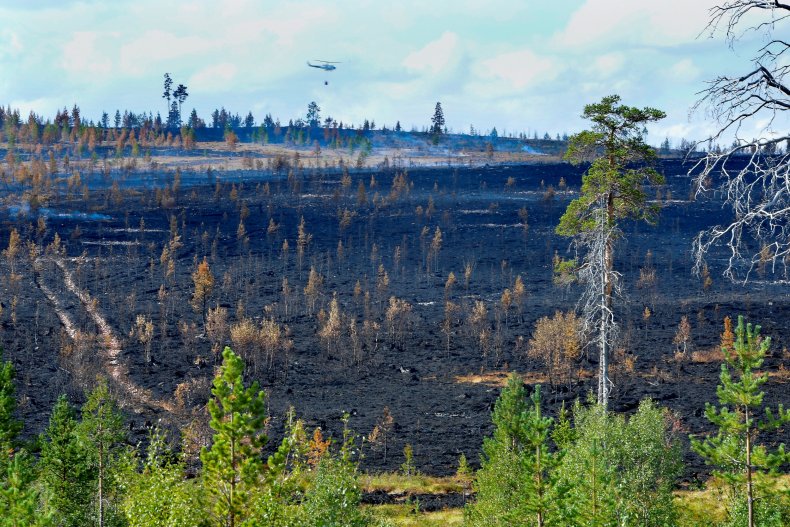 Sweden has already received help from other European countries in fighting the blaze, and the European Commission has said that it will send more help to the Nordic country.
Christos Stylianides, the European Union's commissioner for humanitarian aid and crisis management said that "The EU stands by the Swedish government and the Swedish people in their time of need." He then added, "this is solidarity in action. This is what our citizens expect in a Europe that protects."
According to a press release from the EU, equipment such as planes, helicopter and vehicles, as well as firefighters, have been sent to Sweden from Italy, France, Germany, Lithuania, Poland and Denmark.
Warsaw sent 139 firefighters and 44 vehicles to help fight the growing blaze. This is the largest group to come from all of the volunteering countries, local press reported.
So far, many Swedes have had to evacuate due to the flames across the country. However, no deaths or injuries have been reported.
Meanwhile, wildfires in Greece have risen a death toll to 85 and injured over 180 people thus far. Authorities pointed out that "there are serious indications of arson" in one of the blazes.