Sweden and Finland NATO Membership Could be Approved in Just 2 Weeks—Report
Sweden and Finland could have their NATO memberships approved in just two weeks, Norwegian Prime Minister Jonas Gahr Støre said Wednesday, following reports that the countries will jointly express their wish to join the military alliance this month.
Støre told Norwegian tabloid newspaper Verdens Gang (VG) NATO has started a process that could bring Sweden and Finland into the alliance in rapid order, should the two countries apply to join.
It comes after tabloid newspapers Iltalehti in Finland and Expressen in Sweden reported on April 25, citing sources close to the matter, that the leaders of the two nations intend to meet in the week of May 16, and will subsequently publicly announce their plans to apply to join NATO.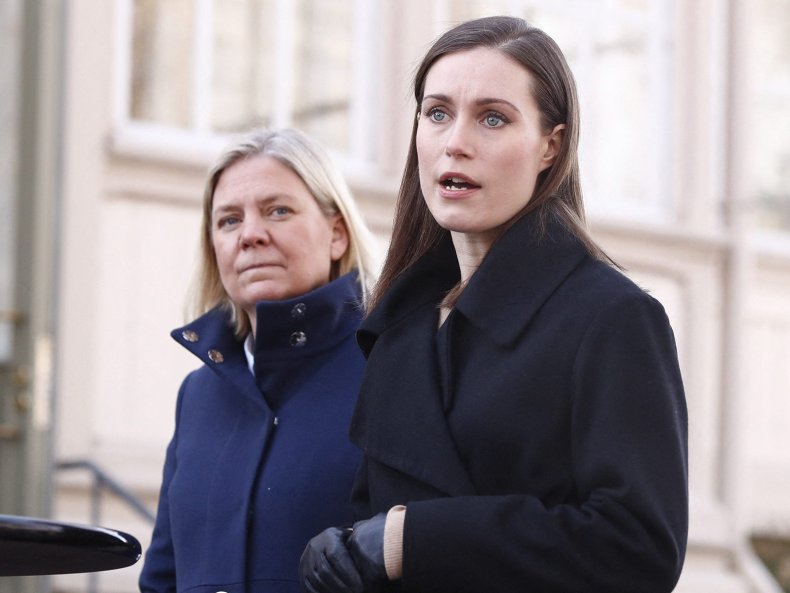 In a sign of intensifying talks between the two nations, the prime ministers of Sweden and Finland, Magdalena Andersson and Sanna Marin, met with German Chancellor Olaf Scholz on May 3 to discuss security issues.
Finland's foreign minister, Pekka Haavisto, said on April 29 that it is Finland's wish that "Finland and Sweden can adhere to the same timetable in respect of applying for membership to NATO."
Marin recently said that she expected Finland to make up its mind on whether to apply for NATO membership within weeks.
The VG newspaper cited diplomatic sources as saying that lengthy talks have been underway between the NATO countries and Sweden and Finland, to shorten the process as much as possible between application and membership.
NATO Secretary-General Jens Stoltenberg's staff in Brussels, in cooperation with the alliance's member countries, are trying to shrink this time window as much as possible, VG reported.
Newsweek has been unable to independently verify the reports.
The Kremlin has repeatedly warned Finland and Sweden against applying for NATO membership, saying that the possible accession of the countries to the military alliance would not bring stability to Europe.
Ending Ukraine's desire to join the defense alliance was one reason Russian President Vladimir Putin gave for justifying his invasion in February. The war has pushed European countries to rethink their security policies.
When pressed by reporters last month on the possibility of Sweden and Finland joining NATO, Kremlin spokesperson Dmitry Peskov said that Russia has "repeatedly said that the alliance remains a tool geared towards confrontation."
"Its further expansion will not bring stability to the European continent," said Peskov.
Newsweek has contacted NATO, and officials in Russia, Sweden and Finland, for comment.
Update 05/04/22, 7:22 a.m. ET: This article was updated with additional information and quotes.