Swedish health officials are considering new protocols to slow the spread of COVID-19 in Stockholm, where a recent uptick in virus cases could prompt experts to rethink the nation's hands-off approach to mitigation.
Björn Eriksson, Stockholm's health director, said data collected over the past week points to "worrying signs of increasing infection" in the region, according to a report by The Telegraph.
"The downwards trend is broken," Eriksson reportedly warned during a press conference on Tuesday. "We can only hope that this is a blip, that the spread starts decreasing again."
Although Sweden initially faced criticism for declining to impose lockdown measures or close businesses when the new coronavirus began to spread in March, it later received praise from Dr. Mike Ryan, the executive director of the World Health Organization's Health Emergencies Program, following a considerable drop in outbreak statistics reported over the summer.
Where most countries implemented procedures that required individuals to stay home and businesses to halt or alter operations, Sweden asked residents to exercise personal responsibility in following health advice related to transmission. Many public spaces, such as restaurants and bars, remained open, and patrons were expected to voluntarily practice social distancing.
Johan Carlson, director of Sweden's Public Health Agency, deemed the individualistic approach a success earlier this month. However, an increase of roughly 1,200 new COVID-19 cases confirmed since Friday raised concerns about a potential resurgence of cases. State epidemiologist Anders Tegnell noted the possibility of oncoming restrictions in Stockholm to manage further spread on Tuesday.
"Right now we are in discussions on whether we need to bring in additional restrictions to reduce the spread of infection in Stockholm," Tegnell said.
Public health officials deemed Stockholm the nation's coronavirus epicenter shortly after the onset of the pandemic. With upwards of 2.3 million inhabitants, Sweden's capital city is also its most populous, accounting for more than 20 percent of the country's total residents.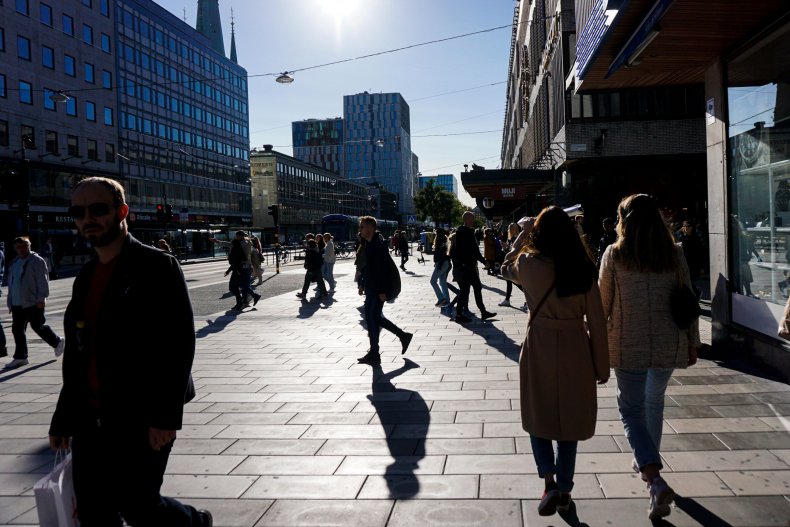 Close to 90,000 people have tested positive for COVID-19 in Sweden since the pandemic began, according to the Public Health Agency's latest statistics. Of those who contracted the respiratory illness, at least 5,876 Swedish residents have died. Sweden's virus numbers are substantially higher than Norway and Finland, its neighboring Scandinavian countries, and reflect more significant transmission and fatality rates per capita.
Newsweek reached out to the Public Health Agency of Sweden for additional comments but did not receive a reply in time for publication.