Sweden announced Tuesday that it will no longer require international travelers to show a negative COVID test to enter the country, despite 24,000 new cases of the virus being seen daily in the country.
"Travellers are no longer considered to represent a particular risk that would affect the spread of the Omicron variant in Sweden," said a press release from the Swedish Ministry of Justice. "For this reason, the specific requirement for a negative COVID-19 result from a test conducted within 48 hours of arrival to Sweden is no longer considered to be a proportional measure."
"This means that the specific requirement for a negative COVID-19 result...no longer applies," the statement continued.
However, people looking to spend time in Stockholm or Gothenburg will not be able to just walk through customs. A number of restrictions are still being enforced by Swedish authorities in order to help mitigate the spread of COVID.
Travelers entering the country from a European Union nation must present border agents with "the EU Digital COVID Certificate or a corresponding certificate showing that they have either been vaccinated against COVID-19, tested negative within 72 hours of arrival or recovered from COVID-19 in the last six months." This will apply to all people aged 18 and over.
People from non-EU countries cannot currently enter Sweden unless they fall under one of the entry exemptions that have been identified by the government. This includes people from a variety of nations—the U.S. and U.K. included—that can provide proof that they have been vaccinated.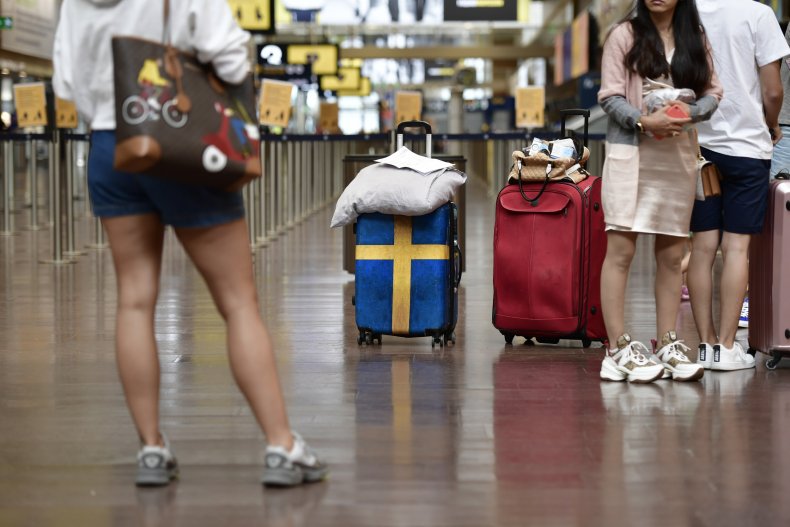 Citizens who live in countries such as Canada, Australia, New Zealand and Argentina can freely enter Sweden without showing proof of vaccination due to low rates of COVID in those nations.
Entry exemptions also exist for a variety of other issues, such as people who have a residence in Sweden or have a national Swedish visa.
The relinquishing of the need for a negative test comes despite rising cases of the Omicron variant across the country. This comes as the Nordic region as a whole enters its peak of the Omicron wave.
Sweden has recorded at least 24,300 new daily cases in the past few days, according to the World Health Organization (WHO). This is double the number of new cases seen during the previous wave and represents a massive spike in the virus' spread.
As Omicron continues to rear its head, COVID continues to make its way across a country that saw fewer than 3,000 new cases at the beginning of last December.
However, vaccination rates across Sweden remain high. More than 75 percent of the Swedish population has received at least one dose of the vaccine, and just over 72 percent have been fully vaccinated. The latest data, from January 14, showed only a single death from COVID that day.
The WHO told Newsweek when contacted for comment that "it's up to national authorities to decide how they manage COVID-19 in a country," adding that they do not typically comment on the practices of individual nations.
Newsweek also reached out to the Swedish Ministry of Foreign Affairs for comment.