Sweden's U.S. Ambassador Says Stockholm Is Close to Coronavirus Herd Immunity Despite Questions Over Reinfection
Sweden's ambassador to the U.S. has said the country's capital Stockholm could reach herd immunity from the coronavirus within a few weeks, despite questions over whether people who have recovered from COVID-19 are actually protected from a second infection.
Herd immunity means the majority of a population have become immune to an infectious disease, either by recovering from it or by being vaccinated.
Karin Ulrika Olofsdotter, Swedish ambassador to the United States, told NPR: "About 30 percent of people in Stockholm have reached a level of immunity. We could reach herd immunity in the capital as early as next month."
How much of the population needs to have been infected to achieve herd immunity depends on the disease. With COVID-19, the figure is unclear, but it is estimated at least 50 to 60 percent of the population would need to have been infected.
There is no official lockdown in Sweden and schools, restaurants and stores have stayed open during the pandemic. The government has issued social distancing guidelines and told citizens to avoid unnecessary travel. Gatherings of more than 50 people and visits to care homes have been banned.
Officials forced five bars and restaurants in Stockholm to close after they failed to respect social distancing guidelines.
Olofsdotter said that additional research and testing is necessary to understand more about immunity to COVID-19. She said the Swedish government would change its approach to tackling the coronavirus if necessary.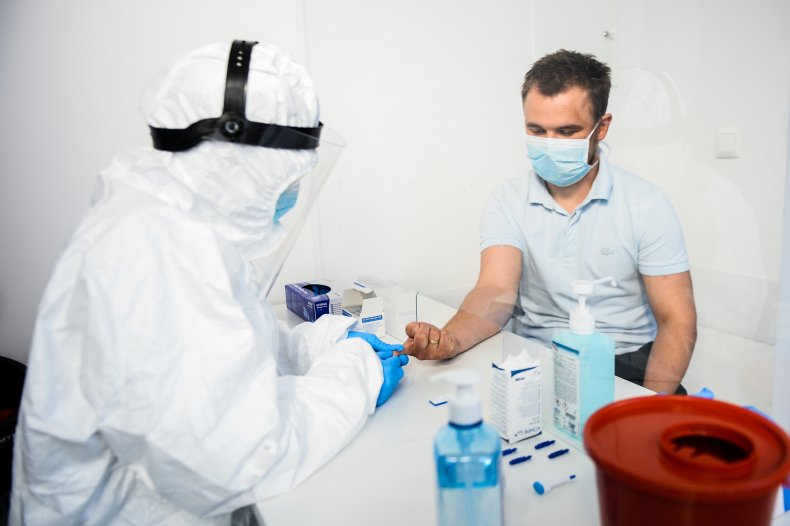 There is currently no scientific proof that people who have recovered from COVID-19 are protected from a second infection. According to the World Health Organization, only a very small proportion of the global population appear to have antibodies in the blood showing they have been infected with the disease.
A study in the Netherlands of 7,000 blood donors also found that just 3 percent had antibodies, Reuters reported.
"There is no evidence yet that people who have had COVID-19 will not get a second infection," WHO said in a scientific brief published Friday. "Laboratory tests that detect antibodies to SARS-CoV-2 in people, including rapid immunodiagnostic tests, need further validation to determine their accuracy and reliability."
"Many countries are now testing for SARS-CoV-2 antibodies at the population level or in specific groups, such as health workers, close contacts of known cases or within households.
"WHO supports these studies, as they are critical for understanding the extent of – and risk factors associated with – infection. These studies will provide data on the percentage of people with detectable COVID-19 antibodies, but most are not designed to determine whether those people are immune to secondary infections," the brief states.
WHO also cautioned against governments are considering issuing so-called "immunity passports" to people who have had COVID-19, assuming they are safe to resume normal life.
"At this point in the pandemic, there is not enough evidence about the effectiveness of antibody-mediated immunity to guarantee the accuracy of an 'immunity passport' or 'risk-free certificate,'" WHO said.
The WHO later clarified its position on the risk of reinfection, tweeting: "We expect that most people who are infected with COVID19 will develop an antibody response that will provide some level of protection.
"What we don't yet know is the level of protection or how long it will last."
At a media briefing in Geneva last week, WHO director-general Dr. Tedros Adhanom Ghebreyesus said: "Easing restrictions is not the end of the epidemic in any country. So-called lockdowns can help to take the heat out of a country's epidemic."
There have been 18,640 confirmed cases of coronavirus in Sweden and 2,194 deaths so far, according to data from Johns Hopkins University.
Newsweek has contacted the office of Olofsdotter for further comment.
This article has been updated to include more information on herd immunity and the WHO position on reinfection.