The Swedish Party Aiming to Take Feminism Into Parliaments Across Europe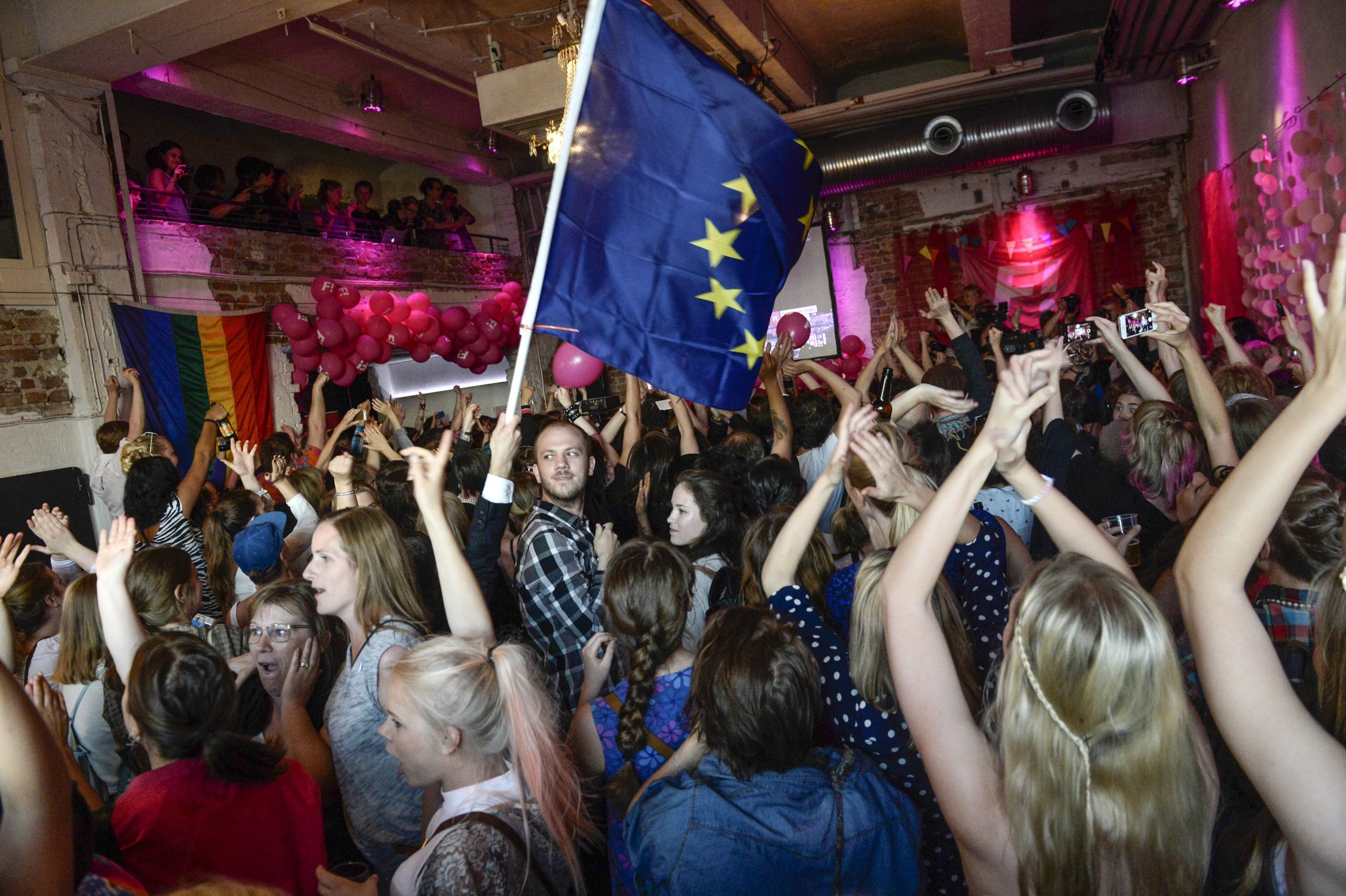 On the eve of Sweden's general elections last September, U.S. rapper Pharrell Williams was in town, performing at the Stockholm Globe Arena. Among his usual hits, the Blurred Lines singer had an unusual message for the crowd. "I hear you guys might actually have a feminist party tomorrow," he yelled, as he invited 66-year-old Gudrun Schyman, a veteran politician and leader of Sweden's Feminist Initiative party, to the stage. "Let's give women a shot for once in a while to try to run this world," he suggested, to a deafening roar.
It struck some as an odd alliance. Pharrell made headlines in 2013 when he wrote and co-produced Robin Thicke's controversial hit Blurred Lines, notorious for its lyrics and video which were widely condemned as misogynistic and 'rapey'. But then, Schyman's Feminist Initiative party (FI) has always done things differently.
Although FI failed to enter the Swedish parliament last year, falling just short of the 4% threshold which is required to be represented, since its inception 10 years ago, FI has risen quickly. Last May, the party won 5.3% of the vote in the European elections and gaining their first MEP in the European parliament, making them the first feminist party to gain a seat there. Today, the party boasts 22,000 members, and their youth organisation is the third largest in the country. Its aim is to "drive through a feminist politics for a world free from discrimination", denouncing "gendered power structures".
The FI juggernaut shows no sign of losing steam. This week, the party spilled over Sweden's borders into Norway, where it officially launches in Bergen tonight, at a meeting expected to attract between 140-180 attendees, and which will be shown live on television, according to organisers. Although this sounds like relatively small beginnings, if they can eventually emulate the success of the Swedish party, feminism in Europe could be moving out of the realm of pressure groups, and into mainstream politics.
Schyman claims her party has already managed to achieve total political upheaval in her own country. "We have changed the whole political conversation in Sweden," she says flatly, when asked what her party's greatest achievement is. "In other countries right now, in Denmark, Finland, Norway, there is a strong backlash against feminism, because other political forces, the nationalist, right-wing parties, have forced the political agenda back to the traditional ways of seeing things. Questions of gender equality have fallen off the agenda. But that is not the case in Sweden, because of FI."
Much of FI's success can be attributed to Schyman, who knows how to turn heads. Five years ago she infamously set fire to 100,000 Swedish kronor (€10,751; £8,500) in a public protest against unequal pay. FI also boasts Abba's Benny Andersson and Jane Fonda as vocal supporters.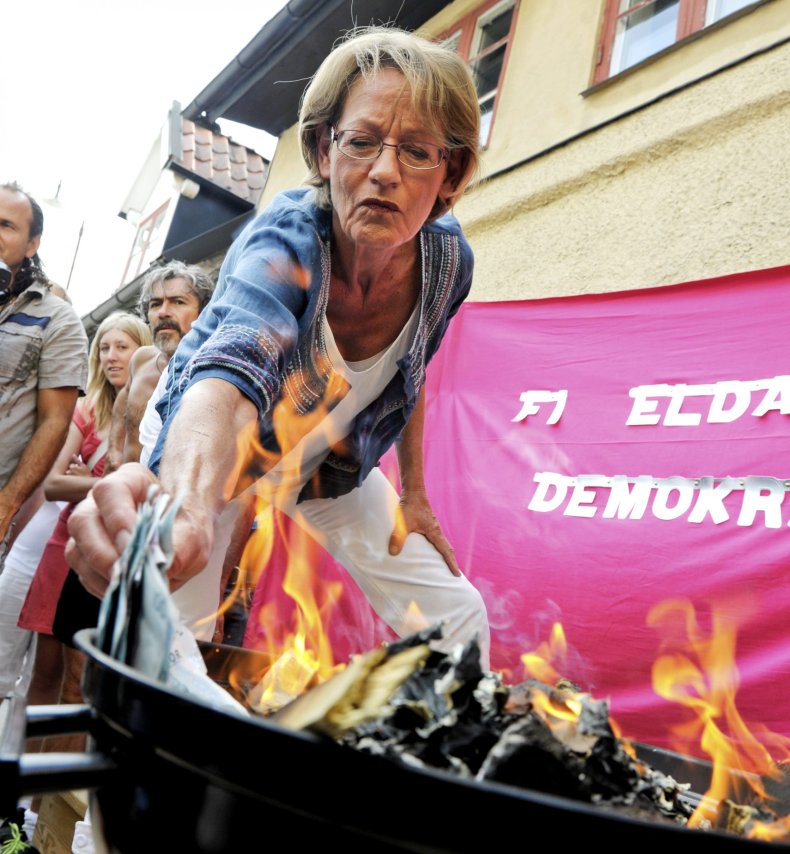 Yet Feminist Initiative in Norway has its work cut out. While the party's Facebook supporters already number nearly 2,000, the party has an uphill struggle: by the end of March they must secure 500 signatures from Norwegian citizens in order to field candidates for national and city elections.
The announcement of a new feminist party has ruffled the feathers of Norway's political elite. Tellingly, their enemies are already sharpening their claws, accusing FI of divorcing the feminist camp and weakening the left-wing voting block. In particular, the Norwegian opposition party the Socialist Left, are furious. Oddny Miljeteig, the Bergen head of the party, has already warned that FI risk a split in the left-wing vote if they participate in the 2017 election. "The paradox is that we will get a split on the left where feminism is strong," a frustrated Miljeteig told the press.
Parties like the Socialist Left have good reason to be worried. Although FI did not achieve its predicted result in the elections last September, its support was enough to result in the country's Green party polling an unusually low 6.9%. Sweden's present coalition government between the Greens and the Social Democrats has been described as "one of the weakest governments in modern Swedish political history", by Ulf Bjereld, professor of political science at the University of Gothenburg.
However, Sunniva Schultze-Florey, one of the founders of the Norwegian FI group, dismisses politicians' attempts to ward off her party. "They're fearful," she says. "In a democracy, no party is entitled to votes. These attacks are arrogant. And besides, we are not the enemy. The real enemies are the fascists on the far-right."
According to Schultze-Florey, there has been a surge in feminist activity in Norway during the past year, demonstrated most notably last March, when thousands took to the streets on International Women's Day, outraged over a proposal by the ruling Conservatives and right-wing Progress Party that would bolster a doctor's right to refrain from referring a woman for abortion on grounds of conscience. The rallies were the largest seen in the country since the 1970s and the government was forced to abandon its plans, and quickly established an official equal rights committee.
"For me it wasn't a small proposition," says Schultze-Florey. "I thought the days where you had to fight for abortion were long gone. Yet this was a clear infringement on that right, and it made the Norwegian people furious."
Although the Scandinavian countries are frequently ranked as among the most progressive and liberal countries in the world in which to be a woman, there is still much to be done, according to FI. "The established parties are not good enough at prioritising feminism and equality. We need a feminist party to put these issues first, because feminism is the base of all politics", says Schultze-Florey. "Women still have lower wages than men, even with the same level of education, which means we have less power. And there is a huge problem with male violence against women. Women being raped and sexually abused is still seen as a women's issue, not a men's issue - which it is."
If Feminist Initiative is needed in Sweden and Norway, then it follows that the party is needed even more urgently throughout the rest of Europe. Women in the EU earn an average of 16.4% less than men, according to the latest figures from the European Commission. One in three women have suffered some form of physical or sexual abuse. And rather than a feminist party in the UK, the anti-feminist party Justice for Boys & Men, which formed last year and argues that the British state is "anti-male", are fielding three candidates in the general election in May.
Despite this, the party's founders are confident that Feminist Initiative will spread throughout Europe in the years to come. "It will grow," Schyman says without hesitation. "We will be in every country. We already have cooperation with groups in Poland, Germany, Spain and France. We are tired of convincing those who have power to address our demands. We must enter parliament ourselves and take power. We can't wait any longer."