Swedish Company IKEA Is Latest Global Brand to Donate to Ukrainian Relief
Swedish conglomerate IKEA, the world's largest furniture brand, is pledging more than $30 million to humanitarian efforts in Ukraine just days after announcing the temporary closure of all of its Russian stores. The company is the latest among a number of other global brands such as Eli Lilly, Google and Lego to promise financial assistance.
Ikea, which operates over 400 stores in 60 different countries, said Thursday in a statement that its charitable arm, the IKEA Foundation, is donating $20 million euros ($22 million USD) to "humanitarian assistance to those who have been forcibly displaced as a result of the conflict in Ukraine." The donation is coming in response to a request from the United Nations Refugee Agency, IKEA said.
An additional $20 million euros is being donated to similar charitable organizations from IKEA's holding companies, Inter IKEA Group and Ingka Group, who also have charitable arms.
"Several initiatives have already started throughout IKEA, together with established humanitarian organizations, to support the affected people with emergency relief in the most needed regions," the statement continued.
"The devastating war in Ukraine is a human tragedy, and our deepest empathy and concerns are with the millions of people impacted," the company added. "The immediate actions of Inter IKEA Group and Ingka Group have been to support the personal safety and security of IKEA co-workers and their families, and we will continue to do so."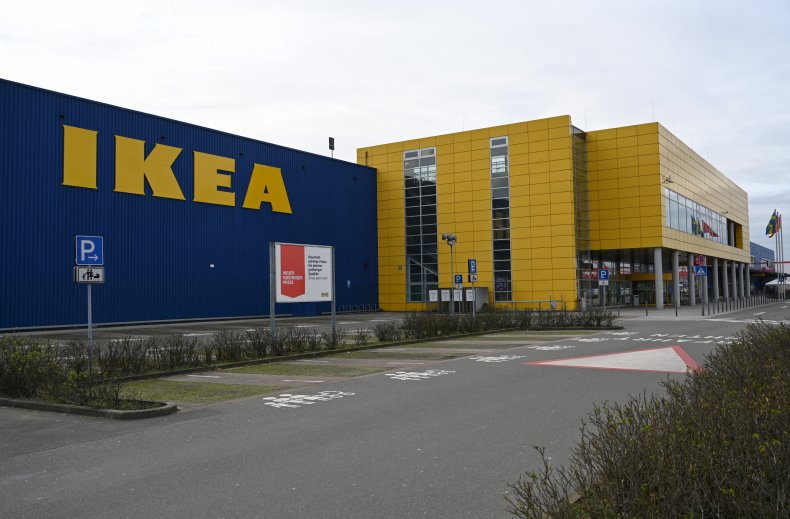 In a separate statement, IKEA Foundation CEO Per Heggenes called the war in Ukraine a "human tragedy."
"We believe everyone deserves a safe place to call home and we have pledged to do all we can to help the children and families affected by the deadly war," Heggenes said. "UNHCR has been our long-standing partner and they have a proven track record. We therefore call on the world's governments, businesses, and philanthropies to join us and increase the relief support for UNHCR and the people fleeing Ukraine."
The announcement of the donations came at the same time IKEA said that it would be temporarily shuttering all of its Russian stores. The 17 locations within the country makes Russia one of IKEA's largest markets.
In addition, IKEA pledged to similarly stop sourcing products from both Russia and neighboring Belarus, halting all imports and exports from the two nations. The closure of the Russian stores also means a loss of employment for approximately 15,000 IKEA employees.
The furniture giant has become just the latest large company to pull out of Russia as the invasion of Ukraine continues.
Another iconic brand that is joining in the fight is Danish toymaker Lego, which has announced that it will donate approximately $16.5 million to Ukrainian humanitarian efforts.
The money "will be distributed to partners including the United Nations Children's Fund (UNICEF), Save the Children, and the Danish Red Cross to address the immediate basic needs and mental support for the millions of civilians affected by the crisis," Lego said in a statement. "We stand with the Ukrainian people and all those affected by the devastating invasion of Ukraine, and call for a rapid and peaceful end to the conflict."
American drug manufacturer Eli Lilly has also pledged to match up to $500,000 to send to a trio of nonprofit groups. The drug conglomerate added that it would be donating $7.5 million worth of insulin to the Ukrainian people.
Tech giant Google has also gotten involved, with the company releasing a statement saying, "Our teams are working around the clock to support people in Ukraine."
"Together, Google.org and Google employees are contributing $15 million in donations and in-kind support to aid relief efforts in Ukraine, including $5 million so far from our employee matching campaign and $5 million in direct grants," Google said. "We're also contributing $5 million in advertising credits to help trusted humanitarian and intergovernmental organizations."
Newsweek has reached out to IKEA's Ingka Foundation for comment.