Swedish Parents and Teachers Say They're Being Forced To Risk Children's Health Due to Mandatory In-class Schooling
As infections continue to grow in Sweden, several parents and teachers in the country have raised concerns over the risk their children (and everyone the kids come into contact with) face due to the mandatory school attendance required among those aged from six to 15 amid the ongoing pandemic.
Sweden has come under criticism from the wake of the outbreak for its controversial move of not imposing a lockdown, as many of its neighboring countries in Scandinavia have done in a bid to help curb the spread of the virus.
The chief epidemiologist of the Public Health Agency of Sweden, Anders Tegnell, who has been defending the country's anti-lockdown strategy, acknowledged last week that the death count, which was just under 3,000 at the time, was a "horrifyingly large number."
Last week's fatalities included a child less than 10-years-old, who had been in intensive care. While it hadn't been confirmed at the time whether that child died from the SARS-CoV-2 virus, the number of confirmed infections among children continues to grow.
At at least 134 children aged nine years or younger have been infected, while there are least 319 confirmed infections among those between 10 and 19 years of age, according to the latest figures from the Public Health Agency of Sweden.
Speaking to Newsweek, several parents (some of whom have serious health conditions) have reported being threatened with fines, being reported to social services and other repercussions for choosing to keep their children at home to minimize the risk to their own lives, as well as the lives of teachers and other children.
Dr. Christopher Plumberg, a theoretical physicist from Sweden's Lund University, told Newsweek: "The Public Health Agency doesn't officially recognize any children in Sweden as "at-risk" for COVID-19 (even children with pre-existing medical conditions). This stands in stark contrast to other developed nations such as the U.S. and the U.K., where children with a variety of pre-existing conditions are considered to be in an at-risk group.
"As a result, the National Agency for Education mandates that all children (ages 6-15) attend school if they have no symptoms. Many parents (with legitimate health concerns) who try to educate their children from home are being faced with social services investigations, fines, or threats that their children will be held back a year," he added.
"Some of these parents are in at-risk groups themselves; others are worried for their children who have their own set of medical conditions. It strikes me as profoundly unethical in its reckless endangerment of at-risk children and their families and ironically goes against Sweden's philosophy of equal rights for all," he said.
Among such parents is Cecilia Nilsson, a 31-year-old mother with an eight-year-old son who attends the Skytteanska school in Ålem, a small town in Southern Sweden.
Speaking to Newsweek, Nilsson said: "I have asthma and have been a smoker since, which makes me very sensitive to respiratory tract infections and other viruses. Unfortunately, I have not been able to get a certificate from my doctor that proves that I am sensitive to infection...the doctor has been given a directive that he can only give certificates to people in the age group 70 years and up.
"The headmaster of [my son's] school has expressed that he will go forward to the [school] board regarding an imposition of a fine, if my child does not return to school" and that the school will contact social services on the premise that the "child is getting [treated] badly at home, even though it is only about absence from school," she said.
"The headmaster also states that my child probably will have to do the year one [curriculum] over again in school, even if we follow the school's schedule at home with assignments and textbooks from the school," she added.
The children of Eva Panarese, 49, who are aged 15 and 12, attend Lund International School. Speaking to Newsweek, Panarese, who is half Swedish and half Italian, said: "We are Italians and therefore particularly sensitive to COVID-19 as our families and friends were in lockdown for two months."
Panarese's 55-year-old husband has had two severe episodes of pneumonia in less than a year and is a heavy smoker as well as overweight, "which puts him in the risk group, but not in Sweden," she said.
"My son is crying every evening as he's afraid that he will bring the virus back and kill his father...terrible for a 12-year-old boy. I have been threatened several times, as have other parents, that healthy children should go to school as there is an obligation for parents and schools for education up till 16 years of age.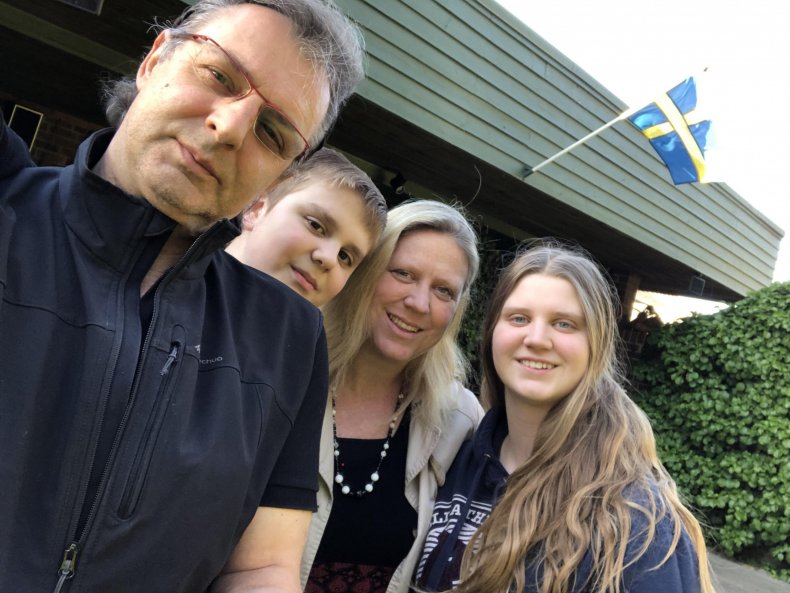 "Our school, which is private but subsidized by Swedish funds, has accepted the absence of my children and other families up till Easter. After that, they have asked several times to have children back.
"Last week I had to send back my daughter because she could not do her homework as teachers and students were forbidden to share the work they had done in class to those children that were staying at home which I find absurd...my son is still at home as he has had a very bad pneumonia beginning of March and since then is still recovering.
"Even if we have one person at home at risk, healthy children are obliged to go to school which again is absurd because they could bring the virus back at home. For Sweden, it's the responsibility of the person at risk to isolate him/herself and avoid being in contact with children (as for all people aged above 70 now in Sweden). How would we do this? We don't have another house," she added.
Rikard Engblom, 58, father to four children including ones aged 16, 14 and 10, has been facing similar frustrations. His 14-year-old daughter recently had pneumonia, which made her particularly vulnerable. Engblom has been told the school would have to report him to social services should his children be absent from school, he told Newsweek.
"There has been a lot of emailing back and forth [with the school]. Schools have softened up a little bit and send homework to them online. We have agreed to send them [his children] in to school when there is a test but then they can sit in a separate room," he told Newsweek.
"Talking to other countries the standpoint in Sweden for parents is absurd. There are many parents here, on top of the worry of [getting infected with] COVID-19, that are so scared of losing their children to social services, so they are in deep distress. You just want to follow your natural intuition: to protect your family.
"What if the COVID mutates and suddenly start hitting children? Second wave of Spanish flu took a lot of youngsters. I sincerely hope history doesn't repeat itself," he said.
Teachers are also facing the same risks as children who are required to attend school, such as Andreia Rodrigues, a 26-year-old preschool teacher who works at Altorps Förskola (Altorps Preschool) and lives in Sollentuna, a suburb of the Swedish capital Stockholm. Rodrigues also launched an online demonstration speaking out against the current regulations mandated by the government in response to the pandemic. It has been supported by a Facebook group called #SaveSwedenCov19, which has over 1,000 members.
Rodrigues believes she has been exposed to the virus because her fiancé works at the airport and "he had all the symptoms, so I cannot believe that I didn't get it [the virus] while living together with him," she told Newsweek.
"I don't feel good at all about having to continue working in the preschool during the pandemic...I am worried both for myself and those around me. It's also concerning that even people without any risk factors die because of COVID-19, which makes me feel that no one can feel completely safe right now.
"At the same time I am concerned for the kids I work with in school, because we cannot claim that we can guarantee their safety. Children have died from this virus, and even if it's rare statistically we cannot claim that there are no risks.
"We have had many people among the staff and among the students who have shown symptoms of COVID-19, but since in Sweden people are only tested when they are in severe need of hospital care, we have never reached the point of having a confirmed case.
"The only extraordinary measures that were taken since this crisis started were that we are outside with the kids much more now. In that way we are supposed to be able to reduce the risk of spreading the virus, since the Swedish authorities claim that the risk of transmission is very low when people are outdoors," she said.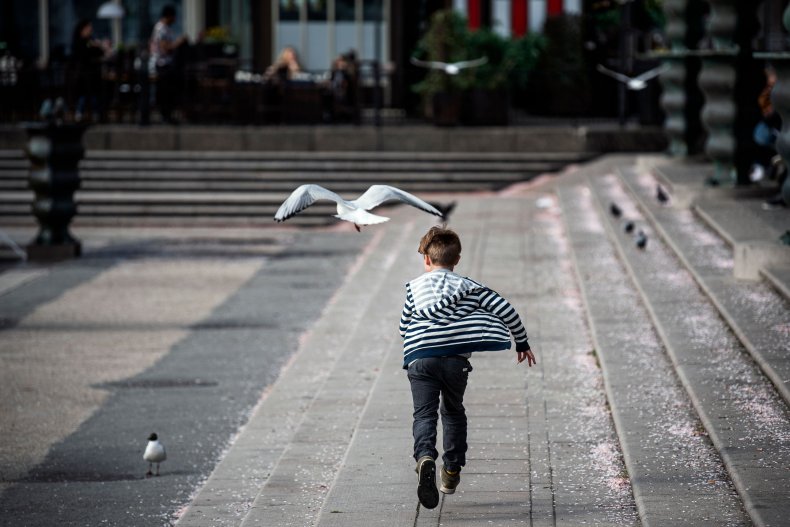 While children and staff are told to self-isolate if they show any symptoms, they are also expected to return to school just after two days of showing no symptoms, which has been concerning as "experts around the world and even the WHO [World Health Organization] recommends much longer symptom-free periods after being sick before it is considered safe to return to work/school," Rodrigues said.
The large majority of her colleagues who are concerned about the situation share the same opinion that it is just too risky to have kids in school during the pandemic.
"Some of us have expressed these concerns, me included, but we were met with extreme passivity. There is in general a mentality of accepting what the authorities decide here in Sweden, and this is no exception. Very few people are questioning the ridiculous guidelines that we are being asked to follow.
"The human rights of those children and parents are being violated and this situation has to be addressed immediately...people are in schools even though there are confirmed cases of COVID-19 in their households...there are no possible social distancing measures that can possibly be implemented when it comes to children," notes Rodrigues.
Rodrigues' concerns have been echoed by various others in the country. Earlier this month, a group of 18 teachers, parents and others published a joint letter to a Swedish newspaper in an outcry against this mandatory school requirement for the risks that come with it. The letter was meant to raise awareness on the issue and to urge authorities to change the current regulation.
Speaking to Newsweek, a co-author of the letter, Lisa Meyler, said: "I´ve actually published a similar letter in the beginning of April, with more than 200 parents co-signing. And the situation has only gotten worse since, so I wrote this one, with 18 other parents and foster parents co-signing, some of them teachers, some with other professions.
"The most outrageous part of the problem is that the public health agency and national school agency clearly state that not even parents in risk groups are allowed to let their children study from home at this extraordinary time. Children are not considered to be in any risk groups, ever, according to the public health agency, and it is stated on their website that not even 'children who have illnesses or conditions the same as adults in risk groups' are considered to have risk factors," she added.
Meyler also noted the lack of precautionary measures enforced in school settings: "None of the recommendations for social distancing and disease prevention, or very few, that apply to the rest of the community are applicable in school settings, and none are mandatory. Some schools even keep up activities like travels and visits to public places, which the children are expected to participate in.
"Thousands of parents throughout the country who themselves have risk factors, or don't want to risk their children's health in an environment without mandatory measures to prevent virus spread...are harassed with threats of being reported to social services or with fines, and many are being reported [to social services]. The only thing they want to do is protect their families and their children's lives and health," Meyler told Newsweek.
Jennifer Luetz, 47, another co-signer of the letter published earlier this month, has kept her children at home since around mid-March because one of her sons "has a compromised immune system and I myself fall into one of the risk categories as well," she told Newsweek.
"I refuse to send my healthy child to school while the rest of the family is in self-isolation, that totally defeats the whole purpose of self-isolation to protect myself and my son. The Swedish guidelines regarding this make absolutely no sense at all. They even went so far as to explicitly point out that children do not belong to any of the official risk groups they published. This means that while adults with cancer are considered to be in risk groups children with cancer are not. The same goes for immunodeficiency diseases (which my son falls under).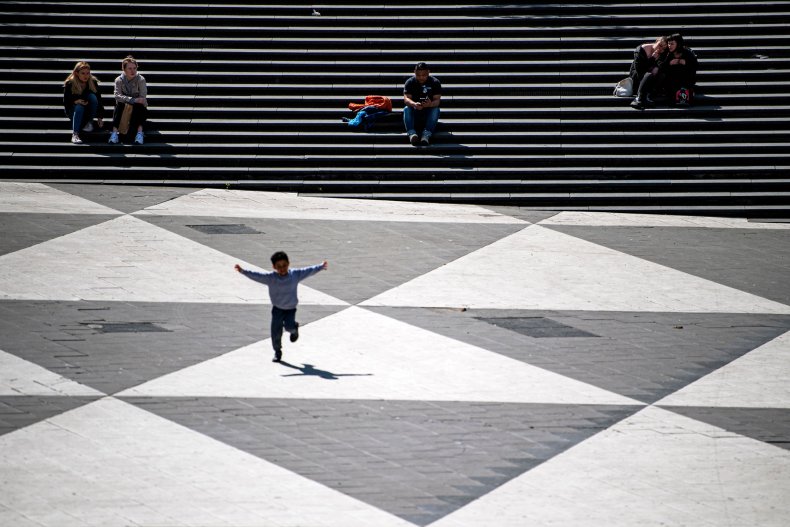 "There is no reason for mandatory schooling during these times. This decision should be up to the parents, not up to the government who, by the way, cannot be held accountable should my child get sick or die because of their decision," she said.
Most schools in Sweden are reportedly more than capable of arranging distance learning through online coursework, at least from a technological perspective. But the government "stubbornly clings" to the requirement of having kids physically present in school, Luetz notes.
Perhaps worried that allowing homeschooling during the pandemic will lead to more parents demanding the possibility of homeschooling after the pandemic,"something the Swedish government is violently against," Luetz added.
"Sweden is a highly digitized society. Our school has had no problems whatsoever to arrange online schooling for both my children through Google Meet and Google Classrooms. They even arranged one-on-one lessons for my son with autism. They arranged for us to get the necessary equipment to do physics experiments here at home and film them and then they come and pick up the equipment again," she said.
"Around 1,000 teachers wrote an article in one of the major Swedish newspapers, Aftonbladet, and demanded for possibility to give lessons via online from home. We have the technology [to make it happen]. All kids in school got a laptop so it could easily be done," Engblom told Newsweek.
Panarese notes: "I'm not completely against Sweden's way of managing COVID-19, as I understand that in the long run lockdowns are not really possible. But if there are people at risk, they should be carefully monitored and protected. Also, there is no testing here (only people in hospital and healthcare staff get tested) so how do they know how many people have COVID-19 and where?"
Compounding the issue has been the lack of transparency in schools when it comes to reporting infections among staff or students.
Rodrigues told Newsweek, "I know that the schools in Sweden have not been transparent about the existence of COVID-19 cases in their facilities...I know of other schools which have lied to parents about the fact that there was staff or students infected with the virus. We haven't been directly told at my workplace not to talk about eventual cases there, but the message between the lines in Sweden is that it is not ok to spread panic. That message comes from high above," she adds.
"There have been several reported cases of infection at schools of which parents have not been notified, and in the case of a school in Kåge where a teacher with COVID-19 died, parents openly criticize the lack of transparency from school leadership," according to Allyson Plumberg, a 33-year-old mother based in the city of Lund in southern Sweden.
"Recently, a teacher at a primary school in Uppsala was found infected by the coronavirus—but the school and Uppsala municipality choose not to notify custodians and students.
"When staff at a preschool in Malmö tested positive for the coronavirus, the principal asked colleagues to keep it secret from the parents, In contrast, preschools disclose information on lice and stomach ailments," she said.
Despite the growing frustrations and fears among parents and teachers, Tegnell, believes keeping children away from school is not the right answer. "No, you can't keep your children at home [during the pandemic]. There is a law saying that children have to go to school," he told Newsweek.
"Children in general are not at risk [of COVID-19 infection]. Parents' worries over the risk of infection for their children is not a good enough reason to keep them at home.
"Some kids, of course, have very serious conditions and they should not be out in society in general. And it should be handled by pediatricians. This is not a new problem," he added.
While there have been no confirmed COVID-19 deaths among children so far, according to the Public Health Agency of Sweden, Tegnell claimed there are "about 200 confirmed cases among below the age of 20, which is a very very low number." This is a fairly large underestimate of the aforementioned figures from the Public Health Agency of Sweden that show there are at least 453 confirmed infections among those aged 19 or younger.
Tegnell admitted he didn't know how many, if there are any, teachers who had died following infection "but we have an ongoing investigation [a study which has yet to be published] that seems to suggest teachers have less risk of falling ill [with COVID-19] than the population in general....obviously because they [teachers] exist in an environment where the risk of getting infected is lower than being in a normal kind of office or workplace," he told Newsweek.
"We haven't seen any spread or outbreak in schools. Whenever it's been investigated, there's never been excess cases in schools," he added.
Newsweek has contacted the Swedish Ministry of Health and Social Affairs and the Swedish Ministry of Education for a comment.
The novel coronavirus, which was first detected in Wuhan, China, has infected more than 4.4 million across the globe. More than 1.5 million have reportedly recovered while over 302,400 have died following infection, according to the latest figures from Johns Hopkins University.
The graphic below, provided by Statista, illustrates countries with the most confirmed COVID-19 cases.