Swedish PM Asks Youths 'What the Hell Are You Doing?' As They Firebomb Cars
The prime minister of Sweden has vented his anger on national radio after a spate of car fire attacks carried out by youths across the country.
More than 100 cars were set alight in the cities overnight on Monday in attacks that police believe were co-coordinated over social media.
Masked youths set fire to around 60 cars in Stockholm, while another 40 vehicles were destroyed in Trollhattan, around 45 miles north of the Swedish capital. There were also attacks in Malmo, Gothenburg and Uppsala, Reuters reported.
The country's premier, Stefan Löfven, did not hold back when he spoke about the attacks on national broadcaster Sveriges Radio P1.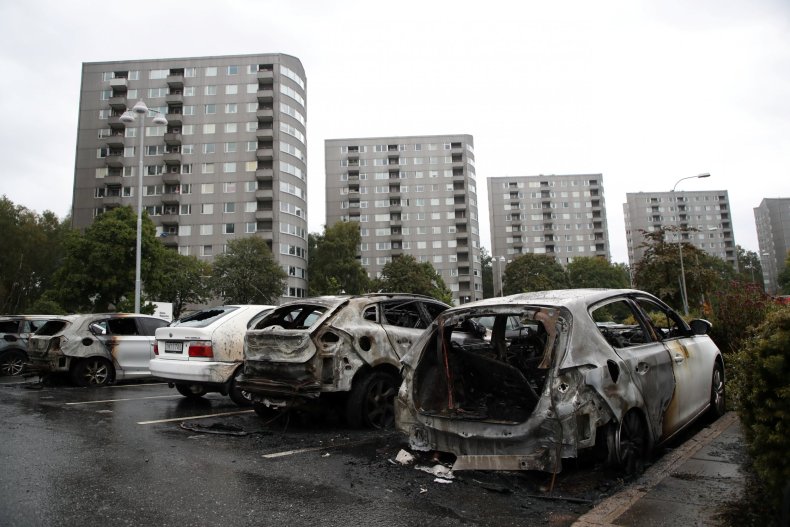 "I'm furious, for real. My question to these people is "what the hell are you doing?" he told the broadcaster.
"Society will come back hard on this. It looks very coordinated, almost like a military operation," added Löfven, referring to links between the violence and the country's election on September 9.
He then added: "You destroy it for yourself. You destroy it for your parents, you destroy it for entire neighborhoods, for your neighbors, and society must respond very hard."
Police say that some of the attackers were underage and although no arrests have yet been made, they have identified the perpetrators.
There has been a tradition of young people setting cars alight before the return to school in August, but a police spokesperson said that this "is much much bigger than it used to be earlier, much more serious," The Guardian reported.
Sweden's Justice and Interior Minister Morgan Johansson called the attacks "despicable" on Twitter.
"Last year the government tightened the punishment for aggravated vandalism, which can now give up to six years in jail. "Hope the thugs get arrested so that they get the punishment they deserved," The Local reported.
Ulf Kristersson, leader of the center-right opposition party the Moderates, said on Facebook that the attacks were "sabotage," adding "Sweden has tolerated this far too long. It has to end."
Löfven's party, the Social Democrats, will take on the next two largest incumbent parties, the Moderates and the Sweden Democrats.
Back in 2013, there was rioting in Stockholm after police killed a 69-year-old man. Law and order is a focus for the elections, especially after a rise in gang violence saw more than 40 people shot dead last year, Reuters reported.