Swedish Professor Who Quit COVID Research Over Backlash Stands by School Study's Findings
Dr. Jonas Ludvigsson, a Swedish professor of clinical epidemiology at the Karolinska Institute, who quit doing COVID-19 research because of the backlash to his findings, stands by the results of his study of elementary school students.
Ludvigsson found himself with a target on his back after he shared findings that few children in Sweden, where elementary schools have remained open, became seriously ill from COVID-19. Critics say the study doesn't provide a full picture of the impact of school reopenings, and some go as far as to say that other data contradicts Ludvigsson's findings.
"I was very surprised," Ludvigsson told Newsweek. "I have never experienced anything like this."
Having served as the chair of the Swedish Society of Pediatrics for two years, he's not a stranger to spirited debates, but he likened the backlash to a tsunami. The support he said he received from his peers didn't make up for "all the harassment and negative comments in letters, emails and social media," and he ultimately decided it wasn't worth pursuing any more research.
"I think this is a real problem," Ludvigsson said. "Research findings, like mine, are needed for politicians and public health officials to make informed decisions. When researchers stop presenting certain results...we tend to make incorrect decisions."
His research letter, published in The New England Journal of Medicine (NEJM) on January 6, found that 15 children under the age of 16 were treated in an intensive care unit for COVID-19 or multi-inflammatory syndrome, which has been linked to COVID-19, from March 1, 2020, until June 30.
That's equivalent to 0.77 intensive care patients per 100,000 children in that age group. Ludvigsson's letter, which he wrote with three other authors, noted that four patients had underlying diseases and that none of the children died within two months after they left intensive care.
Ludvigsson's research also found that the ICU rate among schoolteachers was about 19 in 100,000 for the period he studied.
Sweden was one of the few countries to allow schools to remain open during the pandemic, and Ludvigsson saw it as a "unique opportunity to examine the health consequences." As a pediatrician, he said, he felt he "owed" it to children who were missing school to examine what, if any, links there were between open schools and COVID-19 in children.
"I regard schools as fundamental not only for children's education but for their well-being, and seeing the low risks of severe COVID-19 in children in our study, I hope that more countries will open up their elementary schools," Ludvigsson said.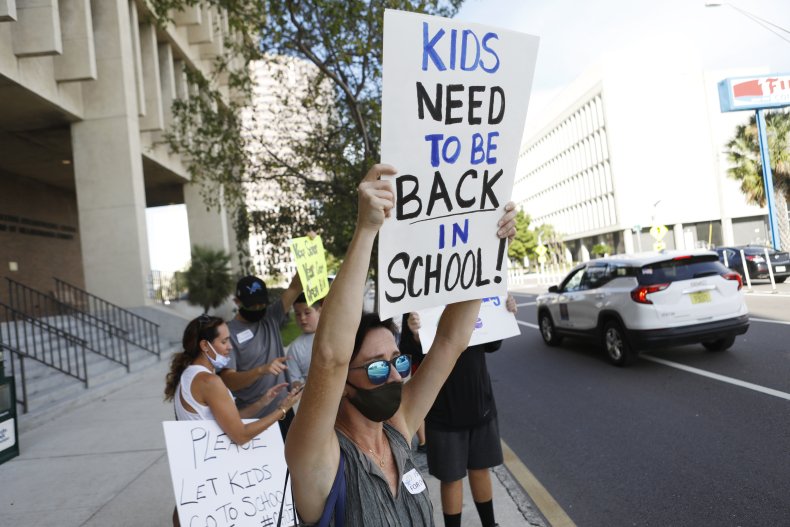 School reopenings have been a point of contention during the pandemic. While there's a consensus that it's more beneficial for children to be in the classroom than at home, there's disagreement as to when that should happen. Some legislators are calling for schools to reopen immediately, but teachers across the United States have pushed back on plans they say sacrifice people's safety.
One concern many have is that if teachers are vaccinated but inoculations aren't widespread, educators could be protected from COVID-19 but their families would still be vulnerable. Vaccines are believed to protect people from becoming seriously ill with COVID-19, but it's unknown if a vaccinated person can still become infected and pass it to someone else.
The impact school reopenings had on the community was a limitation in Ludvigsson's study, and the authors wrote in the letter that they lacked data on household transmission of COVID-19 from school-aged children. In a letter to the editor of NEJM, academics argued that without analyzing transmission rates, the focus on morbidity in children and schoolteachers was of limited relevance because the purpose of closing schools was to limit the virus from spreading.
They also argued that data from the Swedish Public Health Agency found that 48 percent of the 967 outbreaks reported in a one-month period were attributed to schools, thereby contradicting Ludvigsson's findings. In his response, Ludvigsson said schools were likely to account for a high proportion of outbreaks because household outbreaks aren't registered.
"I stand by the findings," Ludvigsson told Newsweek.
Economists Jonas Vlachos, Helena Svaleryd and Edvin Hertegård at Uppsala University also saw Sweden as an opportunity for research. But their conclusion was different from Ludvigsson's. In an analysis of health data from Sweden, they found that schools being open doubled teachers' risk of being diagnosed with the coronavirus and that their partners faced a 29 percent higher risk of becoming infected, according to Science.
To conduct their analysis, they compared infection rates of parents whose youngest child was in ninth grade with those whose youngest child was in 10th grade. In Sweden, remote learning began at 10th grade. They also compared data for teachers who taught in grades seven to nine with those who taught remotely for grades 10 through 12.
After announcing his retirement from COVID-19 research, Ludvigsson told Newsweek, other researchers contacted him with their own stories of harassment. Matilda Ernkrans, Sweden's minister for higher education and research, told The BMJ it wasn't a "new phenomenon" but increased threats against academics studying the coronavirus have been seen. She called it "deeply concerning."
Ole Petter Ottersen, the president of the Karolinska Institute, told The BMJ in a situation like the current pandemic when there are "so many unknowns," it is vitally important that varying opinions are voiced.
While the criticism put a halt to any future COVID-19 research Ludvigsson was planning, he doesn't regret publishing the letter. If he were able to go back in time, he said, he would do it again.