Swedish Prosecutor Says WikiLeaks' Julian Assange Is Not Wanted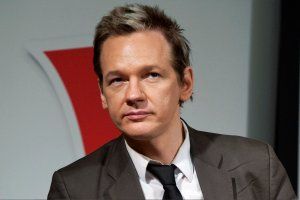 In a bizarre sequence of events that echoed the plot of a Stieg Larsson novel, Swedish prosecutors on Saturday initially indicated that they were seeking to arrest WikiLeaks frontman Julian Assange in connection with a rape and molestation investigation, but they later issued a statement that Assange was no longer wanted.
A statement headed "Assange No Longer Wanted" was posted on the English-language page of the Swedish Prosecution Authority's Web site. It reads: "Chief prosector Eva Finné has come to the desicion that Julian Assange is not suspected of rape. Considering that, Assange is no longer arrested in his absence." The statement added that "Eva Finné will make no other comments during Saturday night."
The prosecutor's statement was the latest twist in a head-spinning drama that started on Friday night with headlines in the Swedish tabloid Expressen alleging that Swedish authorities wanted to question Assange in connection with rape allegations. After the report began to circulate worldwide, WikiLeaks issued multiple responses via its Twitter account denying the allegations. An early statement said: "We were warned to expect 'dirty tricks'. Now we have the first one." A later tweet, attributed to Assange himself, said: "The charges are without basis and their issue at this moment is deeply disturbing."
Somewhat strangely—although in the WikiLeaks saga almost nothing is too strange—a few hours later the "official blog" on the WikiLeaks site issued a statement on behalf of "The WikiLeaks Team" that was more equivocal. "On Saturday 21st of August, we have been made aware of rape allegations made against Julian Assange, founder of this project and one of our spokespeople. We are deeply concerned about the seriousness of these allegations. We the people behind WikiLeaks think highly of Julian and he has our full support."
It ended with a declaration that "While Julian is focusing on his defenses and clearing his name, WikiLeaks will be continuing its regular operations." The prosecutor's statement announcing that there was no case against Assange was posted around the same time. (A spokeswoman for the prosecutor's office did not respond to a voice mail from Declassified requesting further comment. Assange did not respond to multiple e-mail inquiries.)
The lurid on-again/off-again allegations are bound to fuel the already rampant paranoia of both WikiLeaks supporters and Assange himself, a nomadic figure who associates say is difficult to locate and contact at the best of times. News reports said he had visited Sweden last week to speak at a meeting of the Swedish opposition Social Democrat Party and that he was also going to apply for a publishing license that would grant WikiLeaks, which uses computer servers in Sweden, some sort of special immunity under Swedish whistle-blower-protection laws.
The latest turns in the case are eerily evocative of both the storylines and characters in the trilogy of thrillers by Stieg Larsson, the Swedish investigative reporter who died in 2004 and whose novels have lately become international publishing phenomena. Apart from sometimes violent sexual overtones, the Swedish political and social backdrop to Larsson's novels features feckless prosecutors and sinister secret policemen. Among Larsson's main characters are world-class computer hackers (Assange's background allegedly includes hacking), private investigators, and left-wing journalists.