'Sweet boy': Dog Lying on Buddy's Grave Every Morning Has People in Tears
Dogs are known for being loyal for life, and sometimes even in death. A heartbroken puppy has gone viral for lying over his best friend's grave every morning in remembrance.
In a video shared on TikTok by the dog owner, Michelle Buckley, the cocker spaniel puppy, Dougie, can be seen running towards the edge of the garden, and then lying down next to a dog's statue, the place where his late dog friend is buried.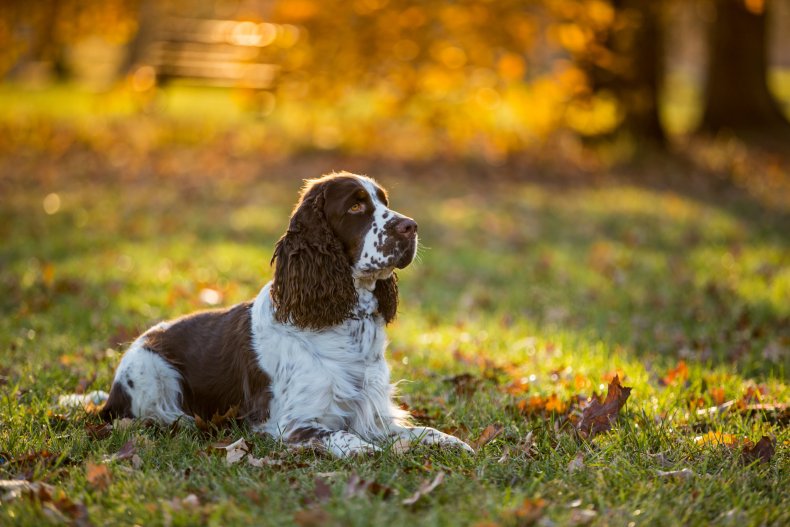 The post, which has been liked over 72,000 times and has received more than 1,040 comments, also features a caption that says: "Dougie lies here every morning without fail next to where our beautiful Burleigh is buried."
Cocker spaniels are known for being friendly, caring and loving. According to vet charity People's Dispensary for Sick Animals (PDSA), they are very lively dogs who love to play, they're also very adaptable and love having good company with them all day long.
They are a mid-sized breed, usually weighing between 13-15kg (about 28 to 33 pounds), and they love exercising, which they need for about one hour every day. They live on average over 10 years.
Most users loved the puppy's kind heart and were left in tears by his level of loyalty to his late buddy. One user, Jordmer1, said: "Oh I love that dogs know how to love better than humans!" And the original owner answered: "Dogs are just beautiful." Pmarples added: "I'm not crying, you're crying."
Another user, Tashavick1987, didn't think the video was emotional enough until they watched it: "I thought i was gonna be okay. and then the statue." Slymaaster03 committed: "They know that's loyalty." Louloo47 said: "Omg that's so sad. How precious are dogs."
Some users argued he needs another friend. Paulfalvaro said: "Please get him a puppy." Christinacameron13 added: "Aww.. He needs another friend." And Megan buckley wrote: "Awww dougie is the sweetest."
Other users reflected on how some dogs are kinder than some humans. Rospaula_t commented: "Love, loyalty, companionship... virtues that Humanity knows nothing about." Sammeg29 said: "It is amazing what dogs can sense and their emotions."
"Oh the poor baby! He is missing his buddy," said another user called Rachel, and Pennyscioneaux438 added: "Aww sweetie pie. He misses his little friend."
The 12-second clip got most users weeping. Hollys_w0rld commented: "THIS MADE ME CRY SO MUCH." Emma Louise Purser said: "I'm crying for your dog." Lorrainehardie22 wrote: "aww that's heartbreaking. sorry for your loss. Dougie is a wee gem." And Jellytots2706 added: "aaaaw the sadness as he looks at [you]."
Theoscakessa said: "They know exactly what happened, they just don't understand it completely. but they know their love is gone." And Jordenjae reassured the puppy: "Little Dougie, Burleigh is with you always. Sweet sweet boy."
Do you have funny and adorable videos or pictures of your pet you want to share? We want to see the best ones! Send them in to life@newsweek.com and they could appear on our site.