'Sweet Magnolias': What Books are Season 1 of the Netflix Show Based On?
Sweet Magnolias has only been on Netflix for around a week, but already fans have fallen in love with the town of Serenity and its residents. Though the world of the series will be new to most viewers, it is actually based on a book series first released in 2005 by author Sherryl Woods.
That year, Woods released Stealing Home, a book that introduced Maddie Townsend (played by JoAnna Garcia Swisher in the Netflix series), a woman who has just been left by her husband. In this first book, she is building a women's fitness spa for the town of Serenity while developing feeling for her son's coach Cal Maddox (Justin Bruening).
Though the Netflix series is partly based on this book, which according to Woods is getting a tie-in rerelease on May 26, the show mixes this first book's plot with elements from other novels in the Sweet Magnolias series.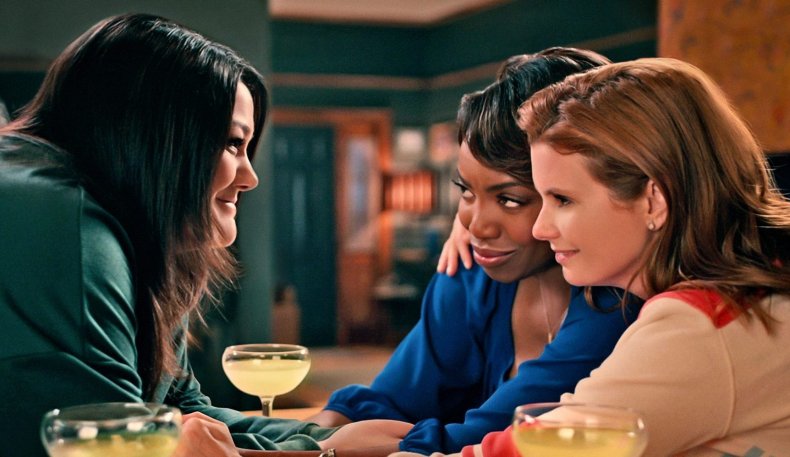 Two main characters in the Netflix series are Dana Sue Sullivan (Brooke Elliott) and Helen Decatur (Heather Headley), who are only introduced in the later books. Restaurant owner Dana Sue is introduced in the second novel A Slice of Heaven, while divorce lawyer Helen does not come to Serenity until book three, Feels Like Family.
When a Twitter user asked Woods which book from the Sweet Magnolias series she should read before watching the show, the author replied: "Stealing Home, the first book in the series, will be back in stores May 26 in a new Netflix tie-in edition. Books 2&3 will be reissued later this summer. Season one draws a lot from those books that introduced Maddie, Helen and Dana Sue."
In the same thread, she explained: "Stealing Home (Maddie's story), A Slice of Heaven (Dana Sue's story) and Feels Like Family (Helen's story). For TV their stories are unfolding at the same time, rather than sequentially as in the books. A lot more books after those 3."
The author also noted that the Netflix tie-in will be available at Walmart, Target and Barnes & Noble in late May, while books two and three were coming at the end of June and July respectively.
If Netflix decides to renew Sweet Magnolias for Season 2, they will have plenty of novels to adapt from. The series currently features 11 books–Stealing Home, A Slice of Heaven, Feels Like Family, Welcome to Serenity, Home in Carolina, Sweet Tea at Sunrise, Honeysuckle Summer, Midnight Promises, Catching Fireflies, Where Azaleas Bloom and Swan Point. There is also a Sweet Magnolias Cookbook for those who want to try Dana Sue's delectable meals for themselves.
Sweet Magnolias is streaming now on Netflix.