Netflix viewers had their hearts warmed by the unexpected tale of a deer-human hybrid boy. Sweet Tooth has been a mainstay in the streaming service's top 10 list since it dropped earlier this month, and received extremely positive reviews from critics in the process.
However, while the team behind the fantasy drama series have created a vibrant yet dystopian world based on a comic book, there are questions to be answered and still so much more to explore.
The eight episodes of season 1 left fans guessing as the finale ends with an intriguing cliffhanger, leaving many to wonder if a second season is coming to Netflix soon.
Will there be a Sweet Tooth season 2?
Netflix have kept quiet so far on the fate of Sweet Tooth.
In terms of storylines, the source material contains plenty of possibilities. Sweet Tooth was a comic book created by Jeff Lemire with 40 editions. After the comic series concluded in 2013, Lemire produced a sequel series titled The Return, which was first published in November 2020.
The final scenes of the Netflix adaptation leaves the fate of many characters up in the air. Viewers will need a second season to find out what happens to the likes of Gus, Jepperd, Bear and Aimee.
Production issues during Sweet Tooth Season 1
Like many TV and movie projects, the global pandemic interrupted the production of Sweet Tooth season 1.
The pilot was filmed in New Zealand in 2019 but the rest of the season had yet to be filmed by the time much of the world went into lockdown. Pretty ironic for a season that starts with the catalyst of a deadly virus.
According to a press statement sent to Newsweek, the team were one of the few allowed to re-enter New Zealand in 2020 to shoot the remainder of the season, as long as they adhered to strict COVID-19 safety protocols.
Of the real-life similarities, executive producer Amanda Burrell explains how the coincidences spurred them on. She said: "The series has been in the making for us since 2016, but the comics existed even well before that. We all thought it was a sci-fi story, not something that could potentially happen.
"When it did, it was as shocking to all of us as it was to the rest of the world. But I think it emboldened us, and infused all of us with a sense of purpose to really entertain and connect and show that humanity and hope have a path forward."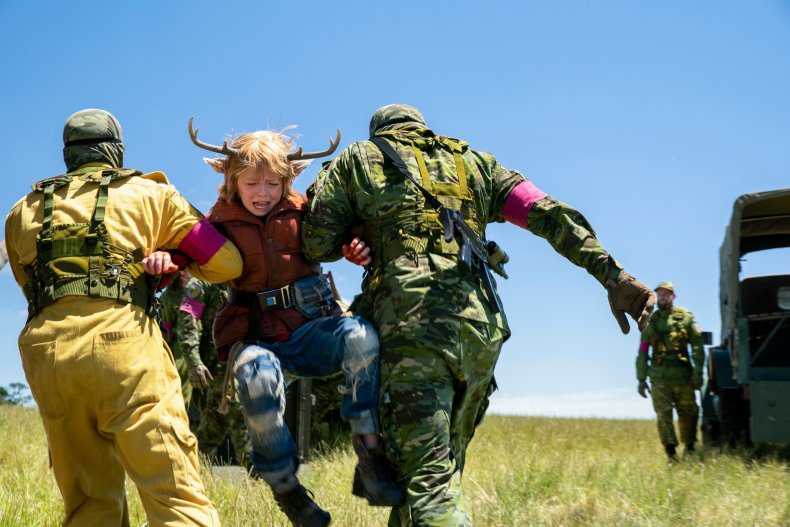 The series stars Nonso Anozie, Christian Convery and Will Forte. It's executive produced by Team Downey, consisting of Robert Downey Jr and wife Susan, as well as Beth Schwartz and Jim Mickle.
Season 1 of Sweet Tooth is available to watch on Netflix now