'Sweet Tooth' Star Gives Season 2 Update
Netflix are keeping Sweet Tooth fans waiting for the announcement of season 2 and now even some of the cast are crossing their fingers for the show to return.
Sweet Tooth follows the lives of a number of people living in an apocalyptic world where a virus called "The Great Crumble" wiped out a large portion of humans on earth, and led to the emergence of hybrid babies who were born part human and part animal.
Gus (Christian Convery), a deer-human hybrid, is one of the main characters in the series and he's trying to find his mother, Birdie, played by Amy Seimetz.
Speaking to Newsweek, Seimetz says she's eager to return for more Sweet Tooth.
Despite containing a potentially demoralizing storyline, the show has a surprisingly uplifting message. Seimetz said: "It's so sweet isn't it? I feel so lucky that I was a part of it."
Gus attempts to find Birdie with nothing but a picture and a state to go by. Together with Jepperd, or "Big Man", he sets off on a dangerous journey in an effort to find her, a task which Seimetz does not take for granted.
Discussing the importance of her character, Seimetz told Newsweek: "I'm not going to reveal things for people but I feel so lucky, so special that they're searching for me the whole time. It's very flattering, the whole show they're looking for me!"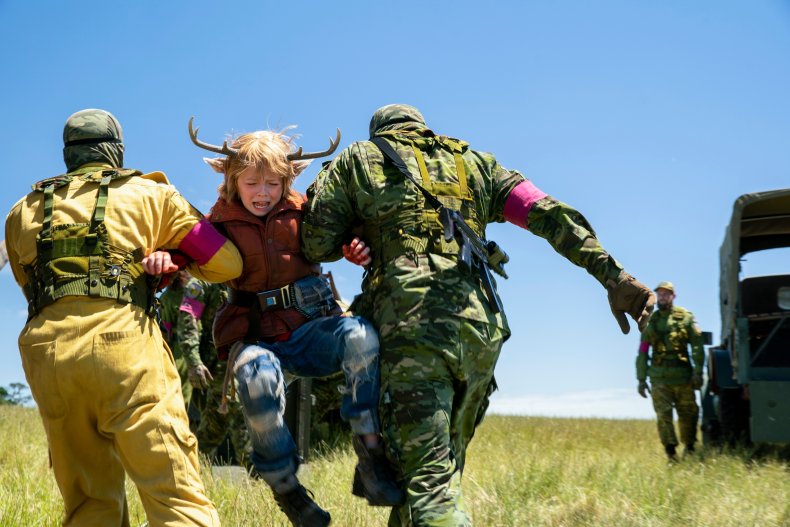 When asked about the prospect of Netflix announcing a second season, Seimetz remained tight-lipped. She said: "I don't know that. But I think everyone is very excited about the show so I cant see that that's not a possibility."
Netflix have yet to confirm whether the Sweet Tooth story will continue for another season but the first series ended on a cliff hanger, leaving fans wanting more.
Sweet Tooth has been a global hit, dominating Netflix' top 10 lists in dozens of countries across the world.
No Sudden Move coming to HBO Max
Seimetz was talking to Newsweek while promoting another upcoming project, No Sudden Move. She plays Mary Wertz in the new Steven Soderbergh period crime thriller.
Arriving on HBO Max on Thursday July 1, 2021, the movie is set in 1950s Detroit and follows a group of small-time crooks who get caught up in a larger criminal plot. Seimetz is one of the many stars in the impressive cast list which includes Don Cheadle, Benicio del Toro, David Harbour, Jon Hamm, Brendan Fraser, Julia Fox and Ray Liotta.
Though the movie is a serious affair with tense set pieces, Seimetz admitted working with Soderbergh and many of the aforementioned actors was more enjoyable she thought it would be.
She said: "When I agreed to do it, Steven did say you're going to have a lot of fun, there's going to be a lot of laughter and he was right."
You can get a free trial for a HBO Max membership through your Hulu account.