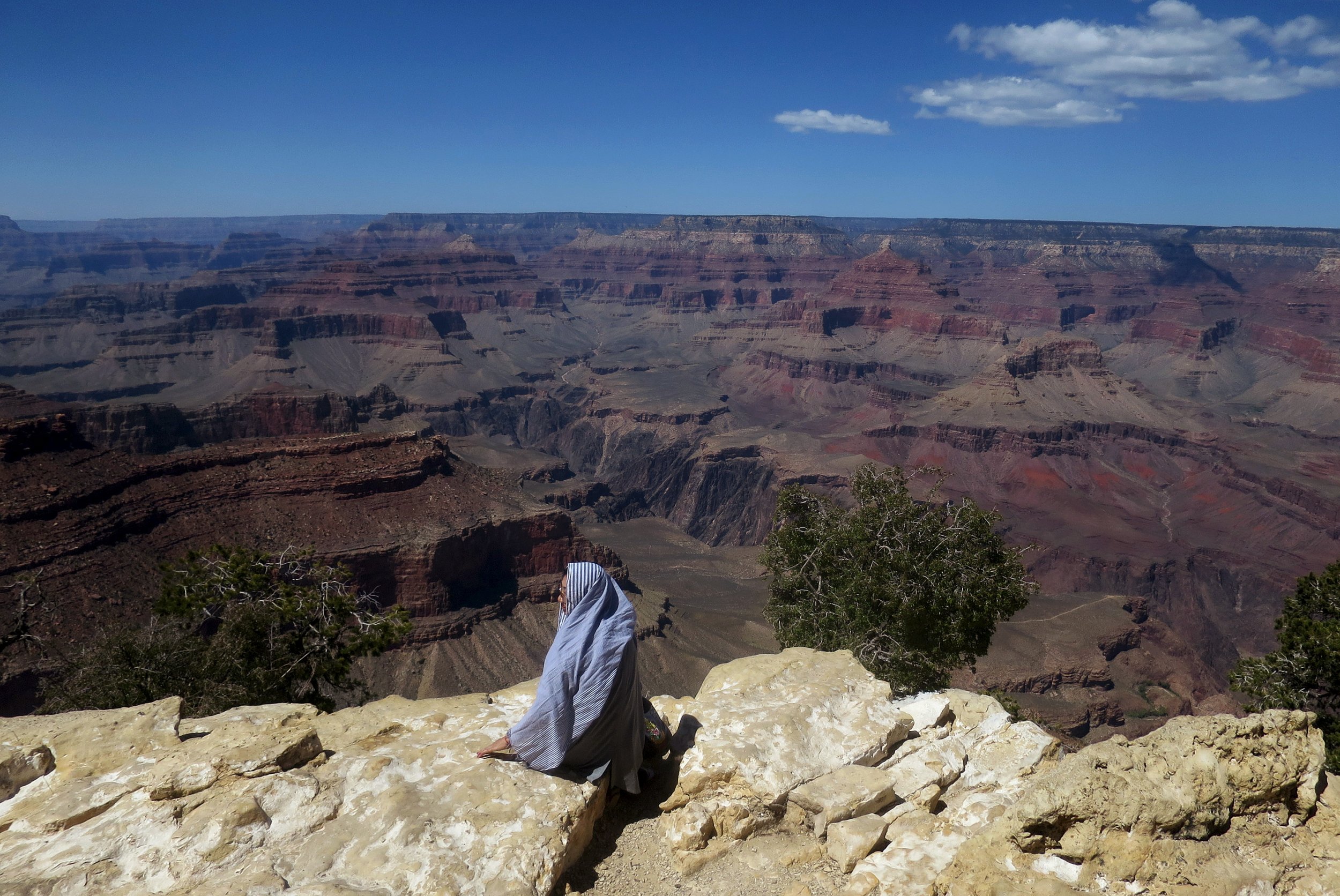 When most Americans think of federal lands, pristine national parks like Yosemite, the Grand Canyon and Yellowstone come to mind. But American taxpayers actually own much more than that—nearly 650 million acres, almost 30 percent of the land area of the U.S. Among other uses, the government leases tracts to energy companies for far less than fair market value, some as low as $2 an acre, and they in turn run lucrative, carbon-based resource extraction operations that produce nearly a quarter of U.S. energy-related emissions, and nearly 4 percent of global carbon emissions.
On Monday, the Rainforest Action Network (RAN) will release a report titled "Public Lands, Private Profits: How the U.S. Government is Giving Away America's Shared Natural Resources to the Wealthiest Companies in the World" that contends the U.S. government's leasing system is "antiquated," allowing carbon extractors to take advantage of fire sale prices while also exacerbating global warming.
Researchers at the San Francisco-based environmental nonprofit combed through U.S. Bureau of Land Management lease records and found some of the world's largest conglomerates—Chevron, ConocoPhillips, BP and Royal Dutch Shell among them (RAN dubbed the top federal leaseholders "The Filthy 15"), along with many smaller, independent energy companies—holding millions of acres for the purposes of fracking, drilling and coal mining, all leased at "nominal" fees. Even the Mormon Church's tax-exempt financial arm is in on the action.
"Energy companies with annual revenues of billions of dollars pay nominal fees to public lands agencies through lease bids, rent, and royalties," the report states. "Royalty rates in 2015—if they are actually paid by the energy company—are the same as they were in 1920. This outdated program does not meet the environmental or financial needs of our modern era. Energy companies have exploited a broken governmental system and the environment to benefit their bottom line."
According to a 2012 study by the Institute for Energy Economics and Financial Analysis, taxpayers have lost an estimated $28.9 billion in fair market value over 30 years from the government's leases to coal miners in Wyoming's coal-rich Powder River basin alone.
Oil companies lease lands at public auctions, and minimum bids have not been updated for decades. In 2014, according to the nonpartisan conservation advocate Center for Western Priorities, nearly 100,000 acres were leased for $2 an acre, and 25 percent of all leases so far in 2015 have sold for the minimum.
"We wanted to know who was holding the leases," says RAN researcher Ruth Breech. "No one had done a comprehensive study."
The report points to what it calls "shady dealers," including Colorado-based Cloud Peak, the fourth largest leaseholder of federal lands for coal development. Cloud Peak operates almost exclusively in the Powder River Basin in Wyoming, where the current plan could lead to 28 coal leases involving more than 100,000 acres of public land and more than 10 billion tons of coal mined, exported and burned over the next two decades, according to the report.
"Cloud Peak's shady method is to sell its own coal cheaply within its network of thirty subsidiary companies, pay royalties to the government on these low-cost transactions, and then export the coal to sell at a higher price in Asia," the report states. "This way, Cloud Peak doesn't have to pay royalties on the true value of the coal that its subsidiaries receive in foreign markets. Cloud Peak also owns some of the cheapest rights to mine for federal coal, and pays Indigenous tribes even less for rights to mine on their land."
Cloud Peak spokesman Rick Curtsinger responded: "Reports like these are produced without basis by radical professional activist groups who are working for billionaires that have made huge bets on tax subsidies for intermittent energy sources. These billionaires and their groups aren't concerned if they drive up electricity costs for families and businesses across the country. Cloud Peak Energy produces solely in the Powder River Basin, and we pay roughly 40-percent of the price of every ton of coal we mine to the American people in taxes, royalties and leases. Last year alone, we paid $354 million in taxes and royalties and an additional $69 million in leases for future production. For the same year, our corporate income was $79 million."
Between 1960 and early this year, the not-for-profit financial arm of the Mormon Church owned 3,483 acres of federal coal leases in the Manti-La Sal National Forest, including the Deer Creek Mine. According to records reviewed by RAN, the Mormon Church subleased the acreage to PacifiCorp, an electric power producer owned by Berkshire Hathaway Energy that last year alone produced almost 2.1 million tons of coal.
"In the early 1960s they paid $1 acre for one lease, $25 an acre for the second lease and $76 an acre for the third lease. The lease sale is a one-time sales transaction from a non-competitive bid," Breech says. "Even if you build in inflation—moving the decimal over one—this is still a steal in pristine national forest. Part of the argument that we are making for this entire report, not just this one mine in Utah, is that the system is outdated."
In 2012, the net worth of the Church of Jesus Christ of Latter-day Saints was estimated at $40 billion. As a non-profit church-affiliated corporation, however, the Mormon Church is unique among the top federal leaseholders for being tax-exempt. The researchers were not able to determine what the leases cost more recently, but, Breech says, "given the market and comparing the Church to other companies, it would be fair to say that this business has been lucrative through the decades."
The Mormon Church, through a spokeswoman, declined to comment. Pacificorp decided to close the mine this year.
"The whole crux of this report is that here is this corporate culture that a lot of us in the field didn't even know about," Breech says. "I was actually more shocked reading through this stuff about the smaller companies. BP, Shell, we know these players. These clever smaller ones were eye opening. We were like, You mean people can do this?"
The report notes that as coal mining declines due to concerns about global climate change, large mine leaseholders are now filing bankruptcy, which enables them, under current rules, to avoid paying for post-mining cleanup. "That's a whole other conversation," Breech says. "Coal's dying. What happens when these companies go bankrupt?"
According to a Reuters investigation, many mine owners are legally leaving behind environmental degradation. "Larger threats loom when the gas boom busts or when coal finally dies out," the RAN report states. "The U.S. government is currently examining whether struggling U.S. coal companies still qualify for an exemption that allows them to avoid having to fully insure against billion-dollar mine cleanup costs."
The Reuters investigation on cleanup costs revealed that some of the coal companies could leave behind more than $2 billion in cleanup liabilities and no clear custodian to cover the costs, other than state or federal agencies, according to industry officials.
"These fossil fuel companies generate millions in profit each year off of our shared national resources while damaging our environmental legacy for generations to come," the report states. "The federal government enables this destruction at a tremendous cost to the U.S. taxpayer by selling off our national forests, grasslands, deserts, oceans, and sacred heritage sites for pennies on the dollar. The antiquated and opaque federal fossil fuel leasing program, administered by the U.S. Department of the Interior, transfers vast amounts of public wealth into private hands by auctioning off public lands and offshore waters for corporate profit."
BLM public affairs officers did not respond to emailed queries this weekend, but Sally Jewell, secretary of the Department of Interior, which manages the BLM, conceded this summer that the lease program needs reform. "As I've said, it's important to have an honest and open conversation about modernizing the federal government's coal program," said Jewell. "I have heard many concerns about how the federal government leases coal, the amount of royalty charged and whether taxpayers are getting a fair return from public resources. These listening sessions are an opportunity to better understand how taxpayers, stakeholders and local communities perceive the federal government's coal program today and how we can improve and strengthen it for future generations."