Sweetbitter caught the attention of readers for its delicate and elusive wording on all things food, wine and sexual attraction. The first season of the Starz adaptation dove deep inside the mind of a 22-year-old who moves to New York with no idea of what lies ahead. Now, a second season will expand the world of lead character Tess to places even author Stephanie Danler couldn't have imagined when she first wrote the book.
The show's second season leaves behind the source material, with the show's writers, including Danler, responsible for carrying the storyline of Tess beyond the book. Both lead actor Ella Purnell and Danler relished the opportunity to move forward from Tess's idealistic early days in New York. Over the course of the two seasons, Purnell and Danler have become close friends, and the character of Tess was inspired by Danler's own start in the restaurant industry.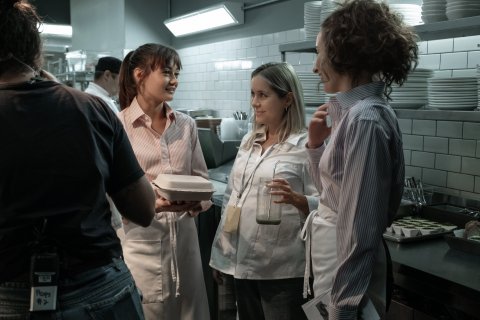 With the second season, the excitement of New York is wearing off, and Tess must decide who she really is. "The format of Season 1 is very similar to the book," Purnell told Newsweek. "They've done a brilliant job of adapting it. Season 2 delves much deeper into other character's storylines, and we start to explore different themes outside of Tess."
Purnell was tasked with creating her own, personal version of Tess. While retaining the core values of the character, Purnell said she brings more of herself into the role this season. "We really wanted to build an organic, separate version of this character for the show," she explained. "Steph and I had conversations about not getting too tied down to the book so as to see what would come out of it for Tess. I can't quite pinpoint the differences between the two Tesses, but I know they're there. I just wanted to make it truthful."
For Danler, Purnell's ability to evolve in the part was part of the reason she got the role. Book Tess is more passive, to underscore the uncertainty of her new life. "We saw literally hundreds of women. Most played Tess with so much innocence, it was impossible to imagine that this girl could make unlikeable choices," Danler explained. "Making mistakes is a huge part of coming of age. Ella looked – to me – like one of the orphans in a Dickens novel. You believed that she would survive."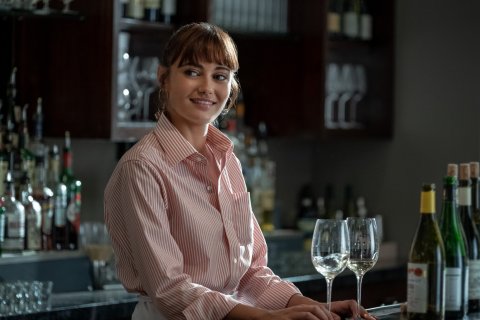 In Danler's view, that distinction between the two Tesses has contributed to the success of the show and her friendship with Purnell. "I think people my age [35] tend to write off people in their early twenties, like these "kids" don't know what life is about yet," the author explained. "I don't believe that's true. Ella isn't just wise beyond her years, she's just plain wise. I ask her questions. About Tess, about her opinions on the world, her ideas about art. For the show, if something doesn't feel right to her, we change it. I trust her. I think our friendship makes the show better."
In Season 2, Tess may grow wise as well. "Season 2 is all about power. For everyone." said Purnell. "Abuse of power. Finding power. Losing power. Needing it. There are so many important themes and storylines throughout this season."
Tess won't be the sole center of attention this season, though. Her relationships with Simone, Jake and more promise to make Tess's little corner of New York even more interesting. "We get a delicious insight into everybody's backstories and start delving into their vulnerabilities. We discover everyone has a secret," said Purnell. Figuring out what she likes, what she wants, what she deserves, and learning out how to ask for it."
Season 2 of Sweetbitter premieres in a two-episode special at 9 p.m. ET Sunday on Starz.