Swimming Against the Tide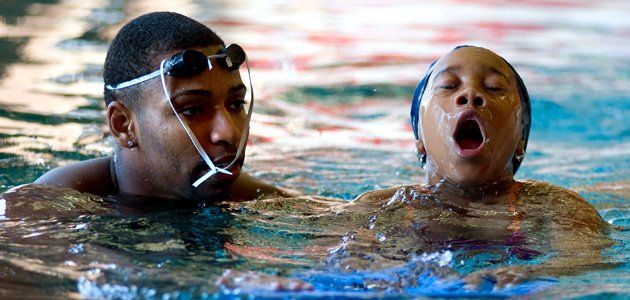 The dangerous riptides from Hurricane Earl barreling along the East Coast coincide with Labor Day weekend, when many families head to the beach for a last vacation before the beginning of the school year. But even without the challenging conditions, certain families are more at risk for drowning than others: African-American children drown at a rate three times that of their white counterparts, an issue that has as much to do with fear as it does finances.
"[Black] parents had a great fear of having their kids around water," says Sue Anderson, director of programming for USA Swimming. "As a result, they're not encouraging their kids to learn to swim. Counterintuitively, they were afraid that they would drown if they were around pools and learned to swim."
USA Swimming reached this conclusion after commissioning two studies to explore why African-American children receive inferior water-safety education. Initially, economics was blamed: the conventional wisdom was that swimming was an expensive sport, and low-income communities didn't have access to pools. But the survey hints at a much broader cultural fear of swimming, one that persists even when swimming education is accessible to minority families. The first study, conducted in 2008, showed that it was fear of water that fueled the lack of swim lessons. The second report, released this summer, conducted a series of focus groups to discuss the initial results. Said one participant from Denver: "You're already uncomfortable and scared. You're like, I'm paying them so I can have heart palpitations on the sideline? It's not worth it. It really isn't. Why should I have to pay money to be afraid?"
That's a familiar notion to Kimberly Seals Allers, a mother of two who has a fear of water—and an in-ground pool in the backyard. "I'm recently divorced, and my husband was the swimmer," says Seals Allers, author of the Moca Manual series of guides. Seals Allers's ex-husband taught her children to swim, but now it's her job to keep them safe in the water. "My son is 6, and our deep end is eight feet. My daughter goes off the diving board. I test them, make them do drills for me. I take a deep breath and watch them, not letting them know that I'm really scared,"
Though Seals Allers had swimming lessons as a child, she says they never took. Her fear of drowning, however, remains with her. "[African-Americans] don't have pools in our communities and homes, and anything that's foreign to you, you usually feel afraid of. For me to go to one place once a week that I didn't have any connection to, it didn't make me feel comfortable," she says of her lessons. Her children took lessons at a center close to their house, and she brings instructors to teach swimming in her backyard pool. "My kids are comfortable," she says, and love the water.
Organizations like USA Swimming are also trying to overcome the discomfort factor. Cullen Jones, who won an Olympic gold medal for his role on the American swimming squad's relay team, is a fierce advocate of encouraging water safety in minority communities. Jones, who learned to swim after nearly drowning at a water park as a child, has gone on promotional tours with USA Swimming's diversity effort, and still speaks on and promotes diversity in aquatics.
Meanwhile, private groups have also been formed to help black children learn to swim. The Diversity in Aquatics Program was founded by two former Penn State athletes after they learned about the disparity in drowning rates. "In terms of fear, there's a lot to it, one of them being education," says cofounder Shaun Anderson. "People don't know that nine people are drowning a day. We're also dispelling the stereotype that minorities can't swim. There are a lot of people who grew up swimming who are Hispanic and African-American, who grew up scuba diving and surfing and swimming. Getting those role models out there is key," says Anderson. Currently, Diversity in Aquatics holds regional events and plans to expand across the country in the coming year. The group's Web site offers information about both basic water safety and advanced and recreational aquatic events, such as the Black History Invitational Swim Meets and meetings of the Black Boaters Club of America.
The group also designs its water-safety class to assuage parental fears while getting kids excited about swimming. "We make sure we put all those groups at ease. We educate the parents; we have them somewhere where they're going to be seeing the child the whole time. Everyone involved is certified, and there is usually a surplus of lifeguards," says cofounder Jayson Jackson. "For the first half an hour, it's a process to get both groups ready and loosened up." Children, he says, are usually much less afraid than their parents. "There's not a lot of tears," he says.
Diversity in Aquatics also provides a cautionary tale: Wanda Butts, who lost her 16-year-old son, Josh, in a drowning accident, speaks to the parents about the importance of water safety, "Once they hear some of the unfortunate horror stories, there's not a parent who's really hesitant," says Shaun Anderson.
Using "horror stories," however, on people who are already scared, can be tricky. When six African-American siblings drowned in a Louisiana river this summer, the story was enough to strike fear in the heart of all parents. But USA Swimming leaders say they hope to use that fear as a motivator, not a deterrent," says Sue Anderson. "What happened in Shreveport helps get our message out: your child is in danger if they don't know how to swim."