Maine Coon Cat Beats Summer Heat with a Swim in the Family Pool
A pet cat in Pennsylvania is disproving the notion that all felines hate water: Not only does Tissy, a 5-year-old Maine Coon, love the water, she goes swimming at least once a week in the family pool.
Tissy was adopted five years ago by the Herr family in Brady's Bend. Dad Sonny rescued her as a kitten from a busy parking lot. The Herrs didn't realize at the time that the tiny, flea-covered kitten would grow up into a big, fluffy water baby.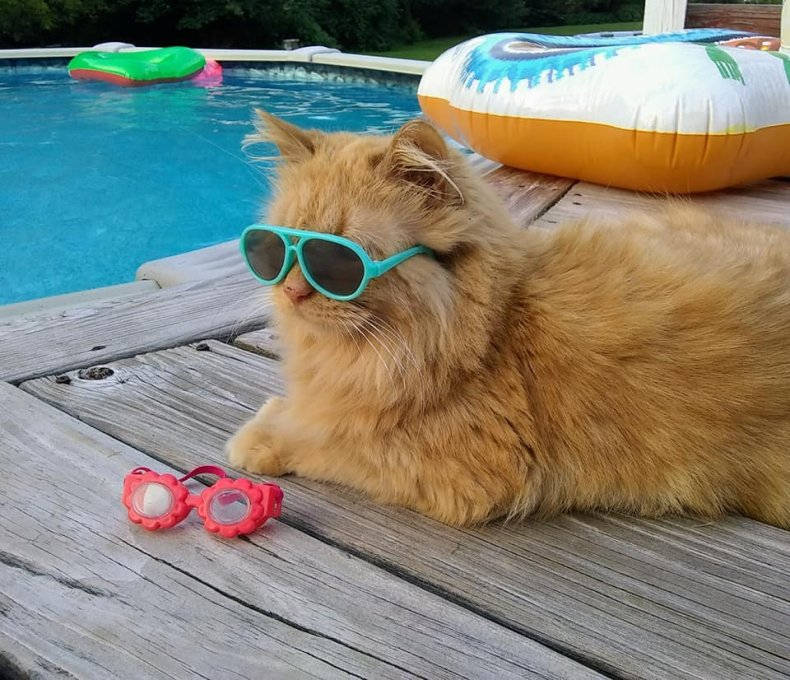 "People say it's crazy, but she's just a laid-back cat that loves to swim," Sonny told the Pittsburgh Tribune-Review.
Tissy especially loves swimming with Taylee, Sonny's 9-year-old daughter. She'll paddle towards Taylee and, when they get out of the water together, Tissy will cuddle with her in a fluffy towel.
"She makes me happy," Taylee tells the Tribune-Review. "She's like my sister."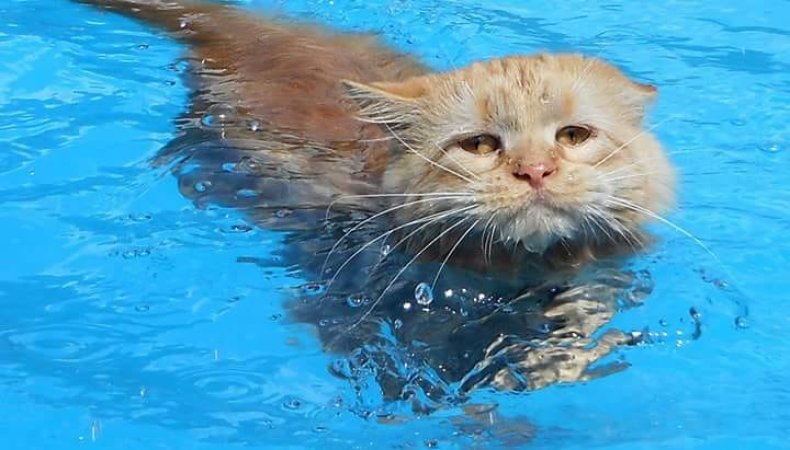 "They are two peas in a pod and Tissy is Taylee's sidekick," says Taylee's mom Jennifer. "We put the floatie on Tissy after a few minutes of swimming because I'm not sure how long a cat can swim and I don't want her to overexert herself."
The floatie was custom-made out of part of a ring-toss game.
The Herrs explain that Tissy first caught the water bug watching Taylee swim, when Tissy was a year old. Soon, she decided to try her paw at it—and it turns out she had the knack.
Tissy's talents have turned her into something of a social media celebrity: She's got her own Facebook page, the aptly titled "Water Kitty," where the Herrs post pictures and videos of her exploits.
Pools aren't the only water Tissy likes. Unlike most pets, she's happy to get a bath—as long as it's warm water, of course.
"I think she really just trusts us because we had to bottle-feed her for weeks and was so tiny. She's our baby," Jennifer Herr said. "She also absolutely loves warm bubble baths. She lets the water roll right over her head. She lays down and relaxes in the water."
According to Petfinder, the Maine Coon is the largest domestic cat breed and one of the few that is more inclined to give swimming a try. Other felines breeds that tend to like water include Bengals, Turkish Angoras, American and Japanese Bobtails, Manx, Turkish Vans and Norwegian Forest Cats.
Oddly enough, many of these are among the largest breeds of cats, too.
Nathan and Winnie, two female cats in Australia, have also received some viral fame due to their love of swimming. The black domestic shorthairs belong to Melissa Pietrobuono and Ryan Crandon, who live off the Gold Coast.
Like Tissy, Nathan and Winnie were rescues: Nathan was saved from a box dumped on the highway and Winnie was adopted from a shelter as Nathan's companion.
The girls have become a hit on Instagram, where they have over 520,000 followers. Better still, Crandon and Pietrobuono donate a lot of the profits from merchandise and pet food back to the RSPCA.