Swing State Polls Give Biden a Narrow Lead Over Trump One Day Ahead of the Election
On the eve of Election Day, new polling numbers put Democratic nominee Joe Biden ahead of President Donald Trump in six key battleground states.
The poll, which collected responses from more than 3,300 likely voters in Arizona, Florida, Michigan, North Carolina, Pennsylvania and Wisconsin between last Thursday and Sunday, indicated that Biden's advantage ranged from 2 to 8 percentage points. CNBC and Change Research conducted the survey, which has a margin of error of plus or minus 1.7 percent.
The latest data indicated that Biden held the widest lead over Trump among likely voters in Wisconsin, a state the president narrowly won in 2016. At the time, Trump earned about 47.2 percent of the state's popular vote, compared with Hillary Clinton's 46.5 percent. According to the CNBC/Change Research survey, which released results on Monday, responses favored Biden by 8 percentage points. It showed that 53 percent of likely Wisconsin voters support the Democratic nominee, while 45 percent favored Trump.
Responses collected in Michigan gave Biden a similarly substantial advantage, with a 7-point lead.
In the results from five swing state polls that appeared in the new survey, Biden earned at least half of likely voters' support. In North Carolina, he received 49 percent from those voters, while Trump got 47 percent.
In 2016, the president won all six battleground states covered in Monday's CNBC-Change Research report. Each race was very close for Trump and Clinton, with the former winning the popular vote by margins under 1 percent in Michigan and Pennsylvania—0.3 percent and 0.7 percent, respectively. He won Arizona with 3.5 percent more votes than Clinton and North Carolina with 3.6 percent more votes, the largest advantage among those swing states mentioned.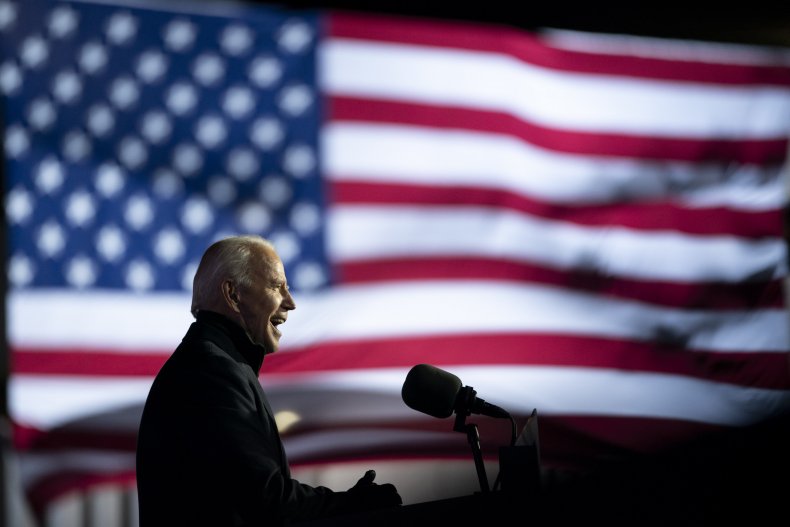 Trump and Biden prioritized swing state voters in their campaigns' final stretches, with the president visiting Pennsylvania, Michigan and Wisconsin to hold rallies throughout the afternoon and into Monday evening. The Democratic nominee finished his campaign with an event in Pennsylvania Monday night, while Trump closed with a rally in Kenosha, Wisconsin.
Although most state and national polls have given Biden the advantage over Trump in the months before Election Day, the president's 2016 victory—which a majority of polls did not predict—emphasized the importance of electoral votes in securing a nationwide victory. Florida and Pennsylvania have two of the most sizable presences in the Electoral College, as determined by their populations, and how each state votes could influence the election's overall outcome. Michigan's and North Carolina's electoral counts are also relatively high.