Swing States' Republicans Change Party Registration in Wake of Capitol Riot
Many Republicans have spoken out against the January 6 storming of the U.S. Capitol, but some GOP voters in swing states are going even further and changing their party registrations in the wake of the deadly attack.
Arizona's secretary of state's office has seen thousands of Republicans change their party registration since last Wednesday. An office spokesperson told Newsweek in an email that in the past week the office's system has seen 3,317 occurrences where voters switched their registration from Republican to "party not designated."
President-elect Joe Biden successfully flipped Arizona blue in the 2020 race, making him the first Democratic presidential candidate to do so in decades.
In Pennsylvania, hundreds of Republicans have contacted their local elections offices to change their registration, according to KYW-TV.
The elections office in Lancaster County reported that 112 Republicans changed their party registration in the 36 hours after the riot. Another 179 voters in Cumberland County changed to Democrat, independent or a third party, according to the Bureau of Elections' director, Bethany Salzarulo.
Both counties voted red in the November election. President Donald Trump won Lancaster County with a 15-point margin and Cumberland County with a 10-point margin.
"Ever since they started denying the election result, I kind of knew it was heading this way," the county's former Republican Party chairman, Ethan Demme, told the TV station. "If they kept going, I knew there's no way I can keep going. But if you've been a Republican all your life, it's hard to jump out of a big boat and into a little boat."
Demme was among the Pennsylvanians in Lancaster County who changed registration. He is now an independent.
Similar efforts to leave the Republican Party have been seen in Florida. In the state's most populous county, Miami-Dade, 708 Republicans changed their party registrations last Thursday and on Friday morning, according to figures from the county elections department. Comparably, 96 Democrats switched, making Republicans seven times more likely to change their registration.
Most of the former Republicans in Miami-Dade County switched to no party affiliation (NPA) or registered as "independent." In Florida, the "Independent Party" is technically a minor political party.
The state's second most populous county, Broward, processed 92 registration changes by Republicans last Thursday. Again, most moved to NPA, although 22 became Democrats that day.
Two days after the attack, Florida's Palm Beach County reported that 367 Republicans switched registration, with 312 going to NPA and 44 changing to Democrat.
All three counties in Florida voted for Biden in the November 3 election.
In Iowa, more than four dozen voters in Linn County dropped their GOP affiliation in the 48 hours after the riot, according to KYW-TV. Linn County went to Biden in the presidential election.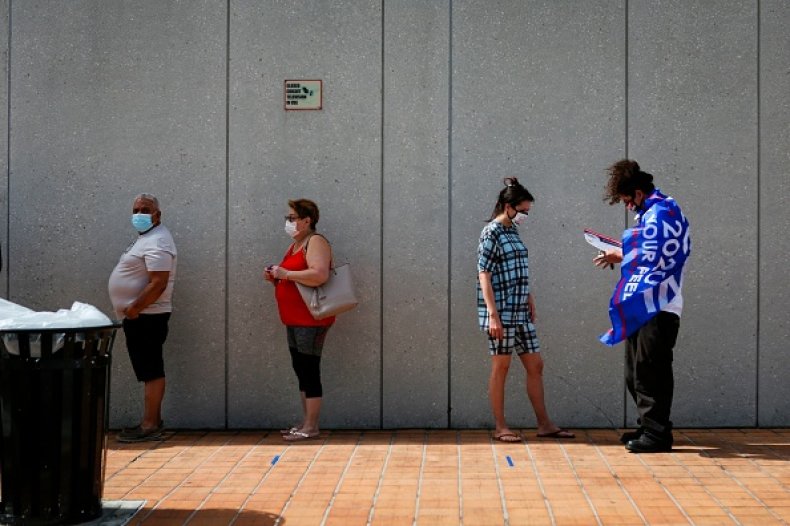 These numbers may be small when compared with the 74 million Americans who cast their ballots for Trump, and voter registration does not necessarily predict how votes will be cast. But the Republican Party is facing a critical moment after 2020's unprecedented voter turnout resulted in the Democrats gaining control of both chambers of Congress as well as the White House.
GOP lawmakers are also questioning their ties to the party. Representative Paul Mitchell of Michigan, who voted for Trump in the election, announced last month he would immediately sever ties with his party over its refusal to accept Biden's victory. He has become an independent, although he retired from Congress early this year.
Senator Lisa Murkowski of Alaska, who was the first Senate Republican to call for Trump's removal from office following the Capitol riot, suggested she would consider leaving the party if it continues to align itself with the current president.
While Murkowski has emphasized that she would not become a Democrat, she said, "I will tell you, if the Republican Party has become nothing more than the party of Trump, I sincerely question whether this is the party for me."
Newsweek reached out for comment to the Pennsylvania and Florida chapters of the GOP but did not hear back before publication.