Commenters were quick to defend one 24-year-old woman who explained why she was accused of stealing a friend's dream job in a viral internet post.
In a Reddit post published on r/AmITheA**hole, Redditor u/computernoodles said she decided to apply to the same company her friend was applying to, and detailed the explosive aftermath of that decision. Titled, "AITA for stealing my friend's life," the post has received more than 8,700 votes and 95 percent upvotes in mere hours.
Beginning with the explanation that she and her friend (who she called "Amy") met in college and lived together for a short time, u/computernoodles said the two were conversing over brunch recently, when her former roommate proposed the idea of working together.
"We talked about work and finding jobs for our degrees," she wrote. "Amy was talking about this interview for a position at a company that had a few spots open that fit our degree/what we wanted to do. She suggested that it would be great if we both applied and would be awesome to work together."
"I agreed," the Redditor added.
After submitting an application to the same prospective employer as Amy, the original poster said she was immediately contacted about an interview, and eventually landed the job she applied for.
"Two days later, I had dinner with Amy, telling her that I got the job and how I smashed the interview," u/computernoodles wrote. "Well Amy then angrily tells me how I need to shut up and that I swiped her dream job away from her."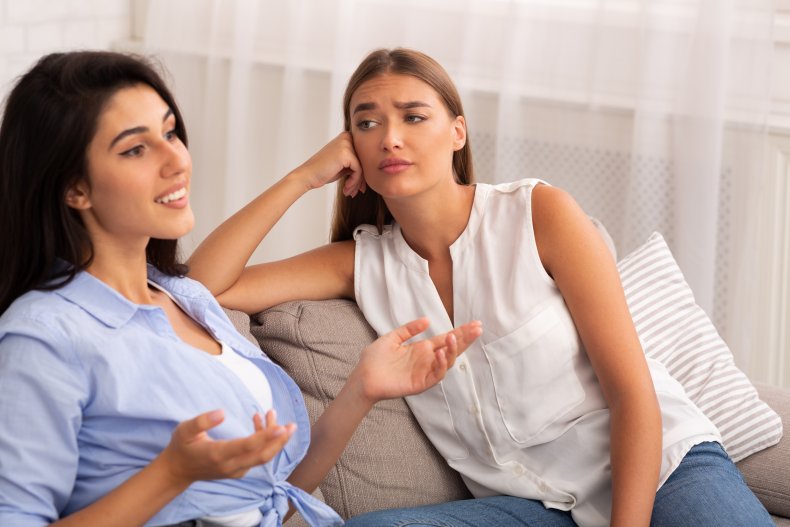 "She told me she already told everyone about the job and then the company called her back saying she wasn't what they [were] looking for...that she basically had the job until I came and ruined everything."
Since the beginning of 2021, Americans have quit their jobs by the millions. Propelling a phenomenon dubbed the "Great Resignation," people who have quit their jobs in the last year have become the subject of great focus — and scrutiny.
However, in a recent interview with Time, LinkedIn CEO Ryan Roslansky said the "Great Resignation" was actually closer to a "Great Reshuffle," and added that young people are the main drivers of the still-growing movement.
Members of Generation Z, which includes people born between 1997 and 2012, change jobs at a much higher rate than any generation before it.
Analyzing data across LinkedIn's 800 million members, Roslansky said the job-matching platform discovered a 54 percent year over year increase in members transitioning from one job to another.
For Generation X, that figure slides to 31 percent. For millennials, it falls slightly to 51 percent. However, for members of Generation Z, it skyrockets.
"The global workforce is changing. I talked about how we see a 54 [percent] increase year over year in job transitions across the platform," Roslansky told Time. "When you look at Gen Z specifically, that number's up 80 [percent] year over year."
As the American work landscape has transformed, so have people in their early-20s. Once determined to climb the ladder at one company, young people are now willing to jump at new opportunities on a whim — sometimes at the recommendation of a friend and former roommate.
In her original Reddit post, u/computernoodles said her friend denied telling her to apply to the same job, and revealed the one way she could mend her relationship with Amy.
"I told her that it was her idea that I apply and she said she was only joking," she wrote. "She then left...and texted me after that that I was an a**hole and [that] I need to give up my job position to make this better."
Redditors responding to the post labeled Amy's response childish, and compared the entire situation to juvenile disagreements.
"This reads like high school drama," Redditor u/Snoo_68114 wrote in the post's top comment, which has received more than 11,000 votes.
"It sounds like Amy was never offered an interview. She didn't match the criteria, and was likely passed over for you," the Redditor continued. "She is the type of friend who loves misery."
Redditor u/Ema630 echoed that sentiment.
"Amy was in no way guaranteed to get the job," they commented. "She's upset that she didn't get the job and [is] jealous of you."
"She learned a valuable lesson," they added. "You only point out potential jobs when you aren't interested in it for yourself, or you are gainfully and happily employed."