Artist Goes to Gallery Nude With Baby to 'Become Art'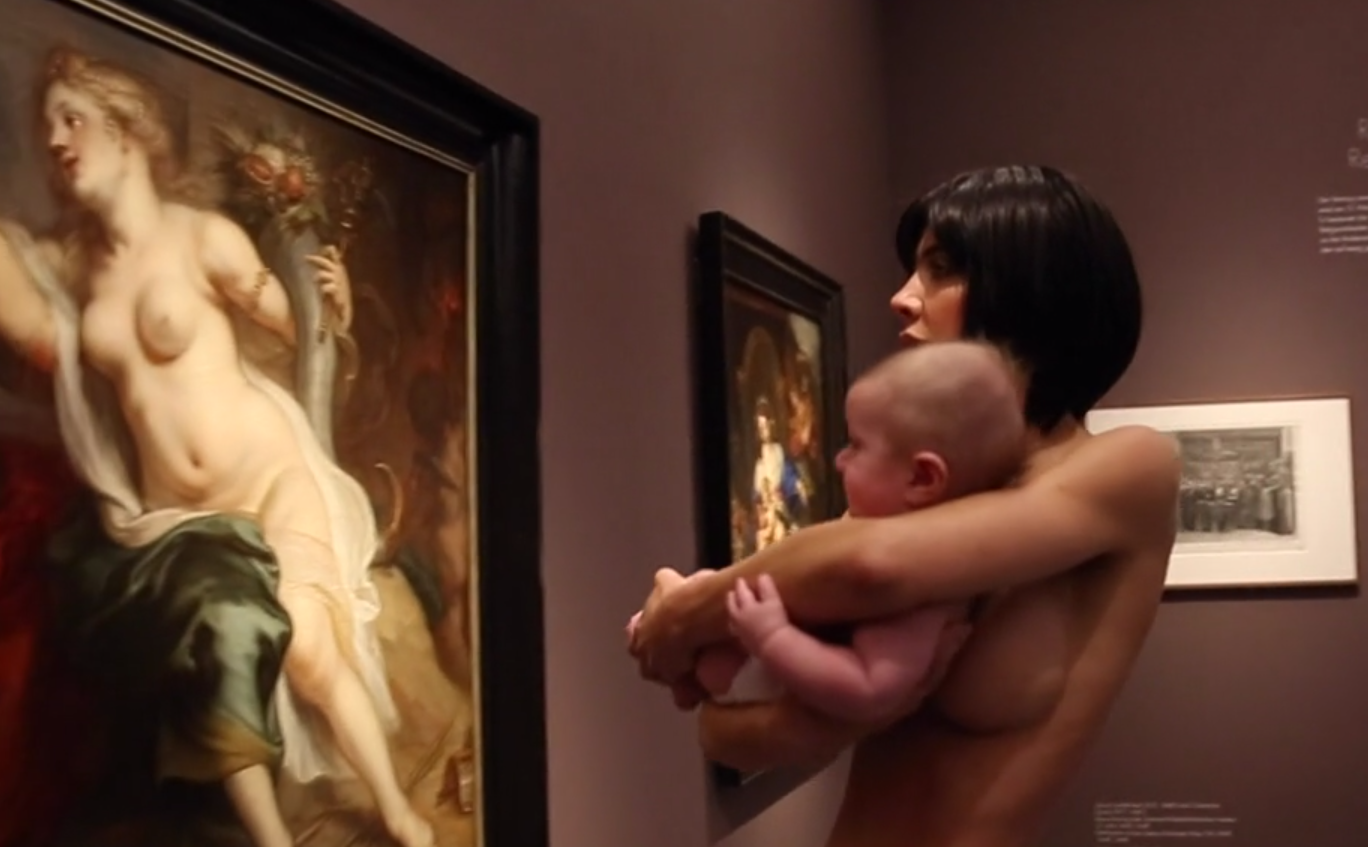 The latest creation from a controversial artist renowned for her nude performances, has unleashed her latest work on unsuspecting members of the German public.
Swiss born Milo Moiré, 32 stunned visitors at the 'Naked Life' exhibition at the LWL Museum for Art and Culture in the city of Naked Life in north-western Germany, by walking naked around an exhibition of nude paintings, while carrying a baby.
According to her website, Moiré wanted to involve herself with the art surrounding her: "Milo and the baby looked at the nudes in the exhibition and, because of their own nakedness, became a part of it."
(Warning: video contains nudity)
THE NAKED LIFE - "How little abstraction can art tolerate?" (2015) from Milo Moiré on Vimeo.
It went on to say that the performance artist intended her work to "challenge the fundamental attitudes towards abstract and figurative art. Isn't a painting depicting natural themes itself an abstraction? What could be the absolute motif of an exhibition dedicated to the naked life, an exhibition which appeals to specific sensory experiences?"
"For me, it is important to bring art into everyday life, not just confining it to the walls of art institutions," Moiré says. "I perform in real life. People expect the unexpected, most of them seem to be confused. In the museum people took a brief look at me but nobody talked to me during the performance. To cut the matter short, I polarise with my performances."
"I'm shocked how people are so shocked by a naked human body," she continues. "The naked body, male or female, has so many stories to tell and so many forms to show. I use nudity as a tool to create a controversy between the bourgeois norm and freedom of spirit."
While her website claims that "Milo Moiré brings everyday life to art", her fellow visitors were left bemused by the stunt. "I'm all for expression and alternatives in art, but this was just ridiculous," said one, according to the Daily Mirror. "From what I gather, she thinks that getting her clothes off, looking at paintings of nude people and holding a naked baby makes her become part of the art."
However, another visitor Tobias Meyer, 45, said: "I must admit it was more interesting than the average art exhibition."
It is not the first time Moiré has removed her clothes in the name of art. Last year, for her work titled 'The PlopEgg Painting Performance', she created a series of abstract paintings by pushing eggs filled with paint and ink out of her vaginal canal onto a canvas beneath her, while standing naked in front of an audience.
Moiré's work has divided her critics. One referred to last year's performance as "absurd, gratuitous, trite and desperate". But Moiré is defiant: "Art is characterised precisely by breaking the rules," she says.