Switzerland, known for its neutral stances on global conflicts, has announced on Monday that it will adopt standard European Union sanctions against Russia.
In a statement, the Swiss government openly condemned the Russian invasion and expressed solidarity with Ukraine. It also announced that it will enact the same sanctions announced by the EU against Russia.
"In view of Russia's continuing military intervention in Ukraine, the Federal Council took the decision on February 28 to adopt the packages of sanctions imposed by the EU on February 23 and 25," the Swiss government wrote.
"Switzerland reaffirms its solidarity with Ukraine and its people; it will be delivering relief supplies for people who have fled to Poland."
The sanctions enacted against Russia will not only target the country's economy but the assets of important Russian government figures. Russian President Vladimir Putin, Prime Minister Mikhail Mishustin, and Foreign Minister Sergey Lavrov will be unable to send or receive money from Swiss banks for as long as the sanctions are in place.
"In so doing, Switzerland is responding to the serious violations of international law for which these individuals are responsible," the Swiss government said.
Another critical ban that Swiss authorities have enacted on the Russian government is the suspension of a 2009 visa agreement. The statement said that people connected to Putin will not be allowed into the country. The decision, according to the government, will allow "appropriate measures to safeguard the country's interests or Switzerland's external security, independence and neutrality."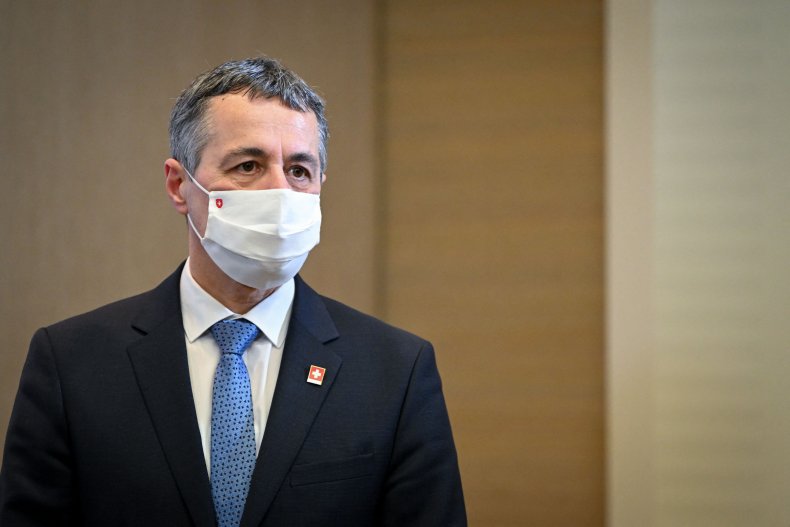 Switzerland is perhaps most well known for its neutrality in many major international conflicts, with representatives from the country acting as mediators. In it statement, the Swiss government explained that enacting the EU sanctions is an attempt at preserving the neutrality.
"In reaching its decisions, the Federal Council took Switzerland's neutrality and peace policy considerations into account. It reaffirmed Switzerland's willingness to actively contribute to a solution to the conflict through its good offices," it explained.
"Russia's unprecedented military attack on a sovereign European country was the deciding factor in the Federal Council's decision to change its previous stance on sanctions," the Swiss government added. "The defence of peace and security and respect for international law are values that Switzerland, as a democratic country, shares with its European neighbours and supports. As before, Switzerland will examine each further package of sanctions imposed by the EU on a case-by-case basis."
Update 2/28/22, 11:35 a.m. ET: This story has been updated with additional comments from the Swiss government.