Switzerland Advances Approval of Anti-Discrimination Laws for LGBTQ Community
The Swiss look set to extend anti-discrimination rights to the LGBTQ community, with the latest projections showing broad support for the new policy after a vote on Sunday.
In contrast to many of its European neighbors, Switzerland has no laws specifically prohibiting discrimination based on gender and sexuality. However, that could change as citizens headed to polls this morning to cast their ballot to extend anti-discrimination laws, which bans prejudice on racial counts.
According to Reuters, Parliament attempted to extend these rights to people who identify as LGBT+ in 2018. However, there was strong enough opposition to the legislation to trigger a referendum. This is because under Swiss policy the government must call a direct vote on any decision that receives 50,000 (or more) signatures in opposition.
Today, political research institute GFS Bern tweeted projections for today's referendum, suggesting the Swiss will vote in favor of extending the law at a ratio of six to four.
According to GFS Bern's polls—published shortly after the polls closed at midday local time—around 62 percent of voters are likely to vote in favor of the law and extend discrimination rights, and roughly 42 percent will vote against. These figures include a 3 percent margin of error, which explains the discrepancy (62 and 42 do not add up to make 100).
As the votes continue to be tallied, ballots in favor of the initiative stand at around 63 percent.
According to Swissinfo (SWI), the Swiss Broadcasting Association, those who oppose the law—allegedly for reasons of free speech and religious freedom—have said they will continue to fight against any future amendments that would extend these rights to other minority groups.
The opposition, led by the Federal Democratic Union, a conservative Christian political party, and supported by the right-wing populist Swiss People's Party, have said current legislation is sufficient to protect against insults, violence and other forms of ill-treatment.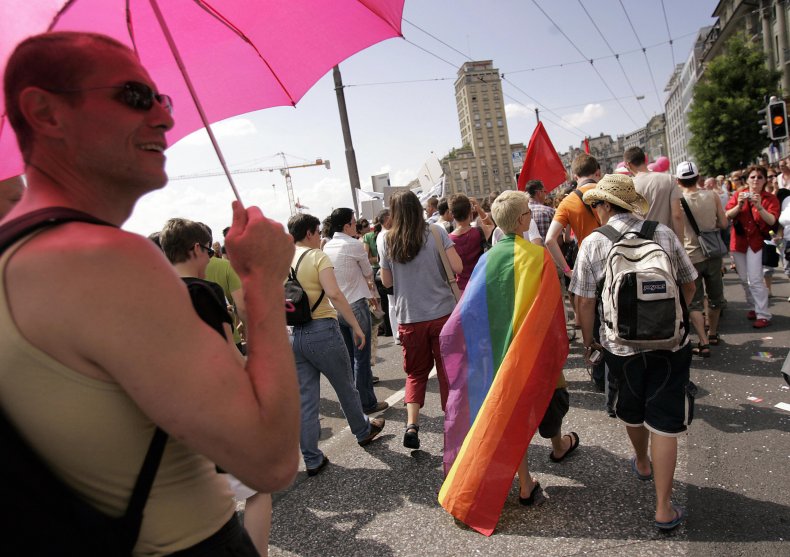 The country's Justice Minister, Karin Keller-Sutter has called the reform a "political signal" against hate speech and other forms of discrimination, while renouncing claims that it undermines free speech, Swiss Info reports.
The measure has a clear majority among most of the country's political party and follows a 2010 decision from the Supreme Court that said LGBT+ individuals did not have enough legal means to tackle injustice and bigotry.
"We will keep a close eye on the implementation of the law and want to make sure that the freedom of expression remains guaranteed," David Trachsel, who sits on the referendum committee, told the Swiss television channel SRF 1.
The votes are expected to be confirmed shortly. Meanwhile LGBT+ activists have said they will continue their campaign to fight for same-sex marriage, which is due to be discussed by parliament later this year.
According to Rainbow-Europe, Switzerland ranks 28th out of 49 European countries when it comes to LGBT+ rights. It falls to 36th place on matters of equality and non-discrimination.