Switzerland Says It Can Join Sanctions on Russia and Still Stay Neutral
Switzerland has announced rare sanctions against Russia, part of a broader West-led effort to punish Moscow for its military operations against Ukraine.
And while Bern has traditionally avoided taking such measures in line with a longstanding tradition of neutrality in global affairs, the Swiss Federal Department of Foreign Affairs told Newsweek that the move did not go against the country's historic non-aligned position.
"According to relevant Swiss law, the Federal Council can adhere to international sanctions in response to violations of international law," the department told Newsweek. "The specific rights and duties of neutral states are defined in international treaties and in international customary law. The measures adopted today by the Federal Council are in accordance with Switzerland's international law obligations as a neutral state."
"Switzerland's status as a neutral state remains unchanged," the department added. "Neutrality does not imply to be indifferent with regard to violations of international law."
The remarks came as Switzerland's executive body, the Federal Council, announced Monday that it would adopt sweeping sanctions imposed against Russia by the European Union, of which Switzerland is not a member.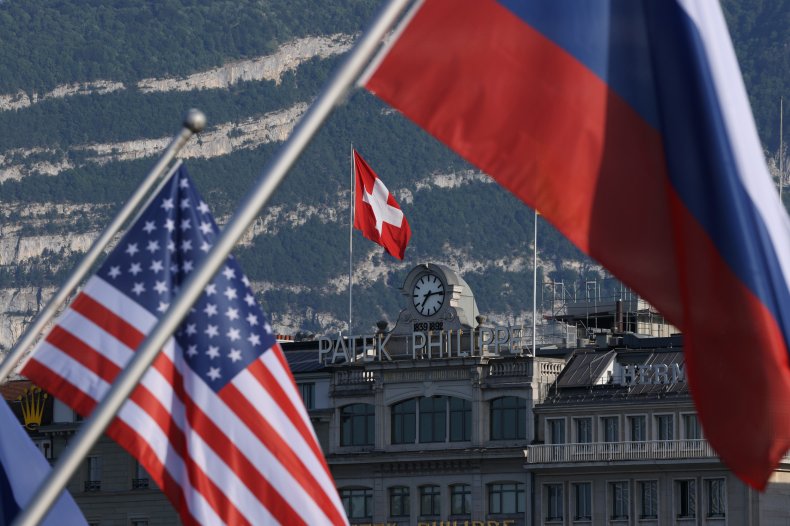 The measure came "in view of Russia's continuing military intervention in Ukraine" and would immediately affect a number of Russian companies and state institutions along with directly financially blacklisting President Vladimir Putin, Prime Minister Mikhail Mishustin and Foreign Minister Sergey Lavrov.
The Federal Council also moved to partially suspend a visa agreement between Bern and Moscow, ban the entry of a number of Russian nationals associated with Russian leadership and close Switzerland's airspace to all Russian flights.
Import bans already in place for Crimea, a territory annexed by Russia from Ukraine after an internationally disputed referendum that took place as unrest first gripped Ukraine in 2014, have also been extended to include the separatist, self-proclaimed Donetsk and Luhansk People's Republics, which have been at war with Kyiv for eight years since an uprising brought a pro-West government to power. The rebel states were granted recognition by Putin in the leadup to the conflict and have joined the broader Russian fight against Ukrainian forces.
"Switzerland reaffirms its solidarity with Ukraine and its people; it will be delivering relief supplies for people who have fled to Poland," the Federal Council said.
Switzerland's neutral policy is widely regarded as one of the oldest for a modern nation, dating back to the 1815 Treaty of Paris that ushered in the end of the Napoleonic Wars in Europe and with even deeper roots extending some three centuries earlier. Swiss neutrality withstood two of the bloodiest conflicts of the 20th century, World War I and World War II, and the country did not even join the United Nations until 2002.
The shift in the Swiss stance today has marked another blow to Moscow's international ties since Putin commenced the intervention in the neighboring country, which he argued poses a threat to Russia's national security with its bid for NATO alliance membership and military support from Western nations. Ukrainian officials have denied this narrative and appealed for greater support from international partners.
Russia's actions have drawn a wide range of repercussions, including Germany's reversal of a previous policy not to send military assistance to Ukraine, greater cooperation with NATO among non-aligned Finland and Sweden and a wave of sanctions and restrictions issued by other countries around the world.
Others who have instead blamed the U.S. and NATO for the root causes of the conflict include Russian ally Belarus, from which Russian troops have penetrated Ukraine toward the capital the Kyiv, as well as China, Iran, North Korea and Venezuela. After tense debates at the United Nations Security Council, India and the United Arab Emirates joined China in abstaining from a vote to condemn Russia, which vetoed the move. A number of other countries have chosen to remain silent on who was responsible while calling for de-escalation.
A number of international sporting associations including the International Federation of Association Football (FIFA) and Union of European Football Associations (UEFA) have also restricted Russian participation in the lead-up to this year's World Cup and amidst the Champions League.
But Moscow has thus far remained steadfast in its approach.
"NATO's experiments and the deafening silence of the Western public - these are the reasons behind the humanitarian and political disaster in Europe," Russian Foreign Ministry spokesperson Maria Zakharova said Monday on Telegram. "An end was to be put to this, since the West refused to conduct any negotiations whatsoever and welcomed aggressive statements and direct threats of Kiev puppets towards Russia."
Moscow has expressed dissatisfaction with the outcomes of talks it has held with the U.S. and NATO in recent months as Russia continued to amass troops along Ukraine's borders. President Joe Biden, who held his first in-person summit with Putin in the Swiss city of Geneva last June and has held a series of virtual and telephone calls with his Russian counterpart amid mounting tensions over Ukraine, described last Thursday a "complete rupture" in relations between Moscow and Washington.
The White House also canceled a prospective meeting between Biden and Putin offered by the U.S. side in the event that Russia did not pursue an incursion that Washington had warned for weeks was being planned in spite of Moscow's denials.
With hostilities in their fifth day, European diplomacy has continued as French President Emmanuel Macron spoke with Putin and claimed to have secured a guarantee to avoid the targeting of civilians and access to Kyiv's southern road as Russian troops attempt to encircle the Ukrainian capital. On the ground, talks have also begun between Russian and Ukrainian representatives in the Belarusian city of Gomel, near the border with Ukraine.
This is a developing news story. More information will be added as it becomes available.