SyFy has something a little unusual for basic cable, a hit original show. Resident Alien is a comedy/drama/murder mystery starring Alan Tudyk as an extraterrestrial struggling to pass for human in a small Colorado town. It is not only funny, it is also a surprisingly warm-hearted, ensemble show—notwithstanding the fact that it centers on a scaly guy who wants to end all human life on Earth.
Show runner Chris Sheridan says, "Ultimately, what I wanted the show to do is sort of help people see that there is hope. As humans, we're struggling, but we can get better if we learn to work together." Resident Alien has found an audience in a TV environment where new shows are quick to be killed off if they don't produce big ratings numbers fast. It premiered late in January amidst a heavy, multi-platform promotional blitz by SyFy (which is owned by NBCUniversal Television) much of whose programming is movies and reruns. Now nearing its season finale, the show's first episode was watched by about 2.2 million viewers; good reviews and word-of-mouth pushed the second episode's audience up to about 2.65 million. Not The Bachelor numbers to be sure (that show's latest season finale drew about 7.7 million viewers and was a ratings disappointment), but vindication of the network's effort to get further into original programming.
Resident Alien has already been life-changing for its star, long known to sci-fi fans for his role in the late lamented Firefly series as well as numerous other TV shows and movies like Rogue One: A Star Wars Story and Disney's Raya and the Last Dragon. "As a lifelong character actor who's done a lot of supporting roles, I would have liked to believe that being the lead wasn't that big of a deal. It feels like it is," Tudyk says. "I've been hearing from people that I haven't heard from in years. People that I didn't know had my phone number." A gifted deadpan comic, Tudyk manages to imbue his character (human alias: Dr. Harry Vanderspeigle) with a blend of goofy Buster Keaton pathos and thing-from-another-world menace.
Show-runner Sheridan says the mix is what makes the show work. "If you start doing slapstick, broad comedy, the audience won't be connected emotionally to the characters because the stakes go away. The show becomes a cartoon," he says. "The key to balancing comedy and drama is to try to keep a sense of reality through all of it and then adding something that comedy doesn't usually have, which is a sort of a thematic scope."
The excellent supporting cast includes Sara Tomko (Once Upon a Time) as Harry's human friend Asta Twelvetrees, Alice Wetterlund (People of Earth and Silicon Valley) as bartender at the town watering hole, Levi Fiehler (The Fosters) as the clueless mayor as well as Corey Reynolds (The Closer) as the local sheriff and Elizabeth Bowen (the Fargo TV series) as his long-suffering deputy. Terminator fans will be delighted to see Linda Hamilton as a U.S. military alien hunter.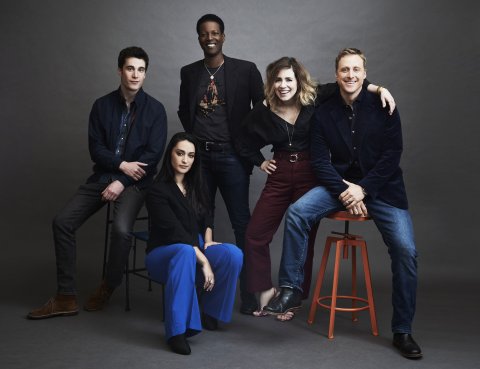 The ensemble also features Judah Prehn as Max, a grade schooler who is the only person in the imaginary town of Patience, Colorado, who can see through Harry's disguise. "He's very sweet and a little smart ass," Tudyk said. "Whenever I have a scene with him, I have to come to work two hours early to put on makeup, since he sees me as the alien. So whenever he sees that I've been there since five in the morning, he's like, 'How late did you sleep in?'"
Resident Alien started life as a four-issue comic book miniseries in 2012 by writer Peter Hogan and artist Steve Parkhouse."It's been a long process to get to this point," said Mike Richardson, publisher and executive producer of Dark Horse Entertainment. Richardson provided editorial direction after the duo came to the company with the "germ of an idea." The miniseries was a hit and was followed by four more, with a sixth and final miniseries in the works.
The comic's success drew the attention of Amblin Television, whose co-presidents Darryl Frank and Justin Falvey are now executive producers for the show, along with NBCU's Universal Content Productions. In an email to Newsweek, Frank and Falvey write, "Early on in the life of the comic, we connected with the Dark Horse team and developed some takes together." They add that while the source material was dark, the comic's themes "kept resurfacing in our minds." Amblin then approached Chris Sheridan, a longtime writer for the Fox hit Family Guy who was looking to work on a drama. Sheridan read the comic and says he "immediately fell in love with it."
Among the things Sheridan liked and was eager to preserve for TV, was the comic's emphasis on and respect for Native American people and culture. The cast features actors of Native heritage in important roles playing characters with Native heritage, including Gary Farmer who plays Asta's adoptive father (who is quick to observe of Harry, "there is something wrong with that man") and Sarah Podemski as Asta's voice-of-reason cousin Kayla. The show is shot near First Nation tribal land in Canada and employs a Native American consultant. The soundtrack features a slew of artists of Native American heritage including the hip-hop duo Snotty Nose Rez Kids, singer-songwriter Raye Zaragoza, and the band Nahko and Medicine for the People.
A premiere of the pilot episode at New York's Comic Con in October 2019 helped create early buzz as Resident Alien went into production. But then filming on the Vancouver set, where the Whistler mountains stand in for the Rockies, ground to a halt during the first wave of COVID-19 last spring. The cast didn't resume work until the fall with the premiere finally arriving in January. "Post-pandemic break, I've got a good 15 pounds extra on me," Tudyk jokes. "Everyone's beautiful on the show. But we all look like we've been through six months of the pandemic, so the characters look a little more tired."
Since Resident Alien's fast start, its ratings have bounced around a bit, but they have been good enough for SyFy to renew the show for a second season. In a statement announcing the news on March 17, Lisa Katz, president, scripted content, NBCUniversal Television and Streaming said, "The appeal of this show transcended the sci-fi genre in a way that enabled us to bring in a broader audience."