Sylvester Stallone Congratulates Henry Winkler on 'His Much Deserved Emmy' Win
Sylvester Stallone congratulated his friend and co-star, Henry Winkler, on his Emmy win Tuesday.
"To my longtime friend Henry Winkler who finally won his much deserved Emmy after 40 plus in the business," he wrote alongside a photo of the two of them from The Lords of Flatbush (1974) on Instagram. "I vividly remember working with him on those cold streets in Brooklyn almost 47 years ago!!! He was a super talented class act then and even more of one now!!!"
Winkler spoke about filming The Lords of Flatbush with Stallone with Entertainment Weekly in January. "Sly Stallone stood on the street of Brooklyn," he said. "We would look at the crowd watching us film and he would say, 'What are you looking at? I'm going to eat you for breakfast.' I said, 'You don't want to do that, Sly. He's probably really chewy.'"
Winkler won the Emmy for outstanding supporting actor in a comedy series for his role as acting coach Gene Cousineau on HBO's Barry. The other nominees in the category were Brian Tyree Henry (Atlanta), Louie Anderson (Baskets), Kenan Thompson (Saturday Night Live), Alec Baldwin (Saturday Night Live), Tony Shalhoub (The Marvelous Mrs. Maisel) and Tituss Burgess (Unbreakable Kimmy Schmidt).
Stallone wasn't the only coworker to congratulate the actor on his win. "My friend's win is so deserved and great!" Ron Howard wrote on Twitter when he retweeted Winkler's photo of the two of them at the Emmys Monday. "Bravo." The two worked together on Happy Days from 1974 to 1980. Howard played Richie Cunningham.
Winkler posted his reaction to the win on Twitter following Monday's ceremony. "Thank you, everyone, for your wonderfully warm wishes on my win tonight. It's thrilling," he wrote.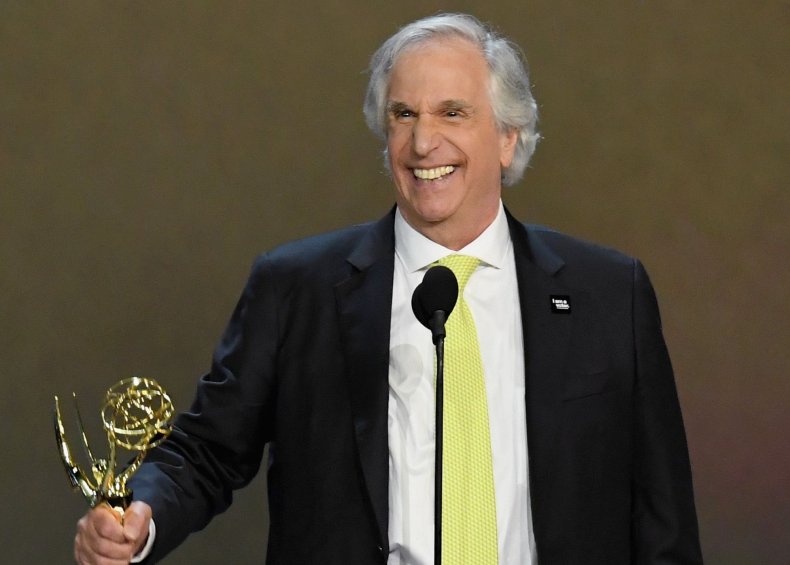 "I only have 37 seconds. I wrote this 43 years ago," he said in his acceptance speech at the ceremony. "Skip Brittenham said to me a long time ago, 'If you stay at the table long enough, the chips come to you,' and tonight, I got to clear the table." Brittenham is an entertainment lawyer.
Winkler was nominated for an Emmy six other times in his career, for his roles as Arthur "Fonzie" Fonzarelli on Happy Days in 1976, 1977 and 1978 and Walter Dunleavy on Battery Park and Dr. Henry Olson on The Practice in 2000. He was also nominated for outstanding international program as a producer on Who Are the DeBolts? [And Where Did They Get 19 Kids?] in 1979.