Who Is Kim Kardashian's Version of Nostradamus, Psychic Sylvia Browne, and Just How Right Has She Been?
A repeatedly debunked "psychic" has once again captured the public imagination after Kim Kardashian West tweeted to her 64 million followers a passage from a 2008 book that partially comports with the outbreak of the novel coronavirus COVID-19.
On Thursday, Kardashian shared a photo of a passage from End of Days: Predictions and Prophecies About the End of the World by Sylvia Browne (written with frequent collaborator Lindsay Harrison), which reads:
"In around 2020 a severe pneumonia-like illness will spread throughout the globe, attacking the lungs and the bronchial tubes and resisting all known treatments. Almost more baffling than the illness itself will be the fact that it will suddenly vanish as quickly as it arrived, attack again ten years later, and then disappear completely."
The tweet has since garnered more than 48,000 retweets. In response to the attention, End of Days broke into the top 10 bestselling Kindle ebooks on Amazon, prompting publisher Penguin Random House to rush the title back into print.
But who is Sylvia Browne and is there any reason to trust her predictions?
Who is Sylvia Browne?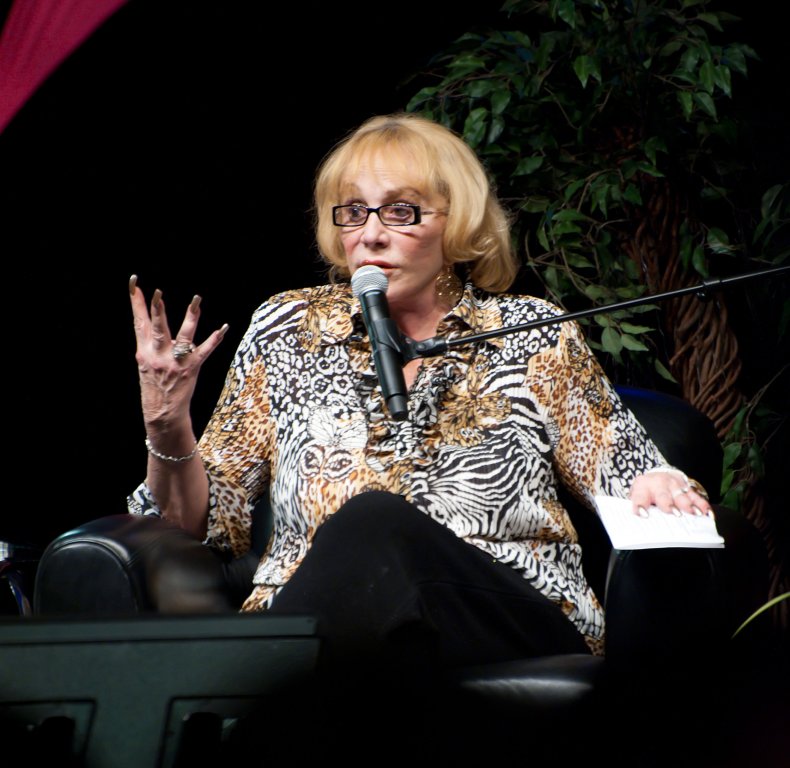 Browne, who died in 2013 at the age of 77, claimed to have started seeing psychic visions and premonitions at the age of five, but started performing psychic readings professionally in 1974. In 1986 she started her own church, the Society of Novus Spiritus, which promoted reincarnation and belief in a dual Mother and Father god, alongside more than 20 tenets, including, "We believe that Our Lord was crucified but did not die on the cross and went on to live out His life in France with his mother and Mary Magdalene, his wife."
More than her church, Browne became known for her frequent media appearances, including on Larry King Live, The Montel Williams Show and Coast to Coast AM. Her popularity generated millions of dollars, both from the sales of more than 40 books and her $850 telephone psychic readings, sessions of which had a four-year waiting list.
"A psychic reading with Sylvia is very much like meeting a long lost friend whom you loved deeply, making your soul glad to make contact again," an archived version of her Psychic Readings page reads. "She reaches into your soul, washes out the pain, repairs the damage, then gives you the courage and direction to continue your journey through life."
In addition to her church, books and psychic readings, Browne found other ways to profit from her "predictions" and supposed contacts with the dead, including a lecture series and even a cruise, at which Welsh journalist Jon Ronson documented multiple false statements made by Browne.
"I've wanted to interview Sylvia for years, but I suddenly wonder if the exercise is pointless. I think she's a consummate pro who puts up an impregnable wall between herself and her critics, and will just say anything," Ronson wrote for the Guardian, frustrated by Browne's repeated false statements during a 2007 interview. "What was I thinking? That she would admit to being a fraud?"
"If after 53 years I was a fraud, don't you think they would have found out?" Browne said during the interview.
27 Incorrect Sylvia Brown Predictions
As her popularity soared, Browne's predictions continued to flop. Browne developed a reputation as a psychic detective, making frequent predictions about child kidnappings that often turned out to be incorrect.
"People come to her with their problems. They are desperate. And she preys on that. She takes advantage of that. She takes their money. She makes believe that she's psychic. And that's reprehensible," Robert Lancaster, founder of the since-defunct site StopSylviaBrowne.com, said during a 2007 episode of Anderson Cooper 360°. "It's evil, is what it is, evil."
Here are 27 predictions Browne got wrong, sometimes with tragic consequences:
Browne made multiple wrong predictions in End of Days: Predictions and Prophecies About the End of the World, the source for the coronavirus-like disease prediction that seemed to impress Kardashian and tens of thousands of her followers. In the book, she predicted that IRAs, mutual funds, retirement plans and the stock market itself will not exist by 2020. She also claimed that most upscale homes would have robots by 2015 and that Pope Benedict would be the final pope. She was also wrong about a cure for ALS (Lou Gehrig's Disease) by 2014, the existence of anti-obesity pills also by 2014, the end of invasive surgery by 2015 and a cure for blindness by 2020.
Just before "predicting" a disease superficially similar to COVID-19, Browne predicted a previous epidemic for 2010, this one involving a "flesh-eating disease" transmitted by microscopic mites burrowed in the feathers of imported exotic birds. Antibiotics wouldn't work on this disease, Browne wrote, but doctors would discover that a "combination of electrical currents and extreme heat" would do the trick.
Maybe Browne's most infamous wrong prediction involved the 2002 kidnapping of Shawn Hornbeck. On a 2003 episode of The Montel Williams Show, Browne said the 11-year-old boy was kidnapped by a "Hispanic-looking" man with dark skin and dreadlocks, further adding that it was too late for the boy—his dead body would be found next to "two jagged boulders." Hornbeck was found alive in 2007 and had been kidnapped by a white man. According to Shawn's parents, police diverted their search based on Browne's predictions, while Browne offered further consultation on the kidnapping for $700 an hour.
"She's not dead. But what bothers me—now I've never heard of this before—but she was taken and put into some kind of a slavery thing and taken into Japan," Sylvia Browne said of 6-year-old Opal Jo Jennings on a 1999 episode of The Montel Williams Show. "She was taken and put on some kind of a boat or a plane and taken into white slavery." Opal's body was found buried in Texas. After an autopsy, pathologists concluded she had been murdered the same day she was kidnapped from her front yard.
In 2002, Browne told the parents of Holly Krewson (once again on The Montel Williams Show), who had vanished seven years earlier, that their daughter was alive and working as a stripper in Los Angeles. But Holly was already dead, her body unidentified in a San Diego morgue.
Also in 2002, Browne predicted that missing woman Lynda McClelland, 44, would be found alive in Orlando, Florida. Mclelland's remains were instead found near her home in Pennsylvania. The murderer, McClelland's son-in-law, appeared on The Montel Williams Show alongside Browne as she made the wrong prediction.
In 2004, Browne told the mother of Amanda Berry, kidnapped at age 17, that her daughter was dead and was "in water." Two years after appearing with Browne on The Montel Williams Show, Amanda's mother Louwana Miller died of heart failure. In 2013, Amanda escaped from the home of serial kidnapper Ariel Castro with the daughter she had borne in captivity.
In 2006, Browne claimed to have predicted the outcome of the Sago Mine disaster in West Virginia after a blast trapped 13 miners underground. Coast to Coast radio show host George Noory asked Browne about the outcome of rescue efforts, based on initial reports that all but one miner had survived. "I knew they were going to be found," Browne said. Minutes later, Noory corrected the erroneous reporting: All but one of the miners had died. "I don't think there's anybody alive, maybe one," Browne said in response. "How crazy for them to report that they were alive when they weren't!"
At the beginning of 2000, Browne posted multiple predictions for the coming year. Most were vague enough to be disputable, but many were flatly wrong. American Airlines didn't merge with Alaska Airlines. Flat tax policies didn't become a major political issue. Internet pornography was not made subject to "harsh regulation." Los Angeles did not suffer from a magnitude 5.3 earthquake. NASA did not cut back on space shuttle launches because of damage to the ozone layer. Branson, Missouri, did not experience a "big uprising" in response to "some kind of polluted waste hazard." A train crash did not cause "quite a bit of devastation" in France. Bill Bradley did not win the 2000 election. David Letterman did not retire from The Late Show. But she was correct that Brad Pitt and Jennifer Aniston got married.
Browne incorrectly predicted in 2004 that Osama bin Laden was already dead, after previously predicting he would be found hiding in a cave, which also turned out to be untrue.
In a 2005 Newsweek interview, Browne predicted that Michael Jackson "will be convicted" of child sexual abuse. He was acquitted on all counts five months later.
In the same interview, Browne also predicted that "we are going to be visited" by aliens around 2015. She said they'd arrive in a ship, as a group.
Browne even got her own death wrong on Larry King Live, predicting she would live to the age of 88. She died at age 77.
In 2010, Skeptical Inquirer exhaustively documented 115 missing persons and murder cases about which Browne had made predictions. Her predictions weren't correct, even once.
"Among the many harmful things that Browne does is convince the loved ones of victims of untimely deaths that foul play was involved and, conversely, convinced the loved ones of murder victims that no foul play was involved," the magazine concluded. "It is hard to understand how someone with such a dismal record continually tops bestseller lists and maintains a following."
"Sylvia would be the first person to state that she was only human and certainly not perfect which she stated repeatedly in every media outlet and emphasized consistently that only God is perfect," a spokesperson for Sylvia Browne Group Inc. told Newsweek. "To highlight a list of her prediction inaccuracies would be grossly unfair to the thousands of individuals that she has helped and counseled over the decades of her professional career."
In a 2007 interview with Lancaster, cited by watchdog site Quackwatch, Browne's first husband Gary Dufresne discussed her "fraudulent career" and claimed Browne knowingly lied to people. "I said to her as we were washing dishes and she was wiping or whatever, I said, 'Sylvia, how can you tell people this kind of stuff? You know it's not true, and some of these people actually are probably going to believe that,'" Dufresne claimed to have said after a tarot card reading party. "I won't put it exactly the word that she said, but she said, 'Screw 'em. Anybody who believes this stuff ought to be taken.'"
This article has been updated with comment from the Sylvia Browne Group.