Sympathy as Man Introduces Crushes and They Start Dating: 'Sucks'
A bisexual man has shared how he messed up when introducing his two crushes to each other, resulting in them dating.
Shared on Monday on Reddit's popular r/tifu forum—which stands for "Today I F***** Up—the post has gained more than 19,000 upvotes and hundreds of comments.
User u/bopbeepboopbeepbop shared the story and wrote: "I am a bisexual man and I've been talking with a straight girl and another bisexual guy. I had been hitting it off really well with both of them and there was some light flirting. It was getting to the point where I was really nervous about really hitting on either of them for fear of losing the other, and I think it may have given off the vibe that I wasn't interested because sometimes I didn't flirt back."
A few days ago, he shared how he was talking to the girl after class and the guy dropped by to say hello.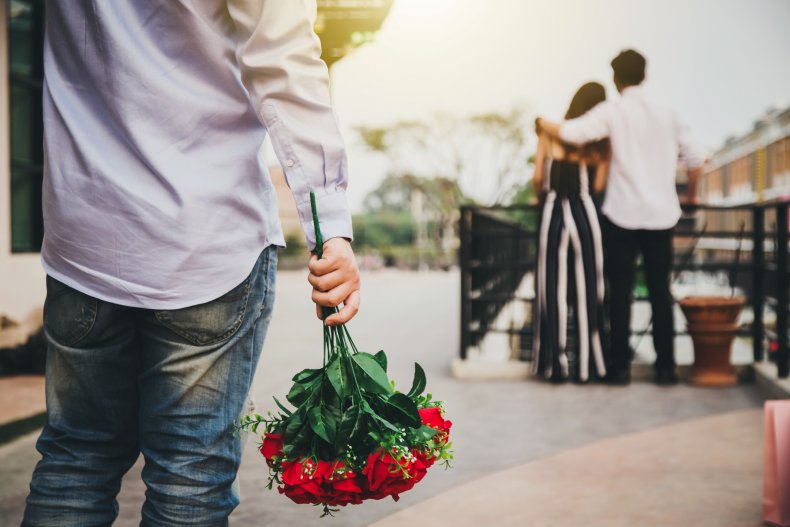 "I introduced them to each other as anybody would with their friends," said the Redditor: "But I had to go to my next class and ended up leaving them both there as they kept talking."
A few days later, the Redditor saw the couple together and they thanked him for introducing them as they were now officially dating.
"Obviously none of us were ever an item or ever even really serious, but that was tough to hear," explained the poster.
"In retrospect, I don't think either of them had any idea I was interested," he wrote: "At least, that's the generous interpretation."
Redditors headed to the comments to share their thoughts on the unfortunate situation.
One user wrote, "Ahhh the consequences of neither s***ting nor getting off the pot."
"Fellow bi," shared another Redditor, "the number of times I've accidentally hit on two separate people and find out they're already dating each other."
"You'll miss 100 percent of the shots you don't take. Sucks, man," wrote another user.
"Now go out for drinks, have fun and make it happen," said another commenter, when a Redditor replied, "Yeah, broach the possibility of a 3-person couple."
While this might be unusual for some, a 2020 YouGov survey actually revealed that one-third of Americans say their ideal relationship is non-monogamous.
Speaking to 1,342 U.S. adults between 6 and 7 January 2020, the survey found that 32 percent said their ideal relationship would be non-monogamous to some degree.
Millennials were particularly likely to agree, with 43 percent saying they would opt for a non-monogamous relationship, though an equal percentage of this generation said their ideal relationship would be completely monogamous.
In a later comment, another reply offered some positive advice for the Redditor, writing: "Helping people find love is never a f*** up. And let this be a learning experience: let people know if you're interested."
Newsweek has reached out to bopbeepboopbeepbop for comment.