Officials in the Chicago area warned Thursday about a disturbing trend among users of synthetic marijuana: bleeding from the eyes and ears.
The Illinois Department of Public Health has reported some 22 cases of excessive bleeding of the eyes and ears over the past few weeks, according to the Chicago Tribune. Most of those affected have been in and around Chicago, but officials warned the synthetic marijuana causing these issues could travel around the state.
Despite being banned across Illinois, manufacturers reportedly find ways to wiggle around laws by tweaking the makeup of the synthetic weed to make it legal. The Department of Health, meanwhile, attempted to shut down the idea that this product— often dubbed fake weed, K2 or spice—was in any way safer than regular marijuana.
"Despite the perception that synthetic cannabinoids are safe and a legal alternative to marijuana, many are illegal and can cause severe illness," said Illinois Department of Public Health Director Nirav D. Shah in a statement. "The recent cases of severe bleeding are evidence of the harm synthetic cannabinoids can cause."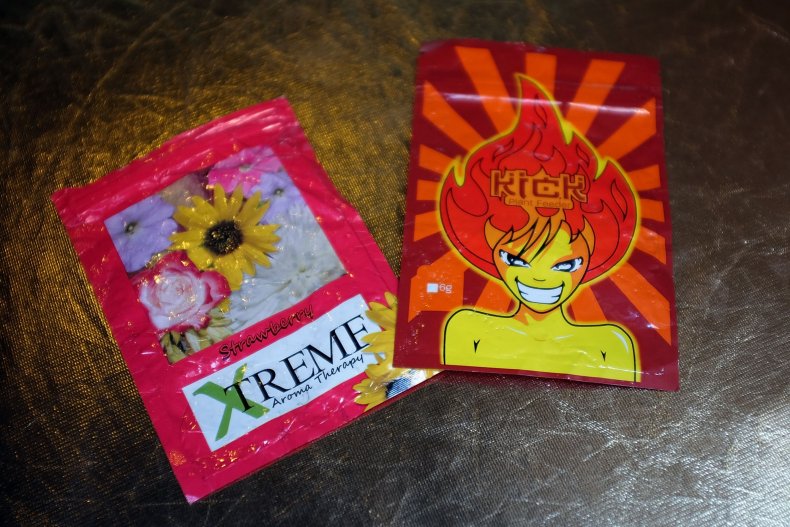 Jerrold Leikin, MD, director of toxicology at NorthShore University HealthSystem, has been tracking the cases coming through the Illinois Poison Center. "Whenever there is an illicit drug contamination it is always a very big issue," he told WMAQ in Chicago on Thursday. "The concept of contamination is not new."
Leikin said to the TV station that officials did not yet know what it was, exactly, in the synthetic weed that was causing the problem, but it seemed like it might be an anticoagulant or blood thinner.
Despite its popularity, the first study on synthetic marijuana was published in November of last year. Researches from universities in the Netherlands and Germany found that users of synthetic marijuana were more likely to feel incapacitated, compared with regular weed, even if the high was relatively similar. Observing JWH-018, a type of synthetic marijuana, the researchers did not find troubling side effects such as, say, bleeding from the eyes.