Dunkin' Donuts Employee Who Dumped Water on Sleeping Homeless Man Suspended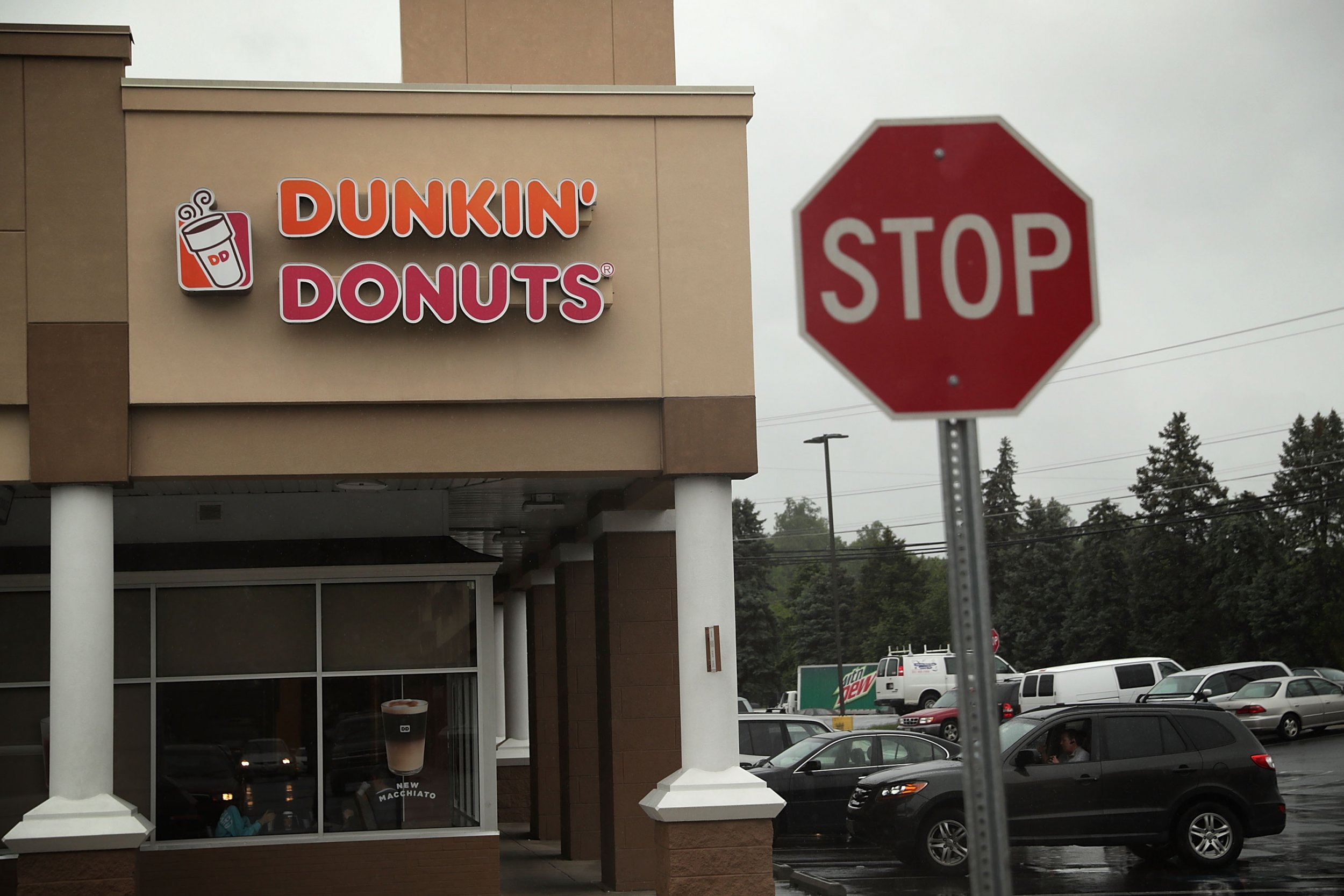 A Dunkin' Donuts in Syracuse, New York, is facing backlash after a video of an employee dumping water on a man who is homeless went viral.
The video was posted on Facebook on Sunday and showed a man, dressed in a dark-colored sweatshirt and a dark-colored hat, with his head down on a table inside the store. An employee in the video said, "You wanna sleep?" before he took a bucket of water and dumped it on the man's back and neck.
The cold water jolted the man awake, and as he hopped up from the booth where he was sitting, people in the background are heard laughing.
"How many times I gotta tell you to stop sleeping in here, my n***a?" the employee asked. "How many times the customer and the people gonna tell you to stop sleeping in here?"
The man in the video claimed his falling asleep was an accident, which the employee rebuked as being untrue, saying he wasn't going to call the police but that the man had to leave. At the end of the 36-second video, the person who filmed it is heard laughing.
Betty Jocraven, the aunt of the victim, identified as Jeremy Youngs, told WSTM that her nephew had schizophrenia and sometimes required oxygen. She added that she was humiliated by how he was treated. Newsweek reached out to Dunkin' Donuts but did not receive a response in time for publication.
The video has been viewed more than 285,000 times since it was posted. Al-amin Muhammad, an advocate for the homeless and the poor, went to Dunkin' Donuts on Monday to express his displeasure at how the situation was handled.
He carried a sign that read "Homeless Lives Matter" and was joined by several other people who protested the franchise over the incident. Muhammad, who has experienced homelessness himself, attempted to get a manager to speak with him about what happened, but after his efforts were ignored he resigned to expressing his opinion on the sidewalk.
"Nobody needs to be treated like this," Muhammad said during a live video. "Everybody is [a] human being. You don't just dump buckets of water on people."
Muhammad said he was at the Dunkin' Donuts to engage in a peaceful rally with the goal of getting answers as to what happened during Sunday's altercation. One woman who attended the rally said she didn't know the employee's story but that he could have his own family to feed. Instead of being fired, she hoped he would be educated and that Dunkin' Donuts would put in a protocol for handling such situations.
John Tumino, founder of the not-for-profit In My Father's Kitchen, which assists homeless people through street outreach, told Syracuse.com that the employee should have called 211. Had the employee called the number for the community services organization, an outreach worker would have been dispatched to help Youngs.
"I'm not saying it's cool for the guy to be sleeping in Dunkin' Donuts, but there are better tactics than throwing water on someone," Tumino told Syracuse.com.
The names of employees involved in the incident have not been released, but in a statement to WTVH managing editor Michael Benny, Dunkin' Donuts franchisee chief operating officer Kimberly Wolak said she was disturbed by the employee's behavior.
"It not only violated our written policies but goes against our core values as an organization, which include creating a welcoming and hospitable environment and treating everyone with dignity and respect," she said.
Wolak said the employees involved were suspended pending an investigation and would be apologizing directly to Youngs.