Syria's Assad Tells Trump 'What You Say Is What You Are' After Being Called 'Animal' by U.S. President
Syrian President Bashar al-Assad has responded to President Donald Trump's branding him an "animal" over the Syrian leader's alleged involvement in a toxic gas attack last month, but said he would not retaliate with insults.
In an exclusive interview shared in part Wednesday by Russian government-run news channel RT, Assad said he was unmoved by Trump's words, which were followed by U.S.-led airstrikes against Syrian government sites suspected of being involved in the production of chemical weapons. Assad told the interviewer he had no nickname for Trump because "This is not my language, so, I cannot use similar language. This is his language. It represents him."
"I think there is a very known principle, that what you say is what you are. So, he wanted to represent what he is, and that's normal," Assad told RT.
"It didn't move anything and this language shouldn't move anything for anyone. The only thing that moves you is what people that you trust, people who are level-headed, people who are thoughtful, people who are moral, ethical, that's what should move anything inside you, whether positive or negative. Somebody like Trump will move nothing for me," he added.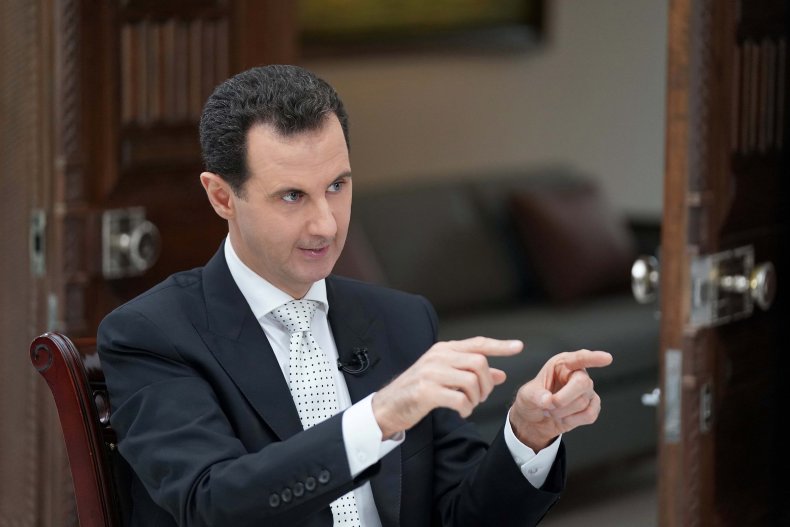 Before taking office in January 2017, Trump both blamed former President Barack Obama for not going after Assad following an alleged chemical weapons attack in 2013, and warned him not to get further embroiled in the Syrian conflict. Trump has also blamed his predecessor for supporting Syrian rebels trying to oust Assad after a 2011 uprising, saying in 2015 that "Assad may be bad, but we have absolutely no idea who these people are that we're arming."
Trump called Obama "the founder of ISIS," also known as the Islamic State militant group, over his support for Syrian insurgents, many of which were absorbed or overtaken by the jihadis. Trump increasingly supported teaming up with Russian President Vladimir Putin, a staunch Assad ally, against ISIS as the real-estate-tycoon-turned-Republican candidate won the 2016 election in November. Shortly after, Assad said Trump could be a "natural ally" in the fight against rebels and jihadis, later calling a potential U.S.-Russia alliance "positive for the rest of the world, including Syria."
Related: Trump's new army? Saudi Arabia in talks to build Syria Arab force, report says
This planned partnership fell apart, however, as the newly sworn-in Trump and his administration were hit with allegations that they colluded with the Kremlin to secure a victory. Just days after U.S. Ambassador to the United Nations Nikki Haley and then–Secretary of State Rex Tillerson suggested the U.S. would no longer seek to overthrow Assad by force, reports of a deadly sarin gas attack in the rebel-held province of Idlib appeared to change Trump's mind in April 2017.
Trump quickly launched a salvo of Tomahawk missiles against a Syrian military airport and, nearly exactly one year later, attacked again last month with a heavier arsenal and the help of France and the U.K. This time, they hit three state-run research centers said to be behind the production of chemical weapons, which Syria has denied possessing after surrendering them in a 2013 deal.
Russia and Iran's backing for Assad has allowed Syria's armed forces to restore control over almost every major population center and vast stretches of territory once lost to ISIS, other jihadis and opposition forces. The Syrian offensive along with a separate offensive by U.S.-led coalition and its allies in the Syrian Democratic Forces have left only remnants of ISIS remaining and Trump has expressed his desire to withdraw U.S. troops from Syria.
Nevertheless, the situation has been complicated by the proliferation of Iranian and Iran-backed forces, to which Washington and its top Middle East allies Israel and Saudi Arabia are opposed. The U.S., Russia and Jordan are reportedly in talks to strike a deal, in which Syria would agree to pull back Iranian and Iran-backed fighters from an upcoming southern Syrian military offensive in exchange for the relocation of rebels and Israel ceasing hostilities against Syrian government positions.
The deal may also reportedly include the U.S. abandoning its military base in Al-Tanf, located near the border crossing with Jordan and Iraq. Syria, Russia and Iran have long accused the U.S. of using the installation to prop up jihadi fighters linked to ISIS, something Washington has denied.