Syria Chemical Attack Was 'Fake,' Says Russia, Accusing U.S. of Slander
Russia has doubled down on its defense of its ally Syria, dismissing the alleged chemical attack in Douma, eastern Ghouta, as "fake."
Footage of the apparent aftermath of the attack in the formerly rebel-held town on Saturday has shocked western governments, prompting U.S. President Donald Trump to describe Syria's president as "Animal Assad." Clips posted online by rescue workers show the apparently lifeless bodies of Syrians, including children, foaming at the mouth. Dozens died in the attack, according to aid workers.
Russian forces have fought alongside Bashar al-Assad's troops since 2015 on the side of the regime, whose brutal rule triggered an armed revolt seven years ago that has led to today's civil war.
Related: Syria airfield missile strike, what we know so far
Russia has called into question the validity of evidence of a chemical attack, disputing that an attack even happened. Speaking as both the U.S. and France threatened retaliation to the chemical attack on Monday, Moscow's envoy to the United Nations accused rebels of staging the incident and the West of using it for their own ends, state news agency Itar-Tass reported.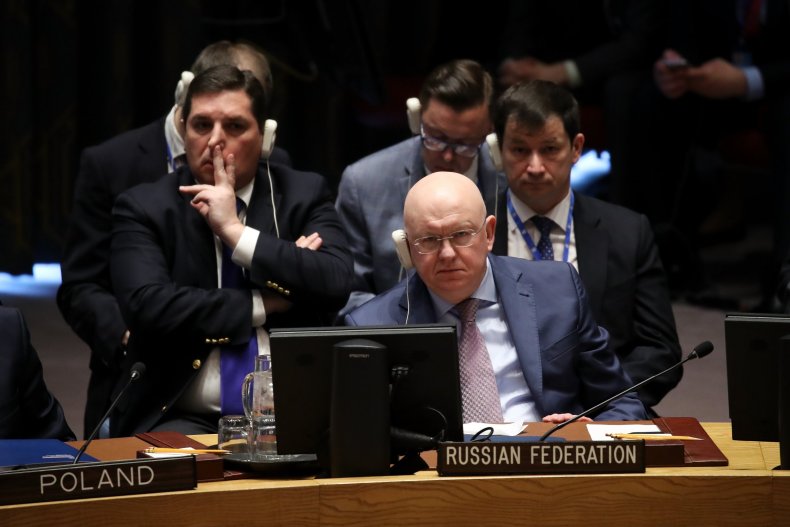 "Saturday's fake [story] from Douma aims partly at diverting the attention of the public from the vaudeville around the Skripal case," Russia's Ambassador to the U.N. Vasily Nebenzya said. The diplomat referred to another recent political scandal, which has convinced western allies that Russia is responsible for the poisoning of a former double agent in its ranks. After becoming critically ill near his home in the south of England last month, ex-Russian intelligence officer Sergei Skripal is still in hospital and U.K. investigators have determined that he was poisoned with a Soviet-developed nerve agent.
Speaking at the U.N. Security Council, Nebenzya warned the U.S., U.K. and France that they are treating Russia and Syria confrontationally "without considering the consequences."
"A wide arsenal of methods is being used: slander, insult, hawkish rhetoric," Nebenzya said. "Through the appropriate channels, we have already raised it with the American side that the forceful actions under false pretexts against Syria, where Russian servicemen are located at the request of the legitimate government of this country, can lead to the most serious of consequences."