Why Donald Trump Won't Try and Oust Syria's Bashar al-Assad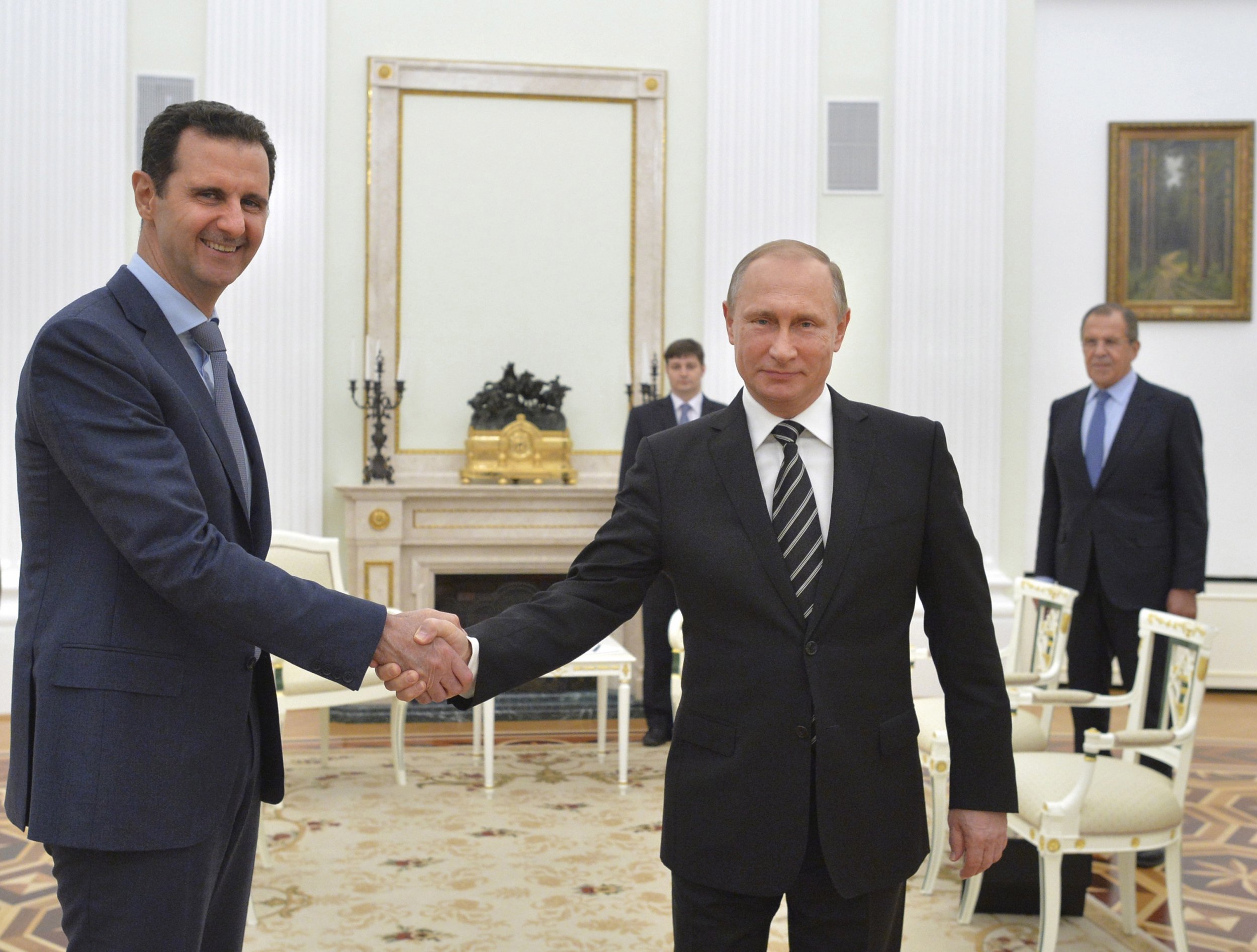 President Donald Trump has a new Russia problem. This time, it's not about his links to Moscow or whether the Kremlin meddled in the U.S. election—it's about the war in Syria, where the policies of Russian President Vladimir Putin directly challenge American military intervention.
The story began on Tuesday when people in the northwestern Syrian town of Khan Sheikhoun saw a government warplane appear in the sky. A nurse in the local Rahma hospital told Amnesty International she expected an airstrike but instead of the customary explosion, heard a thud. The bomb, she assumed, hadn't gone off. Then, minutes later, victims arrived.
Medics brought them into the hospital foaming at the mouth and contorting in pain. At the nearby Bab al-Hawa hospital, where doctors transferred eight patients, the Syrian American Medical Society described the affected as displaying "dilated pupils, muscle spasms, involuntary defecation—symptoms consistent with exposure to neurotoxic agents such as sarin."
A day after the strike, which killed more than 70 people, Trump held a press conference in the White House along with King Abdullah II of Jordan. "Yesterday's chemical attack in Syria, against innocent people, including women, small children and even beautiful little babies [was] an affront to humanity," Trump said. "These heinous actions by the Assad regime cannot be tolerated. The United States stands with our allies across the globe to condemn this horrific attack and all other horrific attacks, for that matter."
Speaking at the United Nations, the U.S. ambassador to the U.N., Nikki Haley, delivered an impassioned speech to the Security Council. Holding up pictures of the victims she told the assembled delegates: "We cannot close our minds of the responsibility to act." Later she focused on Moscow: "Russia cannot escape responsibility for this. Assad has no incentive to stop using chemical weapons as long as Russia continues to protect his regime from consequences."
Related: Syria war death toll hits 321,000
Syria's foreign minister Walid Moallem denied the U.S.'s charge, saying Syria has never used chemical weapons. The regime and its allies in Russia claim the warplane witnesses saw inadvertently bombed an opposition-held chemical weapons depot, spreading the gas. (Weapons experts say an airstrike would have destroyed, not dispersed chemical weapons.)
On Thursday, CNN asked Maria Zakharova, a spokeswoman for Russia's foreign ministry, if Moscow would distance itself from Assad. Her reply, via text, was curt: "Russia's approach to Assad is clear," she wrote. "He is the legal president of an independent state. What is the U.S. approach?"
It's a good question, says Aki Peritz, a former CIA counterterrorism analyst and senior fellow at George Washington University's Center for Cyber and Homeland Security. "What is Trump's goal for Syria?" he asks. "Is it to defeat the Islamic State (ISIS), is it to stabilize the region, is it to halt the terrible refugee outflow—what's the goal?"
Russia and Iran, Peritz says, at least know their aim is to prop up the Assad regime. Trump, however, seems less certain. "If you don't know what the mission is you can't develop a strategy," Pertiz adds.
Under former President Barack Obama, the official American line was that Assad needed to step down as Syria's leader. Despite this rhetoric, many analysts and monitoring groups criticized Obama for failing to adequately respond to Assad's actions in Syria. In 2012, Obama famously said that if the Syrian leader deployed chemical weapons in the country, it would constitute a "red line" for the U.S. One year later, the Assad regime killed at least 1,400 people in chemical weapons attacks. The world waited for the U.S. to retaliate, but it never happened. For several days Obama did nothing. Eventually Russia, with U.S. backing, persuaded Assad to declare and surrender his chemical weapons. (In its first statement after Tuesday's attack—which showed the regime is still committed to using chemical weapons—the White House blamed Assad's "heinous actions" on the past administration's weakness and irresolution.")
As Assad's troops continued to battle for control of Syria, the U.S. turned its attention to ISIS. In August 2014, the group had beheaded the U.S. journalist James Foley, and released the video of his execution. A month later, U.S. airstrikes began on ISIS targets. Obama also authorized the arming of purportedly moderate rebel groups and sent several hundred U.S. troops into Syria.
Peritz says national security concerns motivated Obama's actions. "The regime is causing the vast majority of civilian deaths but it's not a threat to the U.S.," he says. "ISIS actually attacks the West."
Though Obama chose to divert military resources to attacking ISIS, he continued to talk about the importance of removing Assad. That's why, on March 31, the Trump administration shocked U.S. foreign policy experts when it publicly announced it would no longer focus on Assad's removal. Speaking to reporters, White House press secretary Sean Spicer said: "We had an opportunity and we need to focus now on defeating ISIS. The United States has profound priorities in Syria and Iraq and we've made it clear that counterterrorism, particularly the defeat of ISIS, is foremost."
Trump's comments in the wake of Tuesday's attack seemed to contradict this statement—as well as a string of tweets he issued in 2013, urging Obama not to go to war in Syria. "My attitude toward Syria and Assad has changed very much," Trump said. "You're now talking about a whole different level."
On Thursday, The New York Times reported that senior U.S. defense officials are considering a military strike against the Syrian regime. On the same day, Secretary of State Rex Tillerson said that in light of Assad's use of chemical weapons, "it would seem there would be no role for him to govern the Syrian people."
Trump may strike back at Assad in some way. But Justin Bronk, a research fellow at the defense and security think-tank, the Royal United Services Institute doubts he will order the U.S. military to oust the Syrian strongman. The main reason: Russia. "In terms of direct military action against Assad his hands are pretty tied," Bronk says. "The major complicating factor are the Russian forces in Syria [who back Assad]. Anything conducted expressly against Russian wishes would have to take into account their defenses or what they might do elsewhere."
Moscow, Bronk says, doesn't hold Assad in particularly high regard. On Thursday, the Kremlin also said its support for the Syrian leader was not unconditional. Despite this, Bronk doubts Russia would simply allow the U.S. to try and depose him.
"What Russia holds dear is the reputation it's gained as a defender of regimes against western aggression," he says. "There would have to be a grand bargain of sorts for Russia to drop Assad, but the concessions it would want would go beyond Syria." Bronk suggests these concessions might include U.S. recognition of Crimea—which Russia annexed from Ukraine in 2014—and for NATO troops to leave the Baltic states.
Even if Trump and Putin reached a kind of Faustian pact, there is still Iran to consider. During his press conference on Wednesday with King Abdullah, Trump again criticized the U.S.' nuclear accord with Tehran, calling it one of the worst deals he has ever witnessed. Iran, already hostile towards the Trump administration, would also expect some sort of agreement if it was to abandon the Syrian regime.
Assuming Trump could assuage both Moscow and Tehran, there is no guarantee that Assad—though he would be severely weakened—would quickly fall. "The Assad regime has determined that it is staying in power no matter what," Bronk says. "They will inflict inconceivable damage to stay in power."
For Trump, these obstacles—Russia, Iran and Assad—will likely prove insurmountable. His advisers probably have no appetite to address them either. Countries like Iraq and Libya, in which the U.S. intervened to oust strongmen leaders, have hardly healed into secure states.
Seventy-six days into his presidency, Trump has finally confronted the bloody mess that is Syria. And, like his predecessor, he may have realized that it's nearly impossible for the U.S. to clean it up.