Syria Conflict: Air Strike Kills 28 at Refugee Camp Despite Ceasefire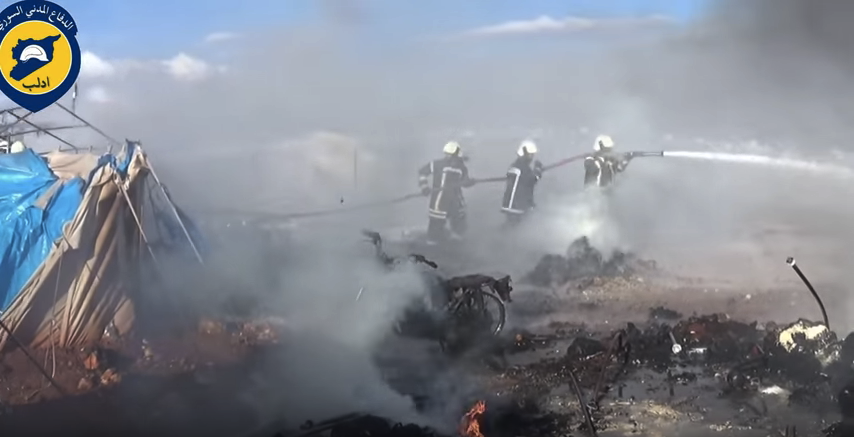 An air strike on a Syrian refugee camp near the Turkish border killed 28 people on Thursday, despite an agreed 48-hour ceasefire in the six-year-long conflict.
The U.K.-based Syrian Observatory for Human Rights, which uses a network of sources on the ground in Syria, said that 28 people were killed at the Kamouna camp in Idlib province, and many more wounded.
While the Syrian air force and Russian military have been conducting air strikes against Syrian rebels and the Islamic State militant group (ISIS), there has been no claim of responsibility for the latest deadly strike.
"We're looking into [the reports] and trying to get more details on what happened," U.S. State Department deputy spokesman Mark Toner said at a briefing Thursday.
The Syrian Civil Defense Forces, an independent humanitarian assistance group made up of volunteers, released video footage of the strike's aftermath showing firefighters trying to douse fires amid burning tents.
"There is no justifiable excuse for carrying out an air strike against innocent civilians who have already once fled their homes to escape violence," U.S. Press Secretary Josh Earnest said on Thursday.
"These individuals are in the most desperate situation imaginable, and there is no justification for carrying out military action that's targeting them," he said.
Many of those inside the camp are Syrian civilians who had fled the conflict in nearby Aleppo province, where intense fighting and air strikes have killed hundreds of civilians in recent weeks.
A U.S.-Russian brokered 48-hour ceasefire that extended to Aleppo has failed to uphold, with the Syrian regime reporting continued rebel shelling in the city and accusations from opposition forces that Moscow or Damascus may be behind the air strike on the camp.