Syria Conflict: Activists Report Deadly Russian Strikes in Aleppo Despite Ceasefire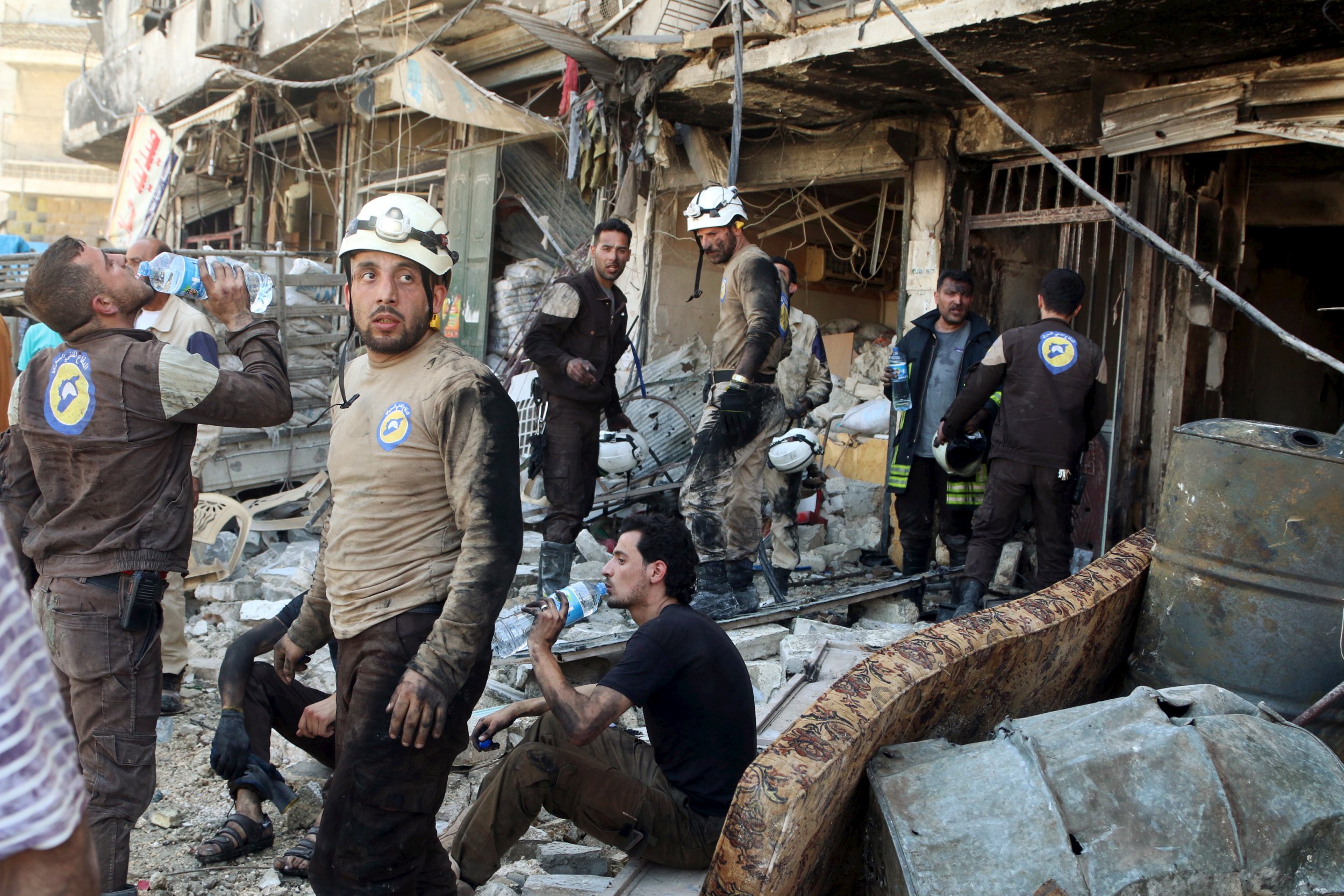 Activists in the Syrian city of Aleppo reported that Russian airstrikes killed at least 10 civilians on Sunday as an internationally brokered ceasefire fell apart over the weekend.
A video released by the Syrian Civil Defense Forces showed the aftermath of strikes in the Aleppo neighborhood of al-Sukhour. It shows volunteers arriving on the scene to rescue civilians from the rubble of the strikes and to cover up those killed.
The Syrian regime reportedly carried out airstrikes on opposition neighborhoods in Aleppo on Saturday, causing a total of 27 civilian deaths, according to the Syrian Observatory for Human Rights.
On Monday, U.S. President Barack Obama said that he had a day earlier pushed for the warring parties in Syria and Russia to "reinstate" the ceasefire. "I spoke to President Vladimir Putin early last week to try to make sure that we could reinstate the cessation of hostilities," he said at a news conference in the northern German city of Hanover.
"We remain deeply concerned about the upsurge in fighting in Syria over the last several days. And we continue to agree that the only real durable solution is a political solution that moves Syria towards an inclusive government that represents all Syrians."
The chief negotiator for the regime of Syrian President Bashar al-Assad said on Monday that an explosion south of Damascus had targeted a hospital, killing a number of patients who had been evacuated from pro-government towns in the northwestern province of Idlib last week.
"The explosion that the terrorists carried out in the area of Sayeda Zeinab today centred on a hospital that treated injured from Foua and Kefraya," he said.
Despite the fragile ceasefire lasting for almost two months, the renewed conflict between rebels and regime and Russian forces has dimmed hopes of reaching a solution to the crisis in peace talks in Geneva.
Meanwhile, Obama announced on Monday that he is sending up to 250 more troops to Syria in order to "keep up this momentum" against the Islamic State militant group (ISIS). The addition brings the total number of U.S. personnel in Syria to 300.