Syria Crisis: New Ghouta Chemical Attack Suspected After Chlorine Gas Symptoms Reported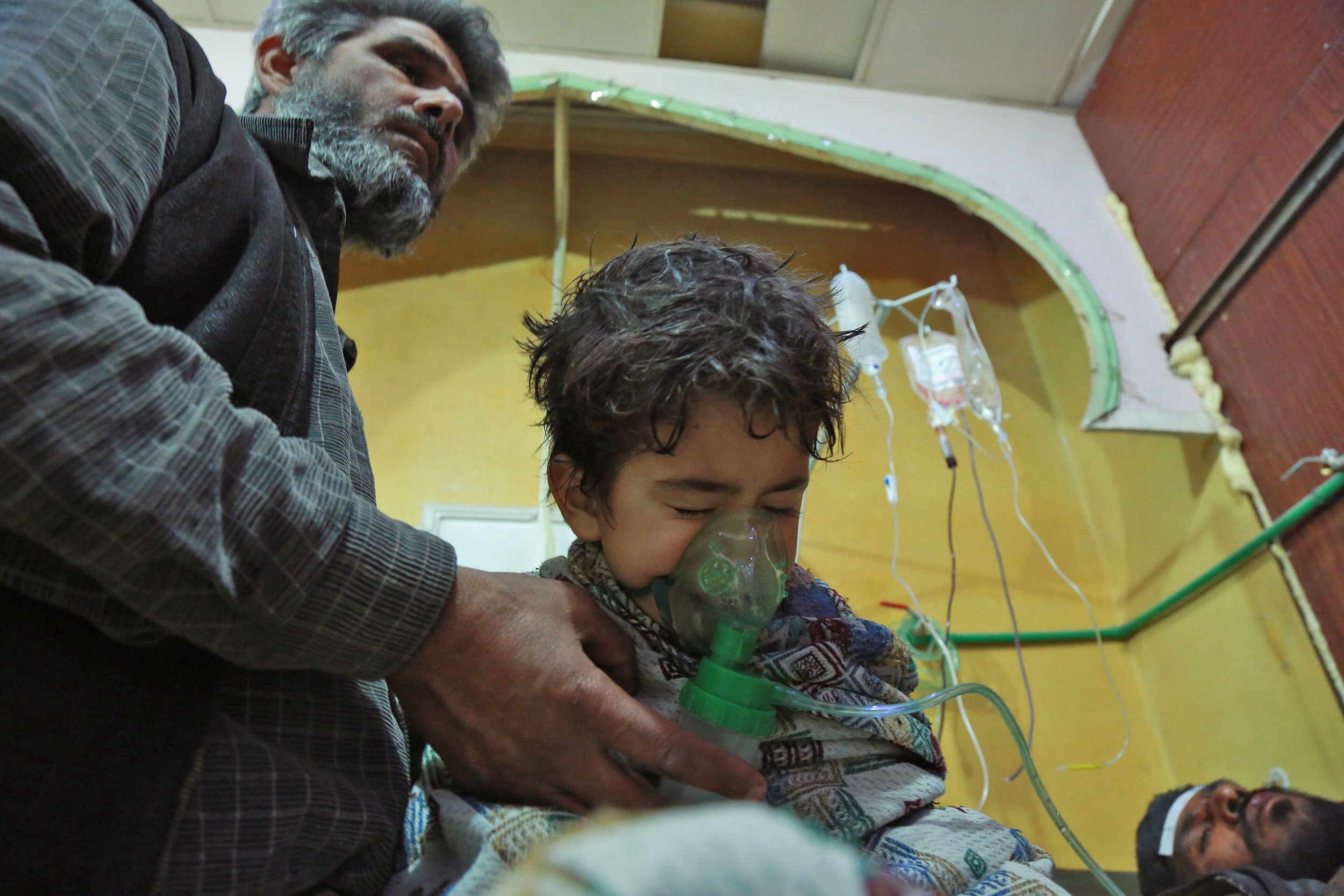 A suspected chemical attack in Syria's besieged Eastern Ghouta suburb left one child dead and more than a dozen civilians with symptoms consistent with exposure to chlorine gas, according to health authorities in the opposition enclave and a monitoring group.
A statement from the branch of the opposition Health Ministry in the Damascus suburb said witnesses of a large explosion had smelt chlorine at the scene.
The Syrian American Medical Society, which supports a hospital in Eastern Ghouta, tweeted that 16 patients, including six children, had been suffering from symptoms in line with "exposure to chemical compounds."
The opposition-leaning Syrian Observatory for Human Rights (SOHR), a U.K.-based monitoring group with an extensive network of sources on the ground in Syria, reported 14 civilians with breathing difficulties, with one child killed and a woman in a critical condition as a result of the attack.
Russia denied the allegation that troops loyal to Syrian President Bashar al-Assad were behind the suspected chlorine gas attack. Foreign Minister Sergei Lavrov said the claims were a bid to disrupt a ceasefire in the area, which has been under a Syrian regime siege since 2013, RIA news agency reported.
The 30-day ceasefire agreed by the U.N. Security Council is yet to be implemented because Lavrov said all parties must consider how it will be implemented.
But the U.N. Secretary-General Antonio Guterres said Monday that the month-long ceasefire should be "immediately implemented" to stop the bloodshed.
"Security Council resolutions are only meaningful if they are effectively implemented. That is why I expect the resolution to be immediately implemented and sustained," he told the U.N. Human Rights Council in Geneva.
"Eastern Ghouta cannot wait. It is high time to stop this hell on earth," he continued.
The Syrian regime has launched a heightened offensive on Eastern Ghouta, killing more than 500 people in strikes and ground attacks since its operation began on February 18. Ghouta is populated by some Islamist factions and the Syrian government says it is targeting extremists in the suburb, not civilians.
"We practice a sovereign right of self-defense, and we will continue to fight terrorism wherever it is found on Syrian soil," Syria's U.N. ambassador Bashar Ja'afri told Syrian state news agency SANA.
The Syrian war, fast approaching its seventh anniversary, has left more than half a million people dead and displaced millions both internally and externally. Russia and the United States brokered a deal in 2013 that allegedly removed all of the country's chemical weapons stockpile by the end of 2014.
But U.N. investigators have suggested that the Syrian regime is continuing to produce and use chemical agents, most notably an alleged sarin gas attack in the opposition-held town of Khan Sheikhoun on April 4, 2017, which left at least 74 people dead.
Syria has denied possessing any chemical weapons and said the Khan Sheikhoun incident was the result of a missile striking a chemical weapons depot that was in the hands of the now-disbanded Al-Qaeda affiliate known as the Nusra Front. The U.N., as well as major western and Middle Eastern powers including the U.S. and Saudi Arabia, have blamed Damascus for the attack.