Syria, a Decade of Impunity | Opinion
The Syrian conflict, which marks its grisly 10th anniversary this week, has been defined by multiple events and actors.
Graffiti on the walls of Daraa. Chemical weapons in Aleppo and Damascus. Aylan Kurdi's body on a Turkish beach. ISIS driven from Raqqa. Turkish presence in the northeast and northwest.
The number and complexity of these events has drained understanding and commitment. The narrative arc of the war is singular not plural. It is defined by an axis stretching from accountability to impunity.
The originating demands of Syrian protesters 10 years ago were for accountability from their government. They were channeling the demands of the signatories of the Damascus Declaration in 2005, when 250 opposition intellectuals came together to issue a unity platform calling for national dialog and reform.
The crackdown by the Syrian government in 2005-2006 was matched–overmatched–by the crackdown in 2011-2012. Since then, the battle for power between the regime and its international backers (primarily Russia and Iran) and opposition groups has taken a terrible toll on civilians.
With a population in 2011 of 24 million, more than half a million have been killed. Twelve million have been rendered homeless and internally displaced. Life expectancy has dropped from 79 years to 56 years.
Approximately 6 million Syrians have become refugees: over half in Turkey, over 1 million in Lebanon, over half a million in Jordan and about 1 million in Germany. The historic ratio of refugees to those killed in the post-Second World War conflict has been five to one. In Syria, it has been 25 to one. That shift reflects the brutality of the conduct of the war.
International law says clearly that civilians must not be targeted by combatants. It also says that chemical weapons must not be used. It is adamant that hospitals and health facilities must not be targeted. It protects humanitarian aid workers. In the Syria conflict, none of these laws were honored.
A Syrian advocacy group claimed as much as 30 percent of the casualties of the conflict have been civilians. This includes those killed in more than 300 chemical weapon attacks, with 472 aid workers killed.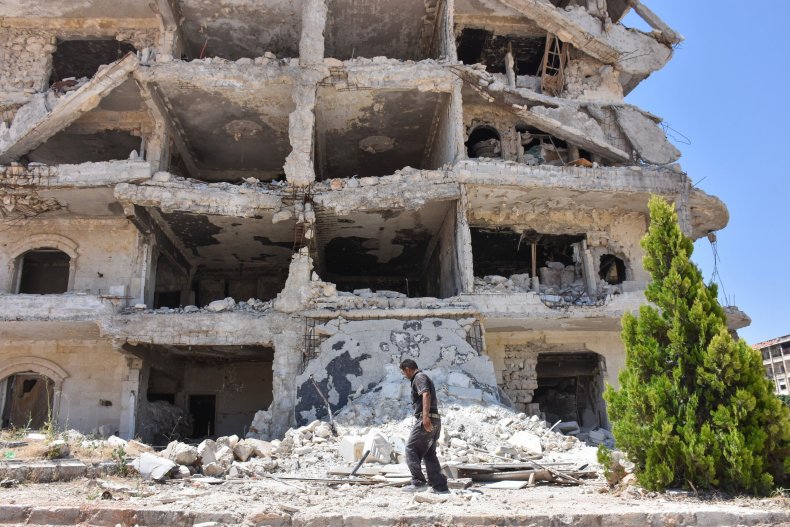 Health facilities, supposedly sacrosanct, have been attacked 595 times, including 27 cases of facilities whose location had been notified to the U.N. as part of their "deconfliction" system. A new International Rescue Committee report found that 81 percent of surveyed health workers in Syria said they had a co-worker or patient injured or killed in an attack and a staggering 68 percent of Syrian health workers surveyed reported being inside a health facility when it was attacked.
The danger is that Syria sets the trend for a new age of impunity, in which the law is for suckers and anything goes. The anecdotes from Yemen and Ethiopia suggest this is the case. So do global statistics.
An average of 34,050 civilians are killed in conflict each year, more than double the average five years ago and nearly seven times the average in 2008. Similarly, 121 aid workers are killed each year, including several of my IRC colleagues, compared with an average of 53 aid workers killed in 2004.
Accountability is the alternative to the impunity we've seen in Syria–holding to account those guilty and changing the calculus on the battlefield. In other words, there needs to be countervailing power to counter the tendency of power to corrupt. This was the lesson encapsulated in the U.N. Charter after the Second World War, and in the creation of the International Criminal Court after the genocide in Rwanda. It is being unlearned today.
Countervailing power, to be effective in international affairs, needs be political, using tools of shame and reward in the global political arena to call out and curb the abuse of power. The U.N.'s decision to establish a Board of Inquiry was a positive first step, but the secretary general should expand the Board's mandate to investigate and attribute responsibility for all attacks on civilian and humanitarian infrastructure. To prevent the sort of impunity we've seen in Syria from becoming the norm, the Board's Independent Advisory Panel should be institutionalized as a permanent body with a global mandate.
Countervailing power needs to be legal, using the power of international law to bring perpetrators of war crimes to account. The German government has been willing to do this in the Syria case using the principle of universal jurisdiction, but few others have followed suit. The evidence generated by the U.N.'s Commission of Inquiry and International, Impartial and Independent Mechanism (IIIM) efforts should prompt criminal investigations and prosecutions of the worst perpetrators in the war. At minimum the U.N. Security Council should be convening ministerial-level meetings to review the evidence collected by these bodies.
A comprehensive audit of tools to promote accountability would necessarily have to consider all aspects of hard power, including economic and military aspects.
Syria is one of the hardest cases, but if the next 10 years play out as the last then it will be more than the people of Syria who have lost. Countervailing power is needed more than ever, not just to reduce suffering inside the country, but to prevent repetition elsewhere.
David Miliband is president and CEO of the International Rescue Committee (IRC) and a former U.K. foreign secretary.
The views expressed in this article are the writer's own.