Did Trump Violate U.N. Law With Syria Missile Attack?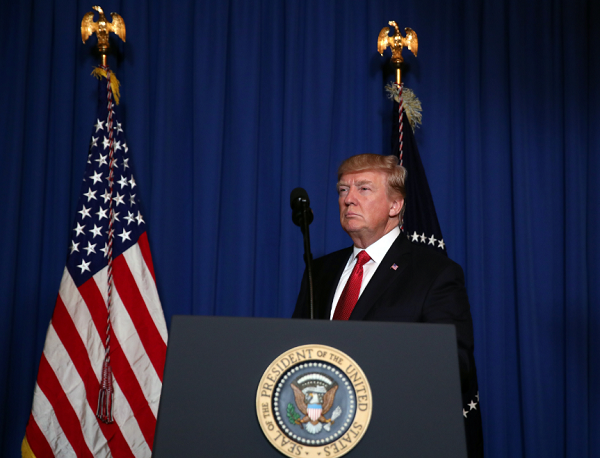 President Donald Trump received support from many world leaders after ordering the U.S. military to blast a Syrian air base with 59 missiles Thursday, but some foreign officials have called the act an outright "aggression" against Syria and have accused Trump of violating UN law.
Along with the Syrian government, Russian President Vladimir Putin condemned Trump's missile attack on the country, saying in a statement released by the Kremlin Friday that the airstrike was not only "an aggression against a sovereign state in violation of international law" but it was authorized under a "far-fetched pretext."
Russian officials also sent the U.S. a warning, advising Trump to "think about what military actions have led to in Iraq, Libya and other countries," Interfax news agency reported.
Iran likewise accused the U.S. of violating international laws. In a statement, Iran Foreign Ministry spokesman Bahram Ghasemi said the airstrike's "unilateral action is dangerous, destructive and violates principles of international law."
Trump ordered the airstrike in retaliation for a chemical attack apparently ordered by Syrian President Bashar al-Assad earlier in the week. Speaking with the press moments before 59 Tomahawk cruise missiles struck the Syrian government airbase, Trump said "something should happen" in response to the chemical warfare.
"I think what Assad did is terrible. I think what happened in Syria is one of the truly egregious crimes. It shouldn't have happened. It shouldn't be allowed to happen," Trump said. "I think what happened in Syria is a disgrace to humanity. He's there, and I guess he's running things, so something should happen."
Israeli Prime Minister Benjamin Netanyahu called Trump's airstrike a "strong and clear message" while Japan's Prime Minister Shinzo Abe said the strike was "a means to prevent further deterioration of the situation."
Officials in Australia and Turkey also praised the airstrikes.
The UN Security Council—of which both the U.S. and Russia are members—is scheduled to meet Friday in emergency session to discuss the Syrian situation. U.S. Ambassador to the UN Nikki Haley is likely to speak at the session, presenting the Trump administration's view.
The U.S. strike may be legal under Article 51 of the UN charter, which says, "Nothing in the present Charter shall impair the inherent right of individual or collective self-defense if an armed attack occurs against a Member of the United Nations, until the Security Council has taken measures necessary to maintain international peace and security."
Under that rule, the U.S. could claim it was acting in "collective self-defense" against a dangerous state.