Updated | Sitting behind a large wooden desk in her white hijab, a cigarette in one hand and a cup of coffee in the other, Lara Shaheen looks every bit the modern Arab businesswoman. The only problem is that her business is illegal.
Shaheen, 34, is a refugee from Syria—she fled four years ago after President Bashar al-Assad's regime arrested her brothers. They were released after three months, but the experience was enough to prompt Shaheen and her family to flee Damascus. Shaheen came to Amman, Jordan, with her mother, father and younger sister, while her brothers escaped to Germany. After that ordeal, her parents developed health problems. With her sister only 17 and her brothers far away, supporting the family was left to Shaheen. "I'm the lonely girl who must work to make money for my family," she says.
When she first got to Jordan, she volunteered with Hemma, a local organization providing support to Syrian refugees living outside of camps. But after nine months, Shaheen realized she wanted to do more, explaining, "We are staying here for a long time, so you can't keep giving people handouts."
With the Syrian conflict now in its sixth year, exile is becoming increasingly permanent for refugees like Shaheen. However, the vast majority are unable to work legally in Jordan. Although they can apply for work permits, obtaining them is a complex and often prohibitively expensive process.
As a result, Jordan's Ministry of Labor estimates that fewer than 1 percent of refugees there have access to legal work permits, while some 160,000 to 200,000 Syrians are working illegally, without any of the legal protections Jordan's labor laws offer. This could soon change. In March, Jordanian authorities announced that, as part of a new deal with the EU, they would allow up to 200,000 Syrian refugees to work legally.
In April, the government implemented measures to make it easier for Syrians to work, including a temporary waiver of application fees and a 90-day grace period for employers in the informal sector to obtain permits for Syrian refugees. According to the U.N. refugee agency, UNHCR, "this could see up to 78,000 Syrians able to work legally in Jordan in the short term, and thousands more in the coming years."
Whether these measures will include women remains to be seen—up until now, Syrian women have had very limited access to employment in Jordan. Even taking into account the informal economy, according to the International Labor Organization, only 7 percent of Syrian women in Jordan work.
Shaheen wants to change that. When she worked with Hemma, the local nonprofit, she noticed a lot of the Syrian women were sewing, weaving or making handicrafts. She started taking pictures of the items and selling them on Facebook, splitting the profits with the women. Despite not having a work permit, Shaheen developed the project into a small business under the name Syrian Jasmine. With help from a Jordanian friend, she was able to lease a small office space in downtown Amman.
She now employs five women full time at her office and buys merchandise from 40 other women. Jasmine sells handmade soap, baby clothes, toys, creams, jewelry and more, all of it made by Syrians. For many of the women Shaheen works with, this is their first job. "In Syria, a lot of men don't allow their women to work," she says. "But here, it's different because they know they need to make money."
The story of Shaheen and her employees is far from the norm in Jordan, where in addition to bureaucratic barriers to working, refugee women face high risks of assault, rape and other abuse. A 2014 report from UNHCR conducted in Jordan, Lebanon and Egypt found that half of the women interviewed went outside their homes less often in their new host country than when they were living in Syria. Many reported feeling isolated and unsafe, with one in three too scared to leave the house at all.
Aid agencies like the International Rescue Committee are trying to counter those threats. At an IRC health clinic in Mafraq, near the Syrian border, Daniela Greco runs the Women's Protection and Empowerment program, where both Syrian and Jordanian women come for counseling, group therapy, skill-building workshops, literacy classes and discussions on preventing domestic violence.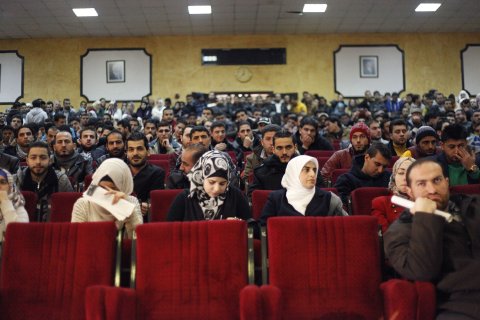 The program has had a big effect on Mervat Yusef, 33, who came to Jordan from Homs three years ago. With her husband missing in Syria, she has been forced to fend for herself. Wearing a black chador, Yusef was bubbly and smiling as she explained that before attending the program, she didn't even know how to read. "Now, for the first time, I can read what it says on the bus stop and where the bus is going," she says. Paying the fare of 1 Jordanian dinar for the bus she takes to the program is more challenging. "Sometimes, I think this 1 dinar is better to buy bread for my children," she says. "But then I think I could learn something so that I could earn a lot more than 1 dinar."
Yusef worked on an olive farm but is now taking beauty classes and plans to work at one of the many salons in Mafraq. "I'm the head of the family now," she says proudly. "I can be the man and the woman."
The IRC also offers classes in financial literacy, teaching women skills like accounting and finance that, if they were able to obtain work permits, could help them start their own businesses. At the end of the program, women are invited to submit business proposals: 66 women have graduated so far. IRC hopes to some day partner with organizations like Microfund for Women to provide loans that could make these proposals a reality.
In the sprawling, dusty refugee camp known as Zaatari in northern Jordan, Syrian women are also finding new opportunities. At three Oasis centers inside the camp, U.N. Women offers a cash assistance program where women are paid for activities like food preparation, daycare, making maternity kits and sewing school uniforms. Because they don't have work permits, the women are technically volunteers receiving a stipend.
At one of the Oasis centers, Haifa al-Tamkeh, a 37-year-old from Daraa in Syria, is marking her third year in exile. Although she had never had a job before, Tamkeh had no choice but to find work to support her nine children after her husband had a heart attack. She participated in the Oasis cash-for-work program for a year and says she felt "great fulfillment to be working. I was so happy because now, for the first time, everyone is waiting for me to come home."
Due to limited funding and high demand, U.N. Women must rotate refugees through the program on a yearly basis, and Tamkeh is now unemployed again, depending on assistance from aid organizations like UNHCR.
Tamkeh is also worried about the safety of her daughters. This is why she took her youngest daughter out of school at 16 and married her to a cousin. "Normally, I think it would be good for her to finish school," she says. "But it's not safe here—there are dangerous thugs."
With so few job opportunities and the risk of violence so high, many Syrian families see marriage as both a way to keep their daughters safe and to support themselves economically through a dowry exchange. A 2014 report from Save the Children found that, among Syrian refugees in Jordan, one in every four marriages is of a girl under the age of 18, often to much older men.
Still, Tamkeh says the U.N. Women program has given her an independence she never could have imagined. "When I arrived in Jordan, I felt so hopeless. Now I've learned not only to sew and design clothes—I've learned how to be strong.
Updated | This story has been updated to make clear that business proposals submitted to the IRC in its financial literacy classes depend on the women receiving work permits.