Syria Sends First Message to President Biden: Withdraw Troops, Stop Stealing Oil
Syria has issued its first message to President Joe Biden, urging the incoming U.S. leader to withdraw troops from the war-torn nation and to abandon efforts to tap into the country's oil reserves.
Syrian permanent representative to the United Nations Bashar al-Jaafari derided U.S. actions in his country during a Wednesday virtual session of the U.N. Security Council. As Biden was sworn in in Washington, Jaafari called for an immediate change in Washington's foreign policy in Syria, where a multi-sided civil war with U.S. involvement neared its 10th anniversary.
"The American occupation forces continue to plunder Syria's wealth of oil, gas and agricultural crops, burning and destroying what it cannot steal," Jaafari said, according to the state-run Syrian Arab News Agency.
He called for a complete U.S. disengagement and troop withdrawal.
"The new U.S. administration must stop acts of aggression and occupation, plundering the wealth of my country, withdraw its occupying forces from it, and stop supporting separatist militias, illegal entities, and attempts to threaten Syria's sovereignty, unity and territorial integrity," Jaafari said.
Syria's unrest began amid mass protests across the Arab World that erupted a decade ago, devolving into conflict between security forces and rebels. Biden, then serving as vice president under President Barack Obama, backed calls for Syrian President Bashar al-Assad to step down at the time, as the U.S. and regional partners offered support for the opposition, accusing the Syrian leader of human rights abuses.
Attention later focused on battling jihadi groups such as the Islamic State (ISIS), a campaign launched by Obama and inherited by President Donald Trump. Today, with the militants largely defeated, the U.S. maintains several hundred troops, typically estimated between 600 and 900, in northeastern Syria, a stretch of territory controlled by the majority-Kurd Syrian Democratic Forces militia.
The troops have been tasked with maintaining control over oil and gas sites, where the Trump administration sought to bring U.S. energy companies. But U.S. and partnered militia forces operate without permission from the Syrian government, which is backed by Russia and Iran in their own ongoing struggle against insurgents and jihadis.
Officials from Damascus, Moscow and Tehran have all urged Washington to exit the conflict. Syrian Democratic Forces leadership has called on the U.S. to play a diplomatic role, along with its military presence in Syria, where efforts to reconcile between their paramilitary group and the central government have repeatedly collapsed despite their common desire to end the war and expel a Turkish invasion headed by local rebels.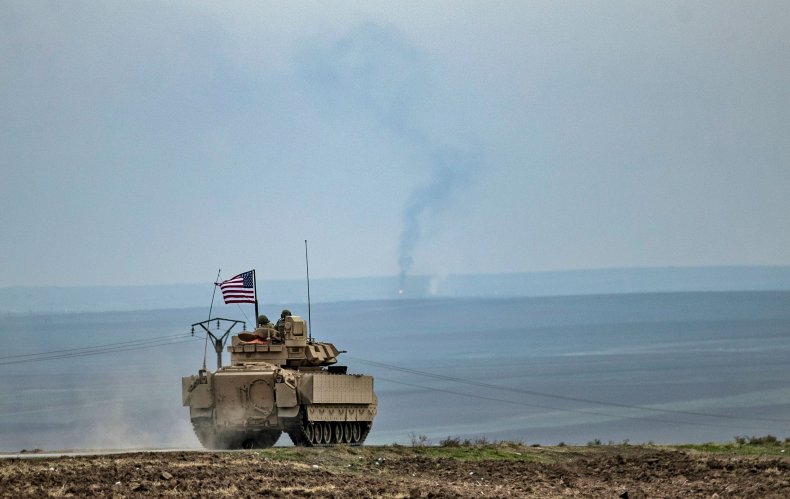 Biden has yet to set out a clear strategy for Syria, but his campaign has sought to distance itself from Trump's approach.
"The Trump administration has repeatedly fallen short on U.S. policy in Syria," the president's official foreign policy statement says. "Biden would recommit to standing with civil society and pro-democracy partners on the ground. He will ensure the U.S. is leading the global coalition to defeat ISIS and use what leverage we have in the region to help shape a political settlement to give more Syrians a voice."
Though Biden remained critical of the Syrian government, he appealed to all sides of the conflict, and vowed to restart humanitarian efforts paused under Trump.
"Biden would press all actors to pursue political solutions, protect vulnerable Syrians, facilitate the work of non-governmental organizations, and help mobilize other countries to support Syria's reconstruction," the statement said. "He would recommit the United States to lead on humanitarian issues."
Biden's choice for secretary of state, Antony Blinken, who served as Obama's deputy national security adviser, also acknowledged last year that the Obama administration's Syria approach had "failed" as it was unsuccessful in preventing the conflict from spiraling out of control, leading to widespread loss of life and displacement.
Blinken was confronted with these remarks and past decisions on foreign policy in Syria during a confirmation hearing Tuesday.
"We, and I, certainly, have an obligation to determine from everything we've done, advocated, to take into account the results and to inform how we think about these problems going forward," Blinken said, adding that he's "done a lot of hard thinking" about past approaches to issues like Syria.
"I am proud of the fact that I have spent all of my career during the times I've been in government for the better part of 25 years working to advance our diplomacy," Blinken said, "to do everything we possibly can to make sure that diplomacy is the first answer, not the last answer, and that war and conflict is a last resort."
Trump administration officials entered into a behind-the-scenes dialogue with Damascus over the fate of missing U.S. nationals Austin Tice and Majd Kamalmaz, as Newsweek reported in October. In exchange for cooperation on the issue, Syrian officials demanded the withdrawal of U.S. troops from a southwest desert garrison in the rebel-held region of Al-Tanf and sanctions relief.
Conflict is not Syria's only major concern.
The country is beset by a worsening economic crisis exacerbated by financial woes in neighboring Lebanon and the COVID-19 pandemic ravaging the region and world. During Wednesday's remarks, Jaafari lambasted the U.S. and its allies for maintaining strict sanctions against Syria.
"The United States and the European Union continue to impose more coercive measures on Syria and other countries," ignoring the calls of the United Nations to put an end to these measures," Jaafari said, emphasizing that "the coercive economic measures imposed on Syria hinder the purchase of medicines and humanitarian needs and the provision of food baskets to those who deserve it."