Syria Hit by New Strikes As Trump Cancels Iran Deal and Israel Calls High Alert
Suspected Iranian military positions were hit by new strikes Tuesday shortly after Israel ordered citizens to take shelter and President Donald Trump announced he would withdraw from a nuclear deal with Iran.
The official Syrian Arab News Agency reported that Israeli jets struck Al-Kiswa, located near eight miles south of Damascus, claiming Syrian air defenses downed two incoming missiles. Meanwhile, Israeli Defense Minister Avigdor Lieberman held security meetings with heads of defense at Kirya Military Headquarters in Tel Aviv, according to The Jerusalem Post, just hours after the Israeli military instructed citizens in the occupied Golan Heights to "unlock and ready (bomb) shelters" due to what it said was "irregular" movement by Iranian forces in Syria.
Israel accuses Iran of undermining its national security by supporting majority-Shiite Muslim militias fighting on behalf of Syrian President Bashar al-Assad and has occasionally launched air strikes against these groups and their allies.
One attack—blamed on Israel by Russia, Syria and Lebanon—killed several Iranians last month at the T-4 airbase. Another strike on pro-Syrian government positions in southern Homs province was also left unclaimed, but widely blamed on Israel. Israel rarely confirms nor denies conducting such attacks, just as it maintains intentional ambiguity about its nuclear weapons program.
This intensified campaign of attacks led up to increased Israeli pressure for the U.S. to leave the historic nuclear agreement signed in 2015 by the U.S. and Iran, as well as China, France, Germany, Russia and the U.K. Out of the deal's six signatories, the U.S. is the only country that does not support it. The Trump administration has said it does not go far enough to stop Iran from supporting foreign militias, developing ballistic missiles and acquiring a nuclear weapon—a view shared primarily by Israel and Saudi Arabia.
Related: Will U.S. Go to War With Iran? Trump Breaks Nuclear Deal and Risks Middle East Conflict
"Israel fully supports Trump's bold decision today to reject the disastrous nuclear deal with the terrorist regime in Tehran ... Israel has opposed the nuclear deal from the start because we said that, rather than blocking Iran's path to a bomb, it actually paved Iran's path to an entire arsenal of nuclear bombs and this within a few years' time," Israeli Prime Minister Benjamin Netanyahu said Tuesday.
"The deal didn't push war further away, it actually brought us closer, the deal didn't reduce Iran's aggression it dramatically increased it, and we see this across the entire Middle East. Since the deal, we've seen Iran's aggression grow everyday—in Iraq, in Lebanon, in Yemen, in Gaza and, most of all, in Syria, where Iran is trying to establish military bases to attack Israel," he added.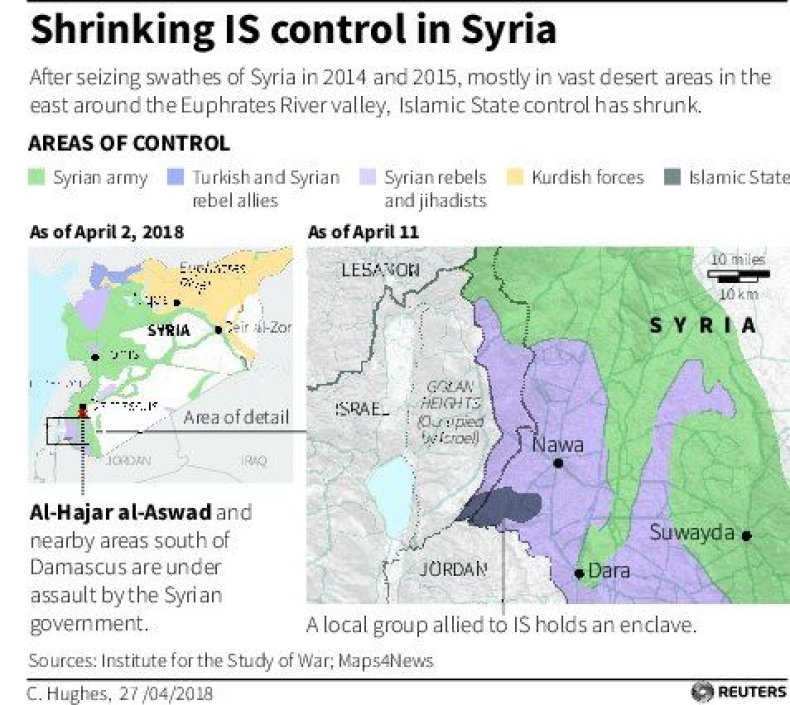 The International Atomic Energy Agency has verified Iran's commitment to the deal, whose other signatories expressed regret over the U.S. exit. Some countries, such as Iran and Syria, blasted the decision. Citing an official Syrian Defense Ministry, the Syrian Arab News Agency reported that "the international reactions condemning and denouncing the U.S. decision have shown the United States' isolation and the mistake of its policies that could increase tensions in the world."
Iran and its allies, including the Lebanese Hezbollah movement, have battled rebels and jihadis attempting to overthrow Assad since a 2011 uprising sponsored by the West, Turkey and Gulf Arab states. With support from these groups and Russia military backing, Assad has largely regained momentum in the war.