Syria Hospital Air Strikes Are 'War Crimes,' Say France and Turkey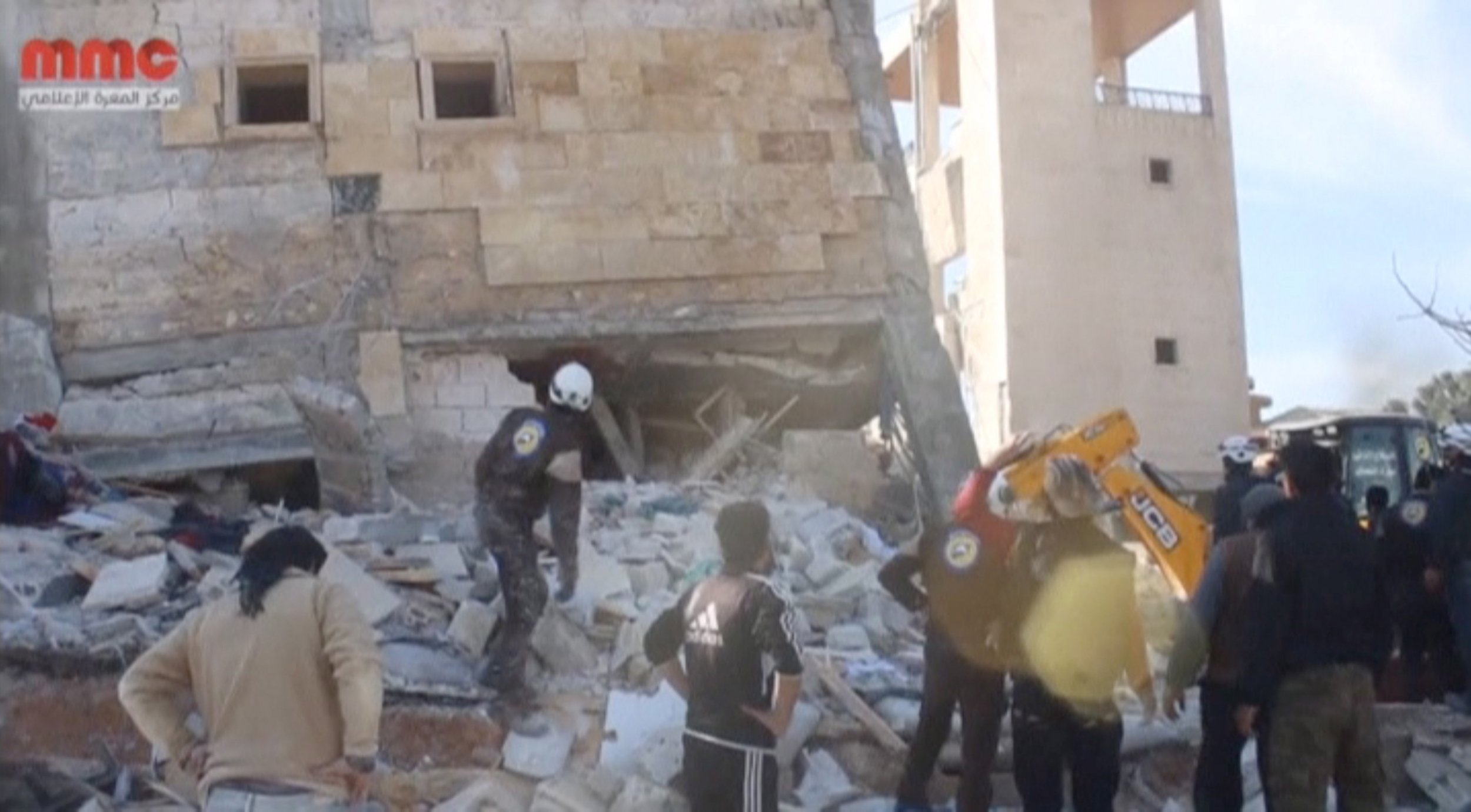 Russia and the Syrian government have both been accused of carrying out a series of airstrikes on hospitals in northern Syria that left dozens dead on Monday, with France and Turkey saying the bombings constitute war crimes.
The United Nations (U.N.) said that up to 50 people have been killed in missile attacks on schools and hospitals in the north of the war-torn country. The strikes hit two hospitals and schools in Azaz, killing at least 12 people, the BBC reports. Medical charity Médecins Sans Frontières (MSF) said that a hospital it supports in Ma'arat Al Numan, Idlib province, was hit by four missiles in what appears to be "a deliberate attack." Seven people were killed, with eight members of staff missing, presumed dead, and the whereabouts of many patients unknown.
Mego Terzian, the president of MSF France, told Reuters that the "author of the strike" was clearly Russia or the Syrian government of President Bashar al-Assad. French Foreign Minister Jean-Marc Ayrault condemned the bombing of the MSF-supported clinic, saying that such acts "constitute war crimes," while Turkey said the attacks were "obvious" war crimes and blamed Russia for the attacks. The U.S. State Department said that the willingness of "the Assad regime and its supporters to continue these attacks... casts doubt on Russia's willingness and/or ability to help bring to a stop the continued brutality of the Assad regime against its own people."
Russia said it "categorically rejects" accusations of war crimes, the BBC reports. Syria's ambassador to Moscow, Riad Haddad, blamed "American warplanes" for targeting the MSF-supported hospital, but the Pentagon rejected this claim as "patently false," claiming that the Islamic State militant group—which the U.S. has identified as the target of its bombing campaign in Syria—does not operate in Idlib.
The air strikes cast doubt on a proposed ceasefire agreed in Munich on February 11 by members of the international community, including the U.S. and Russia. The deal, which proposed the cessation of hostilities within one week between the government and opposition groups—though not major extremist groups ISIS or the Nusra Front—has been subjected to skepticism by Russia and the Syrian regime. Speaking on state television on Monday, President Assad said: "Who is capable of gathering all these conditions and requirements [for a ceasefire] within a week?"
The Syrian conflict, which is almost five years old, has killed more than 250,000 people and created more than 11 million refugees and internally displaced people.