3 Million Syrians Will Lose Aid as First COVID-19 Case Is Reported in Idlib
A United Nations resolution ensuring the continuation of cross-border humanitarian aid to Syria will not likely be renewed on Friday after the Security Council failed to adopt two draft resolutions this week.
It potentially deepens a crisis that has left more than 3 million people under siege by pro-government forces in a brutal military campaign as the first reported case of the coronavirus reaches Idlib province in Syria's northwest.
Negotiations since January have focused on which border crossings with Syria would remain open to humanitarian efforts—including health and education programs—and for how long, in an arrangement renewed every year since it was established in 2014.
In separate votes earlier this week, one draft resolution proposed by Belgium Germany was rejected by the China and Russian Federation Council members.
A second resolution, proposed by Russia, was struck down in a 7-4 vote, with Belgium, the Dominican Republic, Estonia, France, Germany, the U.K., and the U.S. dissenting.
An eleventh-hour vote in January ensured the continuation of aid until July 10 through Resolution 2504. For the first time since it was adopted, the resolution excluded the Al Yarubiyah and Al-Ramtha crossing on Syria's borders with Iraq and Jordan, by which aid delivery moved in addition to border crossings with Turkey.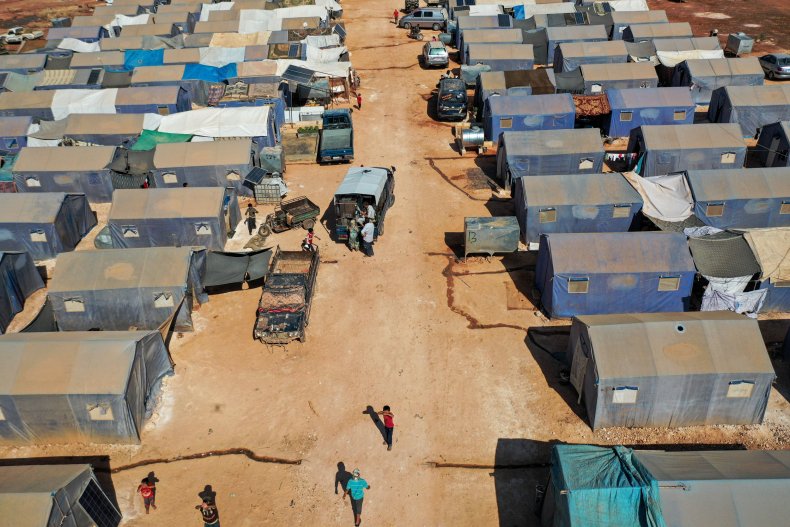 The World Health Organization (WHO) sent 2,000 coronavirus test kits to Idlib province in June, with the first confirmed case reported on Thursday, a Syrian opposition official said.
The infection revived fears of a worsening humanitarian crisis in an area where healthcare is limited and pro-government forces frequently target medical facilities.
The head of the WHO's office in Turkey's southeastern city of Gaziantep, Mahmoud Daher, told the Agence France-Presse that the patient was a doctor working in a hospital on the Syrian-Turkish border town of Bab al-Hawa.
Many in the region live in cramped Internally Displaced Persons (IDP) camps as a Russian-backed offensive has sought to take control of the area now held by rebels fighting against Syrian president Bashar al-Assad.
"It's impossible to overstate the importance of ensuring the crossing points, delivering vital aid, stay open," Sherine Tadros, Amnesty International's Head of UN Office, said in a statement. "For millions of Syrians, it is the difference between having food to eat and starving. For hospitals, it is about having enough supplies to save lives. That's why Russia and China's abuse of the veto power is despicable and dangerous."
A study conducted in April by CARE, an emergency relief organization, documented abysmal provisions of water, sanitation, health care waste management, hygiene, and environmental cleaning in area IDP sites. Sanitation facilities were accessible in 10 percent throughout the roughly 12 camps where displaced persons are sheltering.
Only 55 percent of those sites are equipped with bathrooms, with an average of 240 individuals to each latrine. The report also noted that only 37 percent of those sites have regular access to water and 83 percent of the sites have no access to handwashing facilities. Ninety-one percent of those living in the camps have access to soap.
Tue Jakobsen, who manages CARE's humanitarian aid operations in the region, said in a statement to Newsweek that it was "unthinkable that any access route could be cut."
"The COVID-19 pandemic has the potential to have catastrophic consequences for the extremely vulnerable population of Northwest Syria," Jakobsen said.
"The current border crossings are being used at scale to deliver lifesaving supplies and restricting the UN to only use one has no other justification than to interrupt and limit the UN's ability to reach those most in need."
Of the millions who have been displaced during the fighting of the country's nine-year civil war, humanitarian groups say roughly 80 percent are women and children.
Syria has recorded 372 cases of COVID-19, including 14 deaths in regime-held areas, and six cases with one death in the country's northeast, from which American forces recently withdrew after years of fighting the Islamic State.